Mailbox Monday is a weekly event where we share our latest book arrivals. Link up and find new mailboxes to stalk at the Mailbox Monday blog!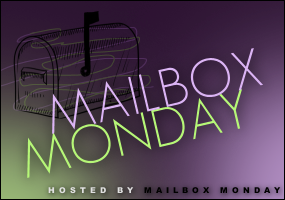 Here's my week in books:
Print & eBooks:
Hear Me
by
Viv Daniels
– A paranormal new adult holiday romance- hope to sneak a read in soon to kick start my holiday reading.
Rebound
by
Noelle August
– Boomerang book two, featuring Adam & Alison.
Independently Wealthy
by
Lorraine Zago Rosenthal
– Finished copy for a blog tour. This book is the sequel to
New Money
, a series I'm enjoying a lot.
Vegan Vitality
by
Karina Inkster
– Gifted from my sister- thanks! This cookbook is a little different because it has a workout guide and sample meal plans as well.
Review/Library Audiobooks:
Dirty Rowdy Thing
by
Christina Lauren
, read by Shayna Thibodeaux, Sebastian York – Listening to this one now- it's the second book in the
Wild Seasons
series.
The Walled City
by
Ryan Graudin
, read by Eugene Kim, Kim Mai Guest, Janet Song – This YA thriller is set in a lawless, dangerous town that three individuals try to escape.
The Young Elites
by
Marie Lu
, read by Carla Corvo, Lannon Killea – This is the first book in a new fantasy adventure series, and I liked the Legend series enough to give this one a shot.
The Things You Kiss Goodbye
by
Leslie Connor
, read by Lauren Fortgang – I've had my eye on this contemporary YA book and was glad to see the audiobook pop up at the library.
Maybe One Day
by
Melissa Kantor
, read by Shannon McManus – Sounds like an emotional read in a TFIOS vein, and I like McManus so I took a chance.
Snow Like Ashes
by
Sara Raasch
, read by Kate Rudd – High fantasy is out of my comfort zone, but I've heard good things about this one.
Thank you so much to: Viv Daniels, William Morrow, St. Martin's Press, Mel, Simon & Schuster Audio
What's new in your mailbox?
Related Posts