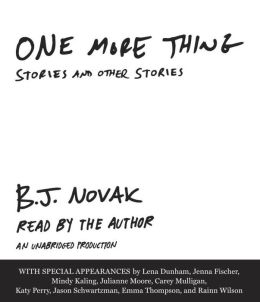 One More Thing: Stories and Other Stories
by
B.J. Novak
Narrator:
B. J. Novak
,
Rainn Wilson
,
Jenna Fischer
,
Jason Schwartzman
,
Katy Perry
,
Lena Dunham
,
Mindy Kaling
Published by
Random House Audio
on February 4th 2014
Genres:
Humor
Format:
Audiobook
Length:
6 hrs. 48 mins.
Goodreads
B.J. Novak's One More Thing: Stories and Other Stories is an endlessly entertaining, surprisingly sensitive, and startlingly original debut collection that signals the arrival of a welcome new voice in American fiction.
Across a dazzling range of subjects, themes, tones, and narrative voices, Novak's assured prose and expansive imagination introduce readers to people, places, and premises that are hilarious, insightful, provocative, and moving-often at the same time.
In One More Thing, a boy wins a $100,000 prize in a box of Frosted Flakes - only to discover that claiming the winnings may unravel his family. A woman sets out to seduce motivational speaker Tony Robbins - turning for help to the famed motivator himself. A school principal unveils a bold plan to permanently abolish arithmetic. An acclaimed ambulance driver seeks the courage to follow his heart and throw it all away to be a singer-songwriter. Author John Grisham contemplates a monumental typo. A new arrival in heaven, overwhelmed by infinite options, procrastinates over his long-ago promise to visit his grandmother. We meet a vengeance-minded hare, obsessed with scoring a rematch against the tortoise who ruined his life; and post-college friends who debate how to stage an intervention in the era of Facebook. We learn why wearing a red t-shirt every day is the key to finding love; how February got its name; and why the stock market is sometimes just... down.
Finding inspiration in questions from the nature of perfection to the icing on carrot cake, from the deeply familiar to the intoxicatingly imaginative, One More Thing finds its heart in the most human of phenomena: love, fear, family, ambition, and the inner stirring for the one elusive element that might make a person complete. The stories in this collection are like nothing else, but they have one thing in common: they share the playful humor, deep heart, inquisitive mind, and altogether electrifying spirit of a writer with a fierce devotion to the entertainment of the reader.
If you've watched The Office you're probably familiar with B.J. Novak, who was an actor/writer/producer/director on the show for several years. I have never seen The Office (gasp!) but I'm familiar with Novak from The Mindy Project. When I saw he wrote a book of humorous short stories I was intrigued. I like comedic memoirs in general like Mindy Kaling's or Tina Fey's, and thought that this collection of short stories looked like a lot of fun. I picked up the audiobook since it's performed by the author and some famous friends of his.
One More Thing: Stories and Other Stories is a collection of 60+ short stories, some just a line or two and some that you can really sink your teeth into. Novak is a stand up comic and performed these stories in front of an audience while he was working on the book. These stories are smart, literary pieces that showcase Novak's quirky sense of humor. Novak definitely has some writing chops, and his stories are observant, clever, intellectual, and whimsical. There's a range of stories and moods that keep you on your toes and entertained. Novak's humor is offbeat and surprising and his stories thought provoking. There are even some discussion questions at the end of the book that made me laugh.
The book starts off with a story about a rematch between The Tortoise and The Hare that kicks off the book on a high note. I also really liked Missed Connection, No One Goes to Heaven to See Dan Fogelberg, and Julie and The Warlord. His humor is daring and bold, as you can also see in stories like The Comedy Central Roast of Nelson Mandela.
Though these stories are smart, witty and thoughtful, Novak makes them accessible. There's something for everyone in these stories, and the short story format makes it easy to fit in whether you have time to read a little or a lot.
B.J. Novak performs most of the narration of this almost 7-hour audiobook. The stories lend themselves well to audio especially considering Novak perfected these stories before a live audience in the first place. His comic timing, energy and tone brought the stories to life and I think he was the best person to narrate this collection. Novak performs probably about 90% of the book, and there are some celebrity friends that also join in the fun. Mindy Kaling, Jenna Fischer, Emma Thompson, and Rainn Wilson perform some of the stories and made the book even more special. I don't think I recognized Katy Perry's voice in the book so I'll have to go back and listen to her performances. There are audiobook credits at the end of the book so you can find out who reads each story.
The humor in One More Thing is fresh and different. It wasn't haha lol funny for me personally, but more on the clever and insightful side. Keep in mind the humor is on the adult side – I don't want you to be surprised by any choice words if you're listening with any young and impressionable ones. On that note, B.J. Novak also has a children's book coming out this fall called The Book with No Pictures.
Check out an audio sample of One More Thing performed by B.J. Novak:
[audio http://www.randomhouse.com/catalog/mm/audio/4s_9780804164740.mp3 ]
This book trailer is full of win and is what sold me on the book:
Related Posts