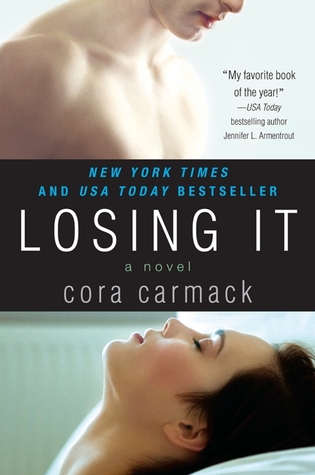 Book: Losing It by Cora Carmack, William Morrow/Harper Collins pb
Book Info: NA Contemporary, own kindle edition & pb, 258 pages
Rating: 4.5 / 5 Stars
More Info:  Goodreads | Amazon | Cora Carmack FB
Losing It came out last fall as a self-published e-book to rave reviews. I snapped it up immediately, but sometimes e-books get lost on my kindle. Subsequently the book had a paperback relaunch through a partnership with Harper Collins, with a companion book Faking It is on the way. I bought the paperback for an author signing and finally read the book! I admit I did judge the book by its cover and expected a racy read. But what I was surprised about was the amount of humor contained in the novel.
Losing It is just the kind of New Adult novel I prefer – it takes place in college when our heroine is figuring her next steps before graduation. Losing It reads more steamy and mature than YA, but is not as explicit as the title/cover suggest. I loved all the silly moments in the book; there are some LOL scenes on a par with Friends or Bridget Jones Diary. There's friendship, awkwardness, a British guy, Texas, Shakespeare, and cat humor. If you've been holding back on reading this one, you really have to check it out.
In Losing It, college senior Bliss Edwards is still a virgin and just wants to bite the bullet and lose it with a one-night stand. With her friend Kelsey's encouragement they head out to a bar with that goal in mind. Things don't go exactly as planned though with the handsome Shakespeare-reading British guy from the bar, and hilarity ensues. Plus, there's a Grey's Anatomy worthy surprise the morning after in theater class.
"Sex.
I was going to have sex.
With a boy.
A hot boy.
A hot British boy.
Or maybe I was going to throw up.
What if I threw up on the hot British boy?
What if I threw up on the hot British boy during sex?"

page 21 paperback, Losing It
The book is fresh, witty and spicy, with a forbidden romance aspect. Once I finally picked it up I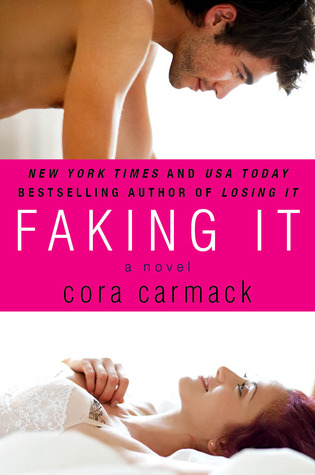 couldn't put it down, and I stayed up late reading. There is some will they/won't they mystery that keeps you turning pages. Plus, there is another guy in Bliss's life (Cade) that wants to take their friendship to the next level. But beyond the boy drama, there is real drama in the form of Bliss's acting and directing goals – what will she do after graduation? Bliss is very relatable and her awkwardness is endearing- I would totally want to be friends with her.
The paperback of Losing It includes the first two chapters of the companion book Faking It, due out June 4. Faking It centers on one of the secondary characters in Losing It, but Bliss also makes an appearance or two. And there will be one more companion book out later this fall called Finding It. Cora Carmack has a fresh voice in New Adult and I love her sense of humor. Can't wait to read more from her!
Related Posts