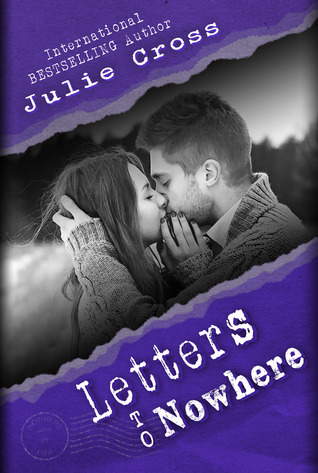 Letters To Nowhere by Julie Cross, self-published August 2, 2013
Genre: Mature YA/New Adult
Source: E-book purchase (e-book approximately 288 pages)
Rating: 5/5 stars
I haven't read Julie Cross' Tempest series, as Contemporary is more my thing, so I was excited to see this mature YA title pop up. And it's about a gymnast, something sporty that I can understand! The main character, Karen, recently lost her parents in a car accident. Now she's living with her gymnastics coach (and his handsome son Jordan) so she doesn't have to relocate with her grandmother, and she can keep up her training. This new makeshift family helps each other to become whole again, confront the past and face the future.
This is the kind of New Adult book I want to see more of. The characters are mature, and the story delves into career aspirations and real issues.  Sometimes NA books are all about the romance, and while there is a really sweet romance in Letters to Nowhere, it's not the only story to tell.
Karen is at a crossroads in her gymnastic career. She can cash in her international professional goals to pursue a spot on the UCLA team, or give her dreams one last shot. Complicating matters is the wishes of her deceased parents. Her mom especially wanted her to be realistic about her gymnastic pursuits and have something to fall back on. But her new coach, and now guardian, sees a spark in her and pushes her to go further than she's ever dared to dream.
The gymnastic side of the story gets quite intense and technical. I only know gymnastics from taking classes as a kid and watching it on the Olympics but it seems like the author is well versed in the sport. Karen's teammates are competitive yet supportive and interesting to watch in their own right. Karen jumps right into training after the devastating loss of her parents, and feels the loss at inconvenient times. Luckily she has a good support system there to help her when she needs it.
The new coach is someone Karen doesn't know well so it's a surprise when he steps in to be her legal guardian. I liked seeing their rapport and seeing how the relationship evolves over time as they let each other in.
Jordan is a ray of sunshine in Karen's life. He supports her and gets her in a way that others can't. It's tricky because they live under the same roof so they worry about what the coach will think about the relationship. He has his own demons to battle, but I liked how he and Karen could lean on each other to weather the storm. Karen and Jordan are a little more mature for their age due to their life experiences and discipline from gymnastics. Karen was home schooled so she is a little behind in her social skills, and Jordan helps her in that area.
The title refers to letters that Karen writes, sometimes to her parents, grandmother, Coach and Jordan – things she can't say in person but she needs to get them off her chest. The letters are one of my favorite aspects of the book, and I found them very touching. Karen has a therapist to help her with grief as well, and you can see the results of their efforts throughout the book. The questions that Karen has about death and the grieving process in general are realistic and I could relate to her struggle.
I read this book when I was on vacation in New York, and I stayed up late reading it, and brought it with me to read on the subway, or wherever I went. I had a little book hangover when I finished, and wasn't ready to say goodbye to the characters yet.  The ending was kind of perfect and left open but not frustratingly so. (Thankfully there's a sequel in the works!)
The writing is polished and professional, for a self published novel or otherwise. I hope Julie Cross writes more contemporary books after she wraps up the Tempest series – she seems to have a knack for realistic fiction.
Letters to Nowhere is one of my favorite 2013 reads and really struck a chord with me. Since it's self-published, it's quite affordable – in fact it's on sale now for $0.99. Give it a shot if you like New Adult/Mature realistic YA by authors like Gayle Forman or Morgan Matson. The sports/grief/romance combo scored with me.  If you've read it, let me know your thoughts!
Related Posts