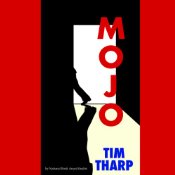 Book: Mojo by Tim Tharp, Listening Library, April 2013
Book Info: Borrowed Overdrive audiobook, Running time: 8 hrs, 9 mins. Read by: Jesse Bernstein. Also available in hardcover, 288 pages from Knoph Books for Young Readers.

Dylan flies under the radar at his high school. He has a few good friends, and writes for the school paper, loves burgers and has the belly to prove it. The night that Dylan discovers the dead body of a classmate in a dumpster everything changes. He achieves some notoriety at school at first, but then bullies take to calling him "body bag." Dylan thinks if he got some "mojo" everything would be better, and solving the mystery of a missing, out of his league rich girl could be his ticket into the in crowd.
Dylan is a relatable every-guy kind of character. He has caring, working class parents, pretty good grades, and he doesn't get in trouble. But he yearns for something more, and by getting involved in this case he has a chance at new friends, popularity, reward money, and respect at the school paper. He's going to go for it, even though he's clearly in over his head with this investigation.
Dylan has two good friends that are part of his Scooby gang. Andrea is his lesbian BFF, who makes a love connection over the course of the investigation. And Randy is Dylan's other sidekick, who has no filter. Mostly, though, Dylan is the one searching for his mojo so he takes the lead on the mystery.
Even though the plot involves a missing person, crimes, drugs, and a dead body, the book has a humorous tone and could be read by younger YA's. Perhaps reluctant readers will enjoy trying to solve the mystery and seeing Dylan's sleuthing tactics. What felt a little false to me is the dialogue; with the awkward teen speak sprinkled with "likes." Dylan's involvement with a new popular crowd who may not be friends with him for the right reasons sets off warning bells, and could provide food for thought for teens.
I listened to the audiobook, read by new-to-me narrator Jesse Bernstein. He does a fine job with the narration, and his Dylan sounds appropriately like the underdog.   There are a lot of different characters in the book, and Bernstein uses different accents, and sounds natural. The audiobook is just over 8 hours long. I wasn't going out of my way to listen to this one or totally consumed by the story, but the narration was fine.
Mojo is the first book I've read by Tim Tharp (The Spectacular Now) and the mystery aspect was well crafted. The story was a little gritty but still read young, and the book's slow pace didn't always hold my attention. The action in the finale redeems the story somewhat though, and teens looking for a little mystery (and mojo) may want to give this one a try.
Mojo is a YA Fiction Cybils nominee.
Related Posts