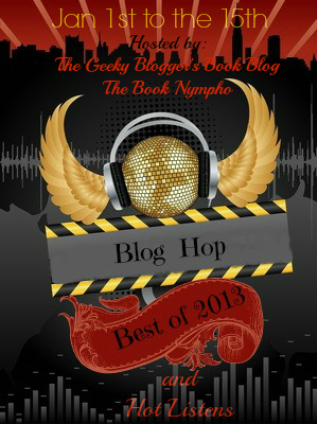 Happy New Year Audiobook listeners, and welcome to the Best of 2013 Audiobook blog hop! All the blog hop participants will be highlighting their top 3 audiobook titles of the year, so it's a great time to get some audiobook recs and enter to win some cool prizes. This event is brought to you by The Book Nympho, Hot Listens, and Geeky Bloggers Book Blog and runs from Jan 1 to Jan 15.
I listened to about 75 audiobooks in 2013, which is more than half of my reading total. Coming up with a Top 3 seems like an impossible task! I rated 11 audiobooks 5 stars in fact. Agh! So, know that I'm leaving some favorites off the list- but these are some of the audiobooks that made the biggest impression on me. (Click here for an expanded list of audiobook favorites)
FANGIRL by Rainbow Rowell, performed by Rebecca Lowman, Maxwell Caulfield – Listening Library, September 2013, 12 hours, 48 minutes. As I said in my review, "The time flew by when I was listening to this audiobook." Maxwell Caulfield performs the alternate fanfic story in the audiobook, while Rebecca Lowman performs a variety of different voices in the real world. It was a toss up between this and Rainbow's other book Eleanor & Park, also performed by Lowman. You can't go wrong with either. Take a listen at Audible.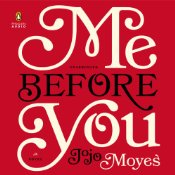 ME BEFORE YOU by Jojo Moyes, performed by Susan Lyons, Anna Bentink,Steven Crossley, Alex Tregear, Andrew Wincott, Owen Lindsay – Penguin Audio, December 2012, 14 hours, 40 minutes. There are a lot of narrators listed for this title, but it's a little misleading since Susan Lyons performs about 95% of this book. As I said in my review, "Susan Lyons does an outstanding job with the narration and kept me riveted to story. Her character voices and pacing are spot-on. This is a good introductory audiobook to try if you aren't sold on them yet. I was hooked." This is a powerful, heart wrenching book, and you'll want to keep the tissues handy. Take a listen at Audible.
OUT OF THE EASY by Ruta Sepetys, performed by Lauren Fortgang – Penguin Audio, February 2013, 9 hours, 51 minutes. This was my first experience with narrator Lauren Fortgang, and as I said in my review, "Fortgang expertly conveys Josie's tough yet vulnerable nature and puts a spicy, rich tone into her reading. The flavor of New Orleans comes through the audiobook and there's a lot of attention to detail put into each character. In Fortgang's hands the 1950 setting comes alive with personality. I do think the audiobook format gives the story that something extra and it's a treat to listen to." Take a listen at Audible.
Congrats to Alisa who won the giveaway! Thanks to everyone who participated and happy listening!
And there's another awesome giveaway to enter! The blog hop organizers are giving away a grand prize of a 6 month, 1 credit, Audible subscription. Enter the Rafflecopter giveaway ———-> here.
Be sure to visit all the blog hop participants (Felicia's post has the master list) for audiobook suggestions and awesome giveaways.
Happy listening!
Related Posts