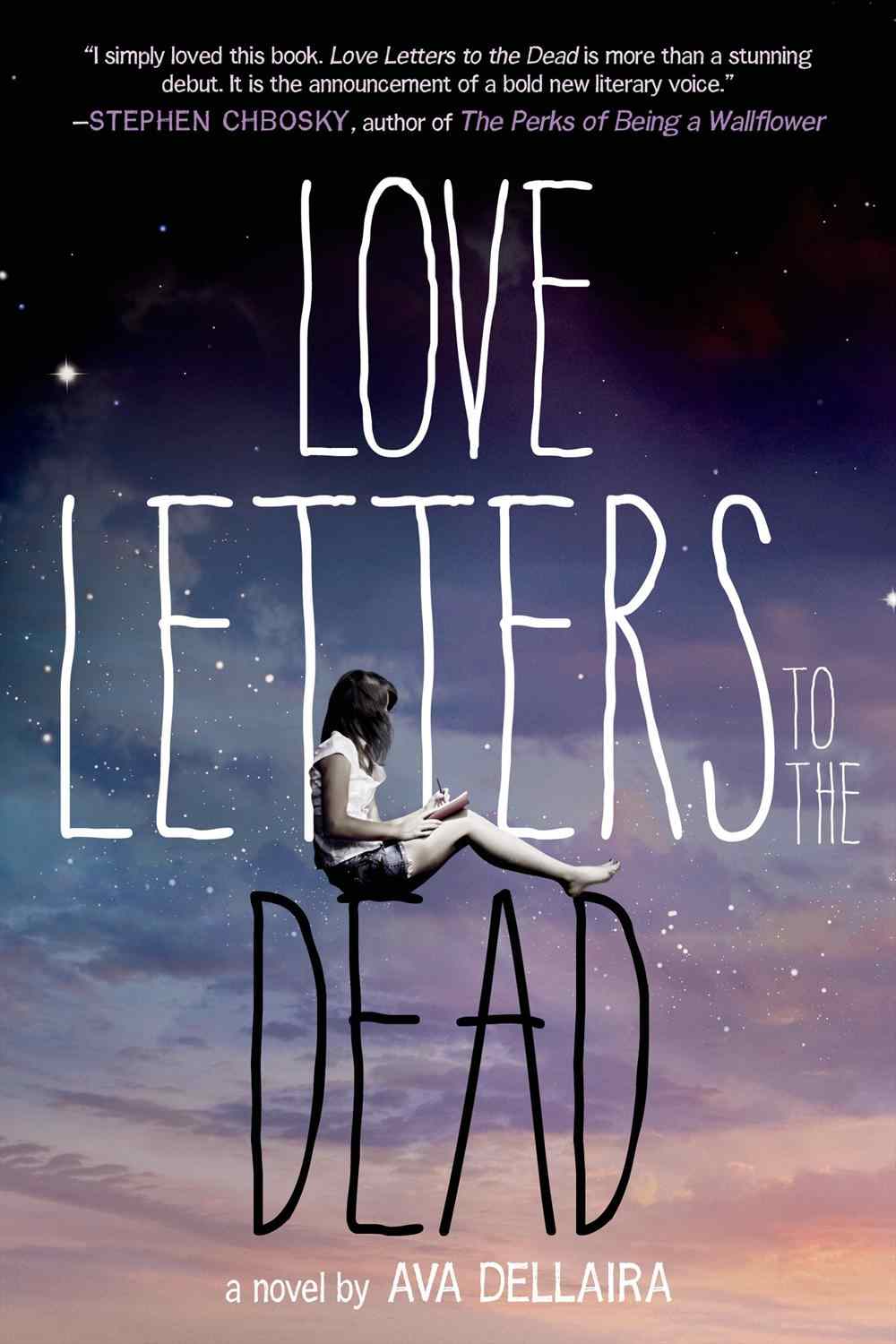 Love Letters to the Dead is Ava Dellaira's debut novel. She was actually an associate producer on the movie Perks of Being a Wallflower (Stephen Chbosky even wrote the blurb for Love Letters!) I do think this epistolary novel will appeal a lot to fans of Perks in fact. It's a gem of a debut, filled with art, hope, magic and heartache.
So, what's it about?
Laurel is a high school freshman with an English assignment to write a letter to a dead person. This is a loaded assignment for Laurel because she is grieving the loss of her beloved sister. Her cool older sister May was full of life and magic and her death left a hole that her family can't recover from. Since May loved actors and musicians from the past like Kurt Cobain and River Phoenix, May begins her assignment by writing to them. She can't turn the assignment in, but the habit of writing these letters helps her process past events, and deal with new school and family challenges. New experiences and friendships bring new letter recipients like Janis Joplin, Amy Winehouse and Amelia Earhart and are cathartic for Laurel on her journey.
Why this book worked for me:
The letters! The letters are insightful about Laurel's life, but also about the life and death of the celebrity letter recipients. The letters are mini history lessons about their subjects and bring their music & films to life. Anyone who has lost someone important to them knows it's a daunting task to write them a letter, so I appreciated the clever way the author dealt with Laurel's grief.
The subject matter of grieving the loss of a loved one is heart wrenching and makes you feel. Laurel has a lot to process, and while some of her experiences are difficult to read about, they feel real and I could relate to her.
Comedic moments that lighten the mood (Laurel's religious aunt that loves Mister Ed is a highlight)
Romance that adds to the story but doesn't take over the book. Sky is a surprising, complex and thoughtful character.
Friendships and families evolve in a realistic way and help Laurel heal.
The writing- so gorgeous and poetic! There is a mystery element that made the book unputdownable, and I wanted to read straight through the angst to make sure Laurel would be OK.
Love Letters to the Dead is out April 1st, and fans of contemporary YA should put this one on their radar. If you love coming of age stories about grief, love, family, sisters, and pop culture you should give this one a try. You can get a taste of the book now by downloading the first 5 chapters for free in your preferred e-format. (Click to the picture at left to access the free sample on Amazon) The cover is so pretty I'm sure I'll end up picking up a hard copy, or the Julia Whelan narrated audiobook.. Hopefully this book is a good omen for good things to come this year in YA contemporary!
Review copy provided by Macmillan Children's via Netgalley. Love Letters to the Dead is on sale now:
Goodreads * Amazon * B&N * IndieBound * Book Depository
Are you a fan of epistolary novels, and do you think you'll be reading this one?
Related Posts