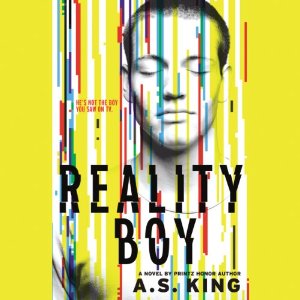 Book: Reality Boy by A.S. King, Hachette Audio, October 2013
Book Info: Library Audiobook, Running time: 7 hrs, 42 minutes. Read by: Michael Stellman. Also available in hardcover or e-book, 368 pages from Little, Brown

Reality Boy is about a Reality TV family, and what happens when the cameras stop rolling. Seventeen-year-old Gerald Faust is still trying to recover from this childhood ordeal and to live down his nickname "The Crapper" (he acts out by defecating all over the house) twelve years after the film crews leave. Gerald has anger management issues, and retreats to his own "Gersday" world to cope, while the world waits for him to explode.
Gerald's family makes their own "Faustian" deal with Network Nanny, a reality show that moves in to try to fix the issues plaguing the Faust family. Gerald's older sister Tasha is his trigger – she has the family under her thumb and makes life hell for all. Gerald's mother is the enabler who lets Tasha get away with it. Gerald's other sister Lisi gets the hell out of dodge to attend university abroad as soon as she can. And Gerald's father drinks and keeps his head down while all this goes on.
We see reality TV stars in the media chewed up and spit out and author A.S. King shows what it's like being on the receiving end of that level of attention and infamy.
Reality TV did a number on Gerald, but his family was broken before the film crews moved in. The media attention just made it worse, and that attention makes him a favorite target of bullies at school.
Gerald gains an ally when he meets Hannah, a troubled girl from school who he works with at the hockey rink concession stand. They consider running away from their lives to join the circus, and come up with a list of demands in exchange for returning home. He starts to realize that he's not the only one who's had it rough.
I want to talk to her about my plastic-wrapped heart and how I think she's unwrapping it, but I think it's stupid. Anyway, it's more than my heart that's wrapped. My mouth is wrapped. My brain is wrapped. That's how it works when you grow up in the land of make-believe. To survive, you wrap and wrap and wrap until you're safe. Gersday is full of shit. Nothing is real.
We get a glimpse of the reality show and what led to present day events through flashbacks. It's hard to be Gerald knowing everyone thinks they "know" you from the TV show. We see that things aren't always what they seem on reality TV.
I listened to Reality Boy, and Michael Stellman performs the almost-eight-hour audiobook. Stellman paints a vivid picture of troubled Gerald. He has to convincingly portray Gerald's fantasy life, his five-year-old TV self, and present day Gerald. Stellman's tone and pace are good, and he's especially successful with capturing Gerald's state of mind. Stellman's male and female voices are strong, and not overdone, and I had no trouble telling the characters apart. Stellman reads with a lot of personality and character. I'd listen to more YA audiobooks performed by Michael Stellman.
This is the third book I've read by author A.S. King and she is a great storyteller and one of my favorite auto-buy authors of YA Fiction. She has a unique eye and puts her characters into such interesting settings and situations. She seems to be just as comfortable writing male as female characters and her Gerald is complex and has a strong voice. I enjoyed seeing how Reality Boy played out.
Fans of A.S. King should pick this up for a thought-provoking look at reality TV kids. I still have two more A.S. King books to read – what should I read next: Everybody Sees the Ants or The Dust of 100 Dogs? A.S. King's next book is Glory O'Brien's History of the Future and it's due out this fall.
Related articles
Related Posts