Mailbox Monday is a weekly event where we share our latest book arrivals. Link up and find new mailboxes to stalk at the Mailbox Monday blog!
In the last few days we've gotten lots of rain, which we desperately need. Good time to stay indoors with a good book! I don't usually get a lot of books in the mail, but of course this week I got several wet and soggy packages. Luckily the books inside were fine though.
Audiobooks: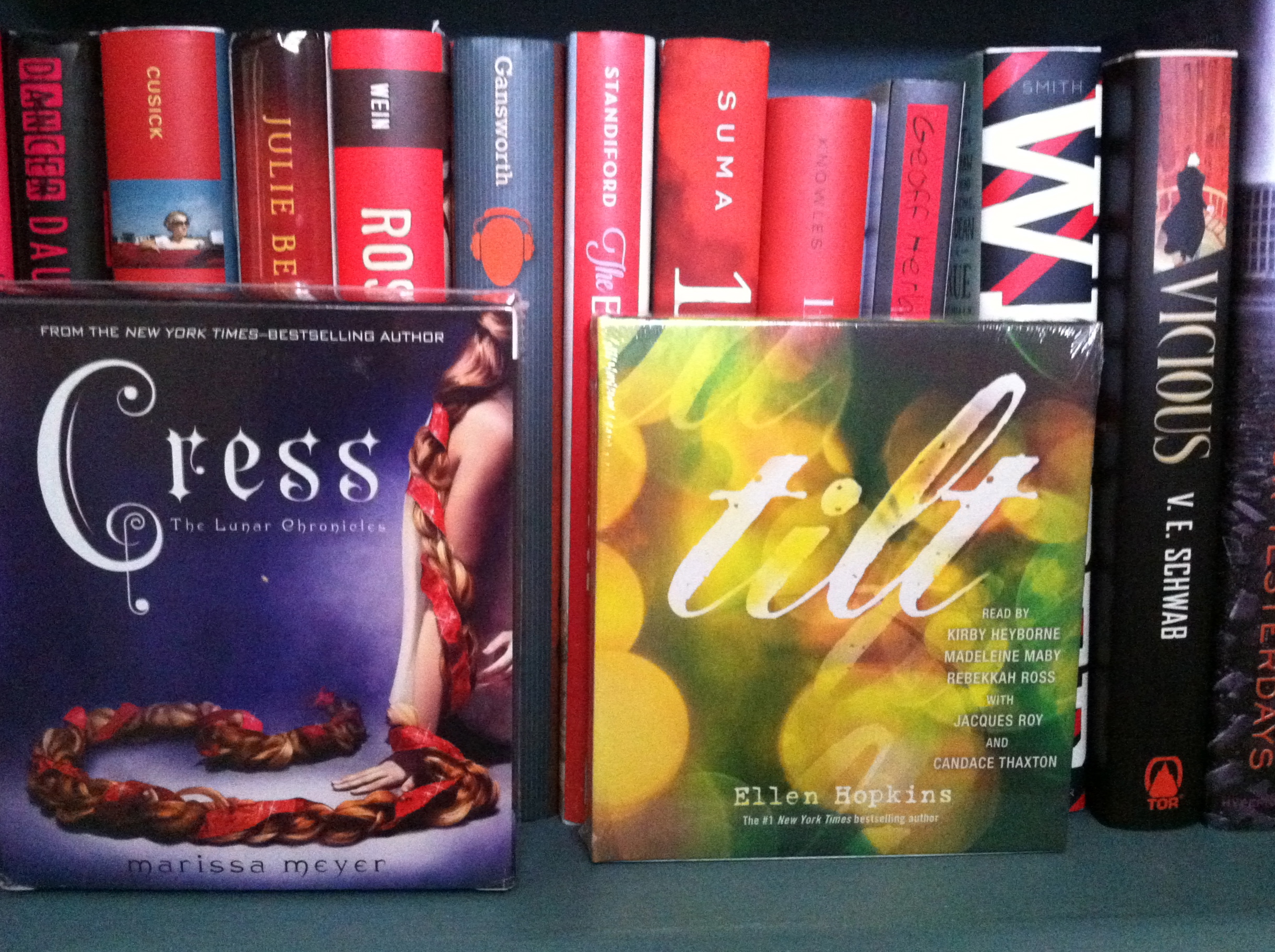 Cress by Marissa Meyer – Thanks Audiobook Jukebox and Macmillan Audio! I just finished listening to Scarlet so I'm ready to dig into this.
Tilt by Ellen Hopkins – Thanks to Simon & Schuster Audio! A favorite author and favorite audiobook narrators = happiness!
Print Books:
Biggest Flirts by Jennifer Echols – Thanks to Simon Pulse! This is the first book in the Superlatives series about two people that are voted Biggest Flirts in their yearbook elections.
Happily Ever After by Elizabeth Maxwell – Thanks to Touchstone/Simon & Schuster! This is about a middle aged erotic novelist who meets her fictional romantic hero in real life, at Target!
E-books:
The Last Forever by Deb Caletti – Tessa and her dad go on a roadtrip to heal after losing her mom.
100 Sideways Miles by Andrew Smith – Andrew Smith gets the most interesting book covers, matching up with the unique stories within.
Sublime by Christina Lauren – The "Beautiful Bastard" writing team has a new YA book! Sublime is about a boy in love with a ghost- he can only see her when he's on the brink of death himself, so that encourages his risky behavior. What an epic cover, huh?
Maybe Someday by Colleen Hoover – Well, this is going to the top of my TBR! CoHo's latest is about a musician whose life is turned upside down when she catches her boyfriend with her good friend. She falls for another musician next door.
The Only Boy by Jordan Locke – This YA dystopia is about a future world without men. But one guy did survive, and now he's masquerading as a woman to avoid execution. Mary has never seen a boy but she's drawn to Taylor.
The Wicked We Have Done by Sarah Harian – A New Adult dystopia! A beta reader on Goodreads describes it as The Hunger Games meets Lost.
Swapped:
Take Me There by Carolee Dean – From Paperback Swap. A road trip book from 2010 about friendship, love and second chances.
Never Eighteen by Megan Bostic – Thanks for the trade, Lisa! Never Eighteen is a YA contemporary from 2012 about a dying boy who journey's to say goodbye and make peace with the important people in his life.
What's new in your mailbox? 
Related Posts