For your summer listening pleasure I have a great giveaway for you today! Are you a fan of Mary Kay Andrews? She's the "belle of the beach reads" and author of several best-sellers such as Save the Date, Ladies' Night, Spring Fever, and Summer Rental, etc.
Did you know, before she adopted the Mary Kay Andrews pen name in 2002 she wrote under her own name Kathy Hogan Trocheck? Under that name, she wrote 10 popular mysteries, including the Truman Kicklighter Mysteries: Lickety Split (1996) and Crash Course (1997). These books are about a retired newspaper reporter sleuth and are set in the authors' hometown of St. Petersburg, FL. Both books went out of print some years ago, but the author recently made them available in all digital formats, and now finally in audiobook form.
About the Truman Kicklighter Mysteries: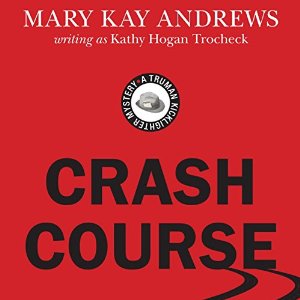 LICKETY SPLIT

In his prime, spry senior Truman Kicklighter had been a first-rate reporter for the Associated Press. But not even the hottest story from his newshound days can rival the recent goings-on at the sleepy Fountain of Youth Residential Hotel in St. Petersburg, Florida.
Listen to a sample:
http://www.audible.com/pd/Mysteries-Thrillers/Lickety-Split-Audiobook/B00LGXKTRO
CRASH COURSE

Retiree Truman Kicklighter returns in the second installment of a simmering Florida series by one of today's hottest suspense writers. When Truman's twenty-something pal is taken for a ride by a used-car dealer, he has to put the brakes on a scam with a deadly payoff.
Listen to a sample:
http://www.audible.com/pd/Mysteries-Thrillers/Crash-Course-Audiobook/B00LC9YQQ2
Both audiobooks are performed by actor Chris Kayser, a friend of the author, who is best known in Atlanta for bringing Ebenezer Scrooge to life for the past 16 years in the Alliance Theater's production of A Christmas Carol.
Author Mary Kay Andrews talks more about the series and the audiobooks here.
The Giveaway has ended- congrats to Susan who won audible downloads of Lickety Split and Crash Course.
Related Posts