June is Audiobook Month, and to celebrate, a group of more than 40 professional narrators has teamed with Going Public and Tantor Media by offering Summer Shorts '14, an audio collection of poetry, short stories and essays. All sales proceeds from the collection go to ProLiteracy, a national literacy outreach and advocacy organization.
All month you can visit Going Public and various blogs to hear 1-2 stories stream for free on their release day. You can purchase the whole collection at Tantor Media and you'll receive 20 additional tracks while supporting a great cause.
I'm thrilled to welcome Tavia Gilbert to The Reading Date, and to share her performance of Michelle Webster-Hein's Beautiful Things, part of the Summer Shorts '14 collection.
I asked Tavia to give us some background on the story:
Ah! So happy to! Michelle is one of my dearest friends. She and I went to Vermont College of Fine Arts together, where we both got our Masters Degree in writing. She is such a contemplative, soulful, funny, inventive, courageous writer, so I asked her if I might have her blessing to record a series of meditations on beauty that she'd written when she was a new mother to her extraordinary daughter, Alyosha. I loved narrating Michelle's words, not only because she's such a gifted writer, but because I have such a fondness for her, and for her husband and daughter. It was very close to my heart, that work, and I hope the love I have for this family infuses my work.
Tavia Gilbert was kind enough to answer some of my burning questions about her life as an audiobook performer. After the interview be sure to enter to win a Tavia Gilbert-performed audiobook of your choice. Please welcome Tavia!
How did you get started in audiobook performing and what's the best part of the job?
I studied voice intensively when I was getting my BFA in Acting at Seattle's Cornish College of the Arts, and I fell in love with the voice as an instrument. I have sung all my life, but there is something much different about the skills and techniques an actor is called upon in order to fully use their voice as part of their actor's toolkit. I was driving home to Idaho for a semester break, and I listened to my first audiobook — narrated by Davina Porter, who is exceptional — and I completely fell in love with the art form. It took several years, but I eventually got specific training in audiobook narration, got my first audition, booked my first job, and have been employed full-time as a narrator ever since. I have been very lucky to have developed this career. And there are lots of great things about the job! When I'm narrating a book I love, a book that is beautifully written, it's so satisfying and meaningful. Connecting with authors I enjoy is a great gift. Getting to know authors I adore whose work is wonderful and with which I personally, deeply connect, work that the fans love — that's the very best!
Do you have a home studio, and what are your must-have necessities when you record?
I do have a home studio. It's imperative to have a sound-proof space, so I have a WhisperRoom with double insulation. I also have a condenser mic, a preamp, a Mac, and ProTools.
What is your recording preparation process and timeline?
The timeline is different for each project. Sometimes I might have 6 or 8 weeks before a project is due, sometimes only a week. But for the most part, no matter how much lead time there is, the process is the same. I read the book in preparation for recording. For both fiction and non-fiction projects, I highlight words with which I'm unfamiliar or words with pronunciations I need to double-check. For works of fiction, I highlight all the different characters, and whatever description there might be about them — physically, mentally, emotionally, geographically (where they originated and/or where they live, where they've traveled), what their socio-economic status is, what their personality quirks are. I make note of direction the author gives in dialogue, such as "he said under his breath," "she snapped," so that I can perform as the author intended. I make note of any dialect or accent indications that the author specifies. And then I get to work!
Considering you've performed over 200 audiobooks I'm sure it's hard to pick favorites. But, I'd love to know if you have any personal favorites to recommend.
Nearly 300 now, but there are many books that stand out as particularly special to me. If you look at my website, you'll see personal favorites of all genres highlighted in blue, including BLUE PLATE SPECIAL, SING THEM HOME, LAMB, LITTLE CENTURY, anything by Annie Dillard, THE WORD EXCHANGE, Allison Leotta's series, Linda Barnes' Carlotta Carlyle mysteries, ZOE'S TALE, and many more.
What audiobook in your repertoire do you wish got a little more attention?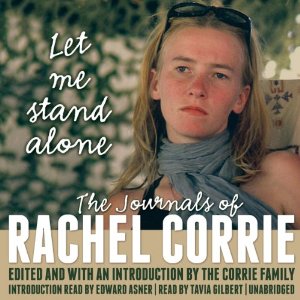 LET ME STAND ALONE is the first book I published, in partnership with Blackstone Audio. Rachel Corrie was just 23 years old when she was killed by an Israeli tank in the Gaza Strip in 2003, while volunteering as a human rights observer. She had been a writer and artist since her very earliest years, and her family published her journals about five years after her death. I deeply admire Rachel's courage, her willingness to take action, her passion for service and for justice, and I wanted to contribute to keeping her voice alive, so I was deeply honored to record her work. It was the most difficult, painful, inspiring book I've ever worked on, and I feel blessed and humbled that her family gave me permission to produce and publish their beloved daughter's words. The book got some nice reviews and I continue to hear from listeners who are moved, enlightened, and inspired by Rachel's life and work. I hope people continue to discover the audiobook, that they learn what a loving and compassionate heart Rachel had, and how very much she offered the world before her death.
Audiobooks are gaining in popularity, but still some readers are resistant to take the plunge. In your opinion, what benefit can readers get out of listening vs. the printed page?
Audiobook listeners are often also avid readers, so there is no reason to believe one must choose one medium through which to enjoy a story. But audiobooks offer lovers of language and literature an opportunity to increase their reading time, as those hours that are often unfulfilling — commuting, housework, exercise — can be enriched with the wonderful experience of being read to. Great narrators give great acting performances, and they capture nuance that might otherwise be lost. I read very, very quickly, so as a reader, I don't necessarily slow myself down enough to completely luxuriate in the poetry of a well-turned phrase, or to linger with a long pause at the end of a transformative moment. A masterful audiobook performer will invite me to experience the story and the writing with richness of dialogue performed in real time, with a delicious and languid pace. And audiobooks can be fantastically entertaining — as compelling and exciting as a movie, as comforting and as intimate as any story you were told as a child. Great audiobooks are just wonderful.
Do any particular subject matters or tricky dialects take you out of your comfort zone? For instance, those scenes between Cat & Bones in the Night Huntress series get a little steamy, and as a listener it takes some time to get comfortable listening to romance vs. reading them in print. Did performing romance take some getting used to?
A little steamy? Ah, yes. They certainly are…and of course it took some getting used to! Ahem. That's all I'll say about that — except that for some projects, I'm very, very happy to record by myself in the comfort of my own home studio. Ha!
Do you listen to audiobooks in your free time? Tell us about some awesome audiobook performers or books you think shouldn't be missed.
I do listen to audiobooks, quite often. I was a listener before I was a voice actor myself, and there are many performances I love. CALL THE MIDWIFE, with Nicola Barber; the Nevada Barr series, voiced by Barbara Rosenblat; Suzanne Toren and George Guidall heartbreaking reading of THE LOST WIFE; Carol Monda's beautiful performance of RISE AND SHINE; Hillary Huber performing MENNONITE IN THE LITTLE BLACK DRESS; Simon Vance's wonderful Millennium Trilogy; the Isabel Dalhousie series performed by the one and only Davina Porter — all these are personal favorites.
What's coming up for you? Any upcoming audiobook releases you're particularly jazzed about?
THE MIDWIFE, by Jolina Petersheim, has just released. She's a young, heart-felt, unusual novelist, and one to watch (or listen for)! Daryl Gregory's AFTERPARTY and Alena Graedon's THE WORD EXCHANGE are both really great, futuristic, cautionary tales, though very different. I loved narrating FIREBALL, the story of Carole Lombard's incredible life and untimely death. And I'm performing a wonderful YA novel, MAGGIE VAULTS OVER THE MOON this summer. There are always great things to read!
About Tavia Gilbert:
Six-time Audie nominee and multiple Earphones and Parent's Choice Award-winning producer, narrator, and writer Tavia Gilbert has appeared on stage and in film. Library Journal said this of the highly-acclaimed actress "as close as you can get to a full cast narration with a solo voice." She has narrated more than 250 multi-cast and single-voice audiobooks.
Check out all the stops on the tour to hear more exclusive clips from Summer Shorts '14. To catch up on yesterday's tour stop, visit Linus's Blanket to hear Hillary Huber perform The Tell-Tale Heart. And be sure to head over to The Guilded Earlobe tomorrow to catch Robert Fass's performance of The Garden of Adompha.
The Giveaway has ended. Congrats to JoAnna who won a Tavia Gilbert audiobook of her choice!
Related Posts