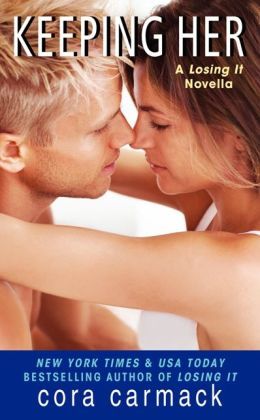 Book: Keeping her (Losing It novella) by Cora Carmack, William Morrow, available August 13, 2013
Book Info: New Adult Contemporary Romance, review copy provided by William Morrow, E-book approx. 110 pages

Rating: 4 / 5 Stars
More Info: Goodreads| Amazon preorder
You fell for Garrick and Bliss in Losing It, and now they're back starring in a new novella! The happy pair is off to London to meet Garrick's parents…queue Bliss's anxiety! This time around we get Garrick's POV as well as Bliss's and that is double the fun.
If you haven't read Losing It yet, please do that before reading this novella. Spoilers abound!
Garrick and Bliss are in a good place in their relationship and careers. They are both working hard and are madly in love. The natural next step is meeting the parents…dun dun duuuun! Bliss is a wee bit nervous to meet Garrick's mom and may be freaking out and having nightmares about it. But she does have the cool, calm and collected Garrick at her side and sightseeing in London to look forward to. Maybe it will go okay, right?!
We get to meet two of Garrick's old chums in London and they help provide some comic relief in this stressful situation, and some tidbits about Garrick's life pre-Bliss. And the blushing Bliss gets to have her usual Bridget Jones-esque mishaps in the Taylor home much to our amusement. If only she could win over Garrick's "Disney villain" of a mom.
Garrick and Bliss are as cute and solid as can be. It's great to see them navigating these new waters and seeing what they're made of. Even though the story is short and sweet, there are still obstacles to overcome for the duo.
After reading Losing It's companion book, Faking It, Garrick and Bliss lost some of their luster in favor of Cade and Max for me.  But, this novella reminded me why I was smitten with Garrick and Bliss in the first place, and I'm happy that they got an extra bonus story. Hope they will pop up in future stories as well.
Cora Carmack puts her trademark comic timing, swoon-filled romance, and attention to detail into this novella, just as in her full-length novels. These books are fun and enjoyable just like a favorite rom-com.
There is an excerpt from the next companion book Finding It (Bliss' best friend Kelsey's story) at the end of the novella. Can't wait to read it in October!
Related Posts