The Movie Date is a weekly feature where we discuss movies that may appeal to the YA audience. Andrew is The Reading Date's resident movie critic and this week he discusses THE HUNGER GAMES: MOCKINGJAY PART 1, directed by Francis Lawrence and based on the book by Suzanne Collins. 
Rescued from the Quarter Quell, Katniss joins the District 13 rebels in a deep underground base but demands Peeta's rescue in exchange for her leadership.
A whole movie devoted to half a book. It worked nicely for Harry Potter but not so well for Twilight. Given that this is the first half of the final Hunger Games novel, this was always going to be a difficult movie without adding or altering story content, and thankfully that hasn't happened. Though the action is fascinating and the world immersive, it's clear that big things have happened in previous films and big things will happen in the finale to come. In spite of it being a middle story, though, I found the subtle politics and conflicts fascinating to observe. I really loved this film.
Katniss and loved ones huddle in the vast subterranean complex built by the rebels of District 13, a secret rebel enclave that's underground in every sense of the word. The story finds Katniss grudgingly accepting a figurehead role within the revolution, less a decision maker than a media icon. Ironically, her love Peeta has been kidnapped by the Capital and is now their icon, too, dressed in high-collared suits as he tearfully pleads with Katniss and the rebels to stop the killing. The bulk of the story takes place underground, with Katniss and co. surfacing to inspect various bombing sites (from what we can see, Panem is pretty much rubble). Yet the story arc is clear: at the start Katniss demands Peeta's rescue, and by the end that conflict is resolved. Lesson: be careful what you wish for.
Great work by Julianne Moore, adding nice depth to the "tough lady" role of President Coin, and Philip Seymour Hoffman returning as former Gamemaker Plutarch Heavensbee in one of his final roles.  But for me this was mostly two hours well spent with the always riveting Jennifer Lawrence, effortlessly oozing charisma. At this point in her career I think she finally understands how amazing she is. But that's perfect for Katniss, who's also coming to grips with her own effortless might as a mass-media idol. (In one hilarious scene, she tries to act out a victory scenario for a video clip and simply cannot. The talented Lawrence convinced me that Katniss had no talent at all. Now that's acting.)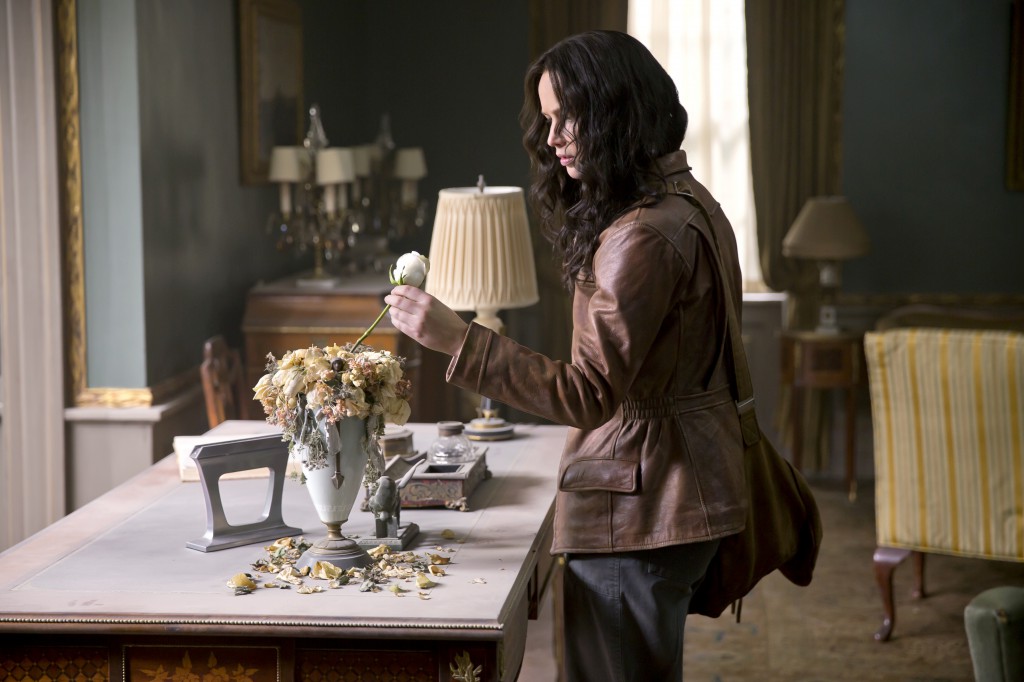 Unlike most films, our heroes wind up in pretty much the same predicament they're in at the start. For that reason, the awkwardly titled The Hunger Games – Mockingjay – Part 1 feels like an episode or two of a dystopian TV series rather than a standalone movie. But that didn't stop me from loving my time underground with the basically decent citizens of District 13. I know there will be explosions, tragedies, and losses aplenty in Part 2, and I was grateful for the chance to catch my breath.
Related Posts