The Movie Date is a feature where we discuss movies that may appeal to the YA audience. Andrew is The Reading Date's resident movie critic and this week he's sharing Top Ten Offbeat Holiday Movies (That I think Reading Date fans might enjoy).
I'm a huge fan of movies that aren't really about Christmas but take place over the holidays. Though I tend to watch oddball holiday crime, thriller, and horror pics, here are films in a range of genres I think you'll like. 
JUST FRIENDS
You wouldn't know it from the name, but this movie is crammed with Christmas cheer. A wintry rom-com with farcical humor, this is kind of the boy-meets-girl version of National Lampoon's Christmas Vacation. Ryan Reynolds plays a once-chubby but now-hunky record exec stranded in his hometown over the holidays, using the opportunity to pursue his high-school crush (Amy Smart). Ana Faris steals all the laughs as a ditzy pop star.
THE MAN WHO CAME TO DINNER (1942)
Still-hilarious comedy about an arrogant injured houseguest who somehow manages to improve the lives of all while creating havoc in their household over the holidays. A sweet young Bette Davis plays the rom-com lead and Jimmy Durante's a visiting bon vivant. But the home's enormous Christmas tree is the real star.
MILLIONS
Charming British family thriller about two young brothers who find a duffel bag full of cash; as they race to spend or convert it before the currency expires at Christmas, the angry thief is hot on their trail. Emotional and oddly compelling tale from Danny Boyle (Slumdog Millionaire); one brother's desire to seek guidance from the Catholic saints gives this a lightly spiritual angle for the holidays.
3 GODFATHERS (1948)
The tearjerker on this list is a John Ford western starring John Wayne—go figure! Wayne plays one of a trio of outlaws who vow to protect an infant they find, even though they themselves are fighting to stay alive. It's heartbreaking—and wonderful—to watch these three tough hombres struggle to redeem themselves, even if only in their own eyes. Powerful and sincere stuff.
STONE OF DESTINY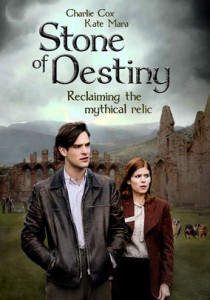 One for the Outlander crowd (I knew I'd get your attention with that one!), this is a tale of a brave 1950 attempt to restore Scottish pride. As the nation was mourning a failed attempt at independence (similar to the fall 2014 referendum), a plucky college student recruits friends to pull a caper: the theft of a precious Scottish coronation stone from its London resting place. Charmingly innocent and nonviolent, the film features a great cast (Billy Boyd of Lord of the Rings, Robert Carlyle of Once Upon a Time) and is highlighted by Kate Mara's (American Horror Story, House of Cards) sweet and plucky performance.
THE THIN MAN
Wild, dizzy murder-mystery comedy from a Dashiell Hammett book, starring husband-and-wife detective team Nick and Nora Charles. Nick's a retired sleuth and Nora a rich heiress; they like to solve cases in between drinks, and there are plenty of drinks to be had. I couldn't make head or tail out of the mystery itself, perhaps because I was laughing too hard at the insane dialogue. For example, Nora tells a reporter that's Nick's working on a case: "A case of scotch. Pitch in and help him." The wobbly Christmas party (from the days when booze was charming) is not to be missed.
THE REF
Denis Leary plays a burglar holed up in the home of a bickering couple (Kevin Spacey, Judy Davis) on Christmas Eve; oddly his dominating attitude and brutal candor are exactly what the duo really need for Christmas. This comedy might sound like a bit of a train wreck, but the conflicts are handled with intelligence and sensitivity and the acting's superb. This is one of the few films directed by Ted Demme before his passing at age 38.
SILENT NIGHT (2002)
Call me crazy, but I was really impressed by this Hallmark Channel TV movie starring Linda Hamilton (Beauty and the Beast series, Terminator 2) as a German mom during World War II. The mother and her son are hiding out in a cabin in the countryside when three Allied soldiers beg her for shelter on Christmas Eve—and three German soldiers do the same. She agrees—if the soldiers will lay down their weapons and set aside their differences, if only for a night. Hamilton and her accent are excellent, the script is compelling, and it's based on a true story.
7 TIMES LUCKY
I'm always a sucker for a con-man story; this is a great one, and very festive to boot. In it, a middle-aged swindler (Kevin Pollak) and his young female partner (Liane Balaban, a ringer for Natalie Portman) plan their next stolen-goods job to help him pay off gambling debts—but does she have other alliances? Though set in the present, this upbeat Canadian comedy feels like a classic noir, with its grimy pay phones and beat-up Cadillacs. There are a few casualties but it's not really a violent pic; romance, humor, and intrigue run the show here.
CRASH
Remember this one? The hand-wringing tale of failed race relations between Angelenos from all walks of life? The one that won three Oscars (including Best Picture) but wound up making everyone groan? Now that the muttering's died down, it's actually a dandy, intricately constructed little picture full of heartstopping events and moments to cheer and weep for. Impressively, no characters are completely good or evil, kinda like real life. Back then you didn't notice that the film is set over the holidays, but it definitely is.
Related Posts