Mailbox Monday is a weekly event where we share our latest book arrivals. Link up and find new mailboxes to stalk at the Mailbox Monday blog! Happy Holidays, friends! Hope you find lots of books under the tree.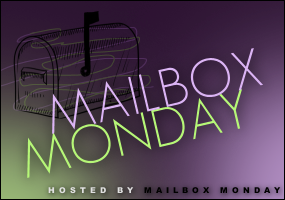 Here's my week in books:
Books in the Mail:
Swimming to Tokyo by Brenda St. John Brown – This NA debut is new to paperback and has gotten some good buzz.
Irritable Hearts: A PTSD Love Story by Mac McClelland – A journalist writes about the PTSD she suffered after covering the 2010 Haiti earthquake. Thanks, Flatiron Books!
Review eBooks:
Asa by Jay Crownover – Book #6 in the Marked Men series.
Mayhem by Jamie Shaw – The first book in a new NA rockstar romance series.
Purchased: (so many good e-book sales!)
Inspire by Cora Carmack – NA Paranormal Romance about an immortal muse.
Breaking the Rules by Katie McGarry – A sequel to Pushing the Limits.
The Martian by Andy Weir – I've heard good things about this sci-fi thriller so I was happy to see it on sale.
All the Light We Cannot See by Anthony Doerr – This historical fiction is on a lot of best-of lists and I snapped it up on sale.
Captivated by You by Sylvia Day – Crossfire book #4. I'm behind in this series but couldn't resist the price of the latest installment.
What's new in your mailbox?
Related Posts