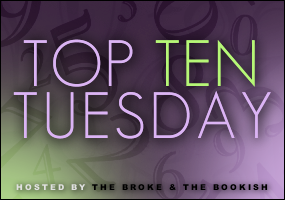 Top Ten Tuesday is an original feature from The Broke and the Bookish.
The topic this week is debuts! Looking at the past two years' lists, I've actually read about half of the books I was anticipating.  So, at this point in time these books look like a match for me anyway! I also made a list of the diverse titles I can't wait to read, and to avoid overlap they are not listed here.
These are my top ten most anticipated debuts of 2015:
1. Skyscraping by Cordelia Jensen – June 2, Philomel. This verse novel is about a girl who finds out her father is gay and battling HIV.
2. Not After Everything by Michelle Levy – August 4, Dial. Two broken teens support each other through difficult times.
3. The Wrong Side of Right by Jenn Marie Thorne – March 17, Dial. A parentless girl finds out she has a father, and he's a presidential candidate.
4. Mosquitoland by David Arnold – March 3, Viking. A quirky road trip novel about a girl's long journey to visit her ill mother.
5. When Reason Breaks by Cindy L. Rodriguez – Feb. 10, Bloomsbury. Two girls dealing with depression bond in English class over Emily Dickinson.
6. We all Looked Up by Tommy Wallach – March 31, Simon & Schuster. Four seniors rethink their life plans when they find an asteroid is headed toward Earth.
7. Made You Up by Francesca Zappia – May 19, Greenwillow. Alex has schizophrenia and spends her time trying to figure out what's real and what's not. She wants to go to college, but is surprised by how well it's going (or is it?)
8. 5 to 1 by Holly Bodger  – May 12, Knopf. A dystopia set in 2054 India, about gender imbalance when there are five boys to every girl. It's told half in verse and prose.
9. Unspeakable by Abbie Rushton – Feb. 5, Atom. Megan hasn't spoken for months due to things haunting her that she just can't talk about. When she meets Jasmine, she begins to hope she'll find her voice again.
10. Even When You Lie to Me by Jessica Alcott – June 9, Crown. Charlie, a high school senior, falls for her teacher and the feeling may be mutual.
Your turn…. I'd love to know the debuts you're excited for this year!
Related Posts