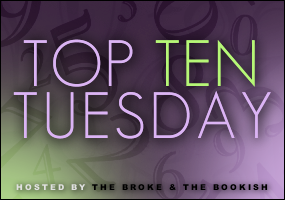 Top Ten Tuesday is an original feature from The Broke and the Bookish. This week's topic is Top Ten Books People Have Been Telling You That You MUST Read (whether because they think it's a "you" book or it's just been generally recommended so often.)
There are some books that are either on the bestseller list or featured on blogs that it seems like everyone else is reading. Sometimes I feel I must be missing out! I actually own most of the books on this list, so that's half the battle right?
Here are ten books I feel peer pressure to read: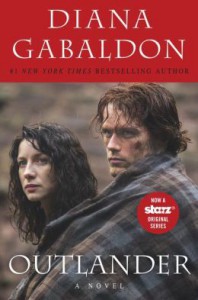 1. Outlander by Diana Gabaldon – With the TV series getting so much attention (love the first two episodes!) it's time to check out the books. I started listening to the audio…only 32 hours to go.
2. One Plus One by Jojo Moyes  – This one is getting great reviews, just like Me Before You, one of my favorites of last year. I don't know why I haven't picked this one up yet actually!
3. The One & Only by Emily Giffin – I still haven't read any Emily Giffin, and this one seems too enticing to pass up. I'm intrigued by so many 1-star and 5-star reviews!
4. The Goldfinch  by Donna Tartt – This book has won all the awards, and made all the lists, so I feel all the pressure to read it! I read The Secret History back in the day and should feel more interested in reading this one, but I'll get to it.
5. The Queen of the Tearling by Erika Johansen – Big hyped book, Emma Watson is attached to star, lots of 4 & 5 reviews on Goodreads. Pressure! I'm actually on hold for the audio so I'll listen to it soon.
6. The Assassin's Blade by Sarah J. Maas – This collection of novellas in the Throne of Glass series is quite highly regarded. I usually skip novellas but this volume sounds too good to miss and since it's a prequel it fills in a lot of the blanks about the assassin Celaena.
7. Ruin & Rising (The Grisha series) by Leigh Bardugo  – This trilogy is quite popular and I in fact have all three books but haven't started them yet! I need to carve out time to read them back-to-back.
8. Dreams of Gods and Monsters (Daughter of Smoke & Bone series) by Laini Taylor – Same thing as above. I've only read the first book and need to catch up on the two remaining books.
9. More Than This by Patrick Ness – I've never read a book by Patrick Ness, and this one seems to be highly regarded. This publisher's description really sets up high expectations, doesn't it? "From multi-award-winning Patrick Ness comes one of the most provocative and moving novels of our time."
10. Trial by Fire by Josephine Angelini – This book is not even out yet but it's already generated a lot of buzz. A new fantasy series – from the other books on this list you can see I'm slow to read these books, but I'll keep an open mind about this one.
What books do you feel pressure to read? Which book on my list should I move to the top of my TBR?
Related Posts