Cover Discoveries is a new feature that I will post on an irregular basis. The idea is to highlight recent book cover reveals that have popped up. These books are all new to me anyway, and look pretty interesting. Did I miss any recent covers that caught your eye? Which cover is your favorite below?
All book information contained below is from Goodreads.
Foretold: 14 Tales of Prophecy and Prediction, Edited by Carrie Ryan, featuring stories by Heather Brewer, Saundra Mitchell, Diana Peterfreund, Laini Taylor, Margaret Stohl, Meg Cabot, Matt de la Pena, Simone Elkeles, Kami Garcia, Michael Grant, Malinda Lo, Lisa McMann, Richelle Mead. September 25th 2012 by Random House Children's Books
Have you ever been tempted to look into the future? To challenge predictions? To question fate?

It's human nature to wonder about life's twists and turns. But is the future already written—or do you have the power to alter it?

From fantastical prophecies to predictions of how the future will transpire, Foretold is a collection of stories about our universal fascination with life's unknowns and of what is yet to come as interpreted by 14 of young adult fiction's brightest stars.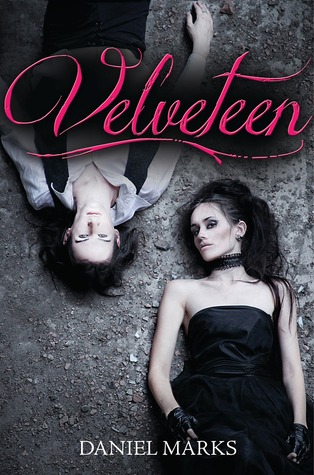 Velveteen by Daniel Marks, October 9th 2012 by Random House Children's Books.
Velveteen Monroe is dead. At 16, she was kidnapped and murdered by a madman named Bonesaw. But that's not the problem.

The problem is she landed in purgatory. And while it's not a fiery inferno, it's certainly no heaven. It's gray, ashen, and crumbling more and more by the day, and everyone has a job to do. Which doesn't leave Velveteen much time to do anything about what's really on her mind.

Bonesaw.

Velveteen aches to deliver the bloody punishment her killer deserves. And she's figured out just how to do it. She'll haunt him for the rest of his days.
It'll be brutal . . . and awesome.

But crossing the divide between the living and the dead has devastating consequences. Velveteen's obsessive haunting cracks the foundations of purgatory and jeopardizes her very soul. A risk she's willing to take—except fate has just given her reason to stick around: an unreasonably hot and completely off-limits coworker.

Velveteen can't help herself when it comes to breaking rules . . . or getting revenge. And she just might be angry enough to take everyone down with her.
Venom by Fiona Paul, October 3rd 2012 by Philomel
Cassandra Caravello is one of Renaissance Venice's lucky elite: with elegant gowns, sparkling jewels, access to the best balls, her own lady's maid, and a wealthy fiancé, she has everything a girl could desire. Yet ever since her parents' death, Cassandra has felt trapped, alone in a city of water, where the dark and labyrinthine canals whisper of escape.

But when Cass stumbles upon a murdered woman—practically in her own backyard—she's drawn into a dangerous world of secret societies, courtesans, and killers. Soon, she finds herself falling for Falco, a mysterious artist with a mischievous grin. . .and a spectacular skill for trouble. Can Cassandra find the murderer, before he finds her? And will she stay true to her fiancé, or succumb to her uncontrollable feelings for Falco?

Beauty, love, romance, and mystery weave together in a stunning novel that's as seductive and surprising as the city of Venice itself.
The Glimpse by Claire Merle, June 7th 2012 by Faber & Faber
Once you've seen into the future, can you change your destiny?

In a near future, society is segregated according to whether people are genetically disposed to mental illness. 17-year-old Ana has been living the privileged life of a Pure due to an error in her DNA test. When the authorities find out, she faces banishment from her safe Community, a fate only thwarted by the fact that she has already been promised to Pure-boy Jasper Taurell.

Jasper is from a rich and influential family and despite Ana's condition, wants to be with her. The authorities grant Ana a tentative reprieve. If she is joined to Jasper before her 18th birthday, she may stay in the Community until her illness manifests. But if Jasper changes his mind, she will be cast out among the Crazies. As Ana's joining ceremony and her birthday loom closer, she dares to hope she will be saved from the horror of the City and live a 'normal' life. But then Jasper disappears.

Led to believe Jasper has been taken by a strange sect the authorities will not interfere with, Ana sneaks out of her well-guarded Community to find him herself. Her search takes her through the underbelly of society and into the pits of the human soul. And as she delves deeper into the mystery of Jasper's abduction she uncovers some devastating truths that destroy everything she has grown up to believe, but she also learns to love as she has never loved before.
Transcendence by C.J. Omololu, June 5th 2012 by Walker & Company
Love isn't the only emotion to survive death . . .

When a visit to the Tower of London triggers an overwhelmingly real vision of a beheading that occurred centuries before, Cole Ryan fears she is losing her mind. A mysterious boy, Griffon Hall, comes to her aid, but the intensity of their immediate connection seems to open the floodgate of memories even wider.

As their feelings grow, Griffon reveals their common bond as members of the Akhet—an elite group of people who can remember past lives and use their collected wisdom for the good of the world. But not all Akhet are altruistic, and a rogue is after Cole to avenge their shared past. Now in extreme danger, Cole must piece together clues from many lifetimes. What she finds could ruin her chance at a future with Griffon, but risking his love may be the only way to save them both.

Full of danger, romance, and intrigue, Transcendence breathes new life into a perpetually fascinating question: What would you do with another life to live?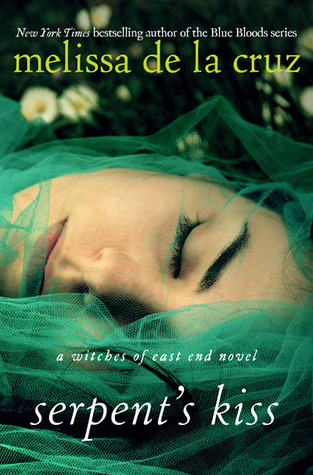 Serpent's Kiss (The Beauchamp Family #2) by Melissa de la Cruz, June 12th 2012 by Hyperion
Joanna and her daughters, bookish Ingrid and wild-child Freya, are just settling into the newfound peace that has been cast over their small, off-the map town of North Hampton. With the centuries-old restriction against practicing magic lifted, casting spells, mixing potions, and curing troubled souls has never felt so good for the three witches. That is, until everything gets turned upside down—from Joanna's organized kitchen to Ingrid's previously nonexistent love life to Freya's once unshakeable faith in her sexy soul mate, Killian Gardiner.

When Freya's twin brother, Freddie, suddenly returns, escaped from Limbo and professing innocence on a long-ago crime, Freya should be ecstatic. The golden boy can do no wrong. Or can he? Freddie blames no other than her fiancé Killian for his downfall, and enlists Freya's help to prove it. Now Freya doesn't know who to believe or trust.

And for the first time in—well, forever, really—Ingrid is also busy in love. Matt Noble, the handsome and charming police detective, has won her heart. But can romance work between a virgin witch and a mortal who doesn't believe in magic? Things get even more complicated when it appears Ingrid is harboring the prime suspects in Matt's police investigation.

To add to the chaos, a dead spirit is attempting to make contact with Joanna—but does it mean to bring harm or help? Joanna asks her sort-of ex-husband Norman to help figure it out, only to accidentally invite him to a Thanksgiving dinner with a dapper gentleman she's recently begun dating.

As the witches pull together to discover the serpent within their midst and the culprit behind Freddie's imprisonment, everything is thrown into peril. Will the discovery come too late to save those they love most?
Black City by Elizabeth Richards, November 13th 2012 by G.P. Putnam's Sons BYR
A dark and tender postapocalyptic love story set in the aftermath of a bloody war

In a city where humans and Darklings are now separated by a high wall and tensions between the two races still simmer after a terrible war, sixteen-year-olds Ash Fisher, a half-blood Darkling, and Natalie Buchanan, a human and the daughter of the Emissary, meet and do the unthinkable—they fall in love. Bonded by a mysterious connection, that causes Ash's long dormant heart to beat, Ash and Natalie first deny and then struggle to fight their forbidden feelings for each other, knowing if they're caught they'll be executed—but their feelings are too strong. When Ash and Natalie then find themselves at the center of a deadly conspiracy that threatens to pull the humans and Darklings back into war, they must make hard choices that could result in both their deaths.
Quintana of Charyn (Lumatere Chronicles #3) by Melina Marchetta, October 2012 by Viking Australia
The third book in the world of Lumatere. Set three weeks after the ending of Froi of the Exiles.
Related Posts