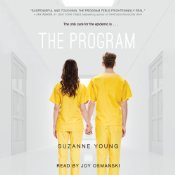 Book: The Program by Suzanne Young, Simon & Schuster Audio, April 30, 2013
Book Info: YA Dystopia, Audiobook received for review from Simon & Schuster Audio. Running time: 10hrs, 56 mins. Read by: Joy Osmanski. Also available in HC, 416 pages from Simon Pulse

Rating: 4 / 5 Stars
More Info: Goodreads | Audible | Amazon
The Program takes place in an alternate reality where suicide is a teen epidemic. If a teen aged 13-17 shows signs of depression they are sent to the Program for treatment, where doctors erase the suicidal thoughts with therapy and drugs. Once your memory is reset you are considered cured and can re-enter society. Sloane wants to avoid going into the Program at all costs, so she tries to avoid the attention of the watchful handlers and teachers. She lost a brother to suicide so her parents are especially attentive to Sloane's moods. Her safe haven is with her boyfriend James, and with him she can be herself and not so controlled. But they are both feeling the weight of depression and it's harder and harder to escape notice of the Program.
The future is pretty bleak in the Program. I was worried about how depressing this book would be to read, but it's actually a really interesting premise. This book gave me food for thought about depression, therapy, and anti-depressants. It made me wonder, if I could, would I erase painful memories so I could live my life blissfully unaware of my psychological scars? I guess it's tempting, but I wouldn't want to have that decision forced on me like in the Program. It reminded me of the procedure in Delirium to cure the love disease, except this is more of a complete mind eraser/reprogramming.
There is a strong romantic side to this book, with an epic love story between James and Sloane. It's pretty interesting and creative how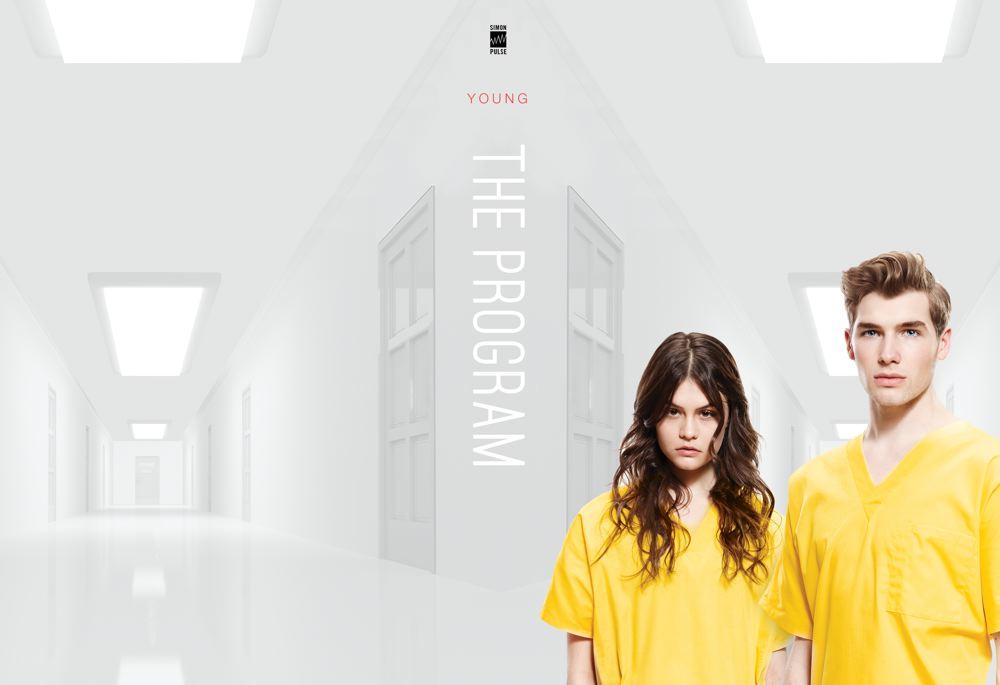 we learn their backstory and how their relationship evolves over the course of the book. I was invested in their saga and wanted them to beat the odds.
A few side characters play a part in Sloane's journey, most notably Realm. He's someone a little sketchy who you're never sure if you can trust. But mainly this is Sloane and James' story, and they have plenty of obstacles to overcome all on their own.
Joy Osmanski read the audiobook. I listened to her narrate What the Spell prior to this book but I didn't even recognize her voice this time around. Osmanski captures the essence of Sloane and her voice sounds like a teen. Her pace is good, and I had no trouble telling the characters apart. When I wasn't listening to this audiobook I was thinking about it and wanting to get back to it. There is some trickiness in the storytelling with flashbacks and mind games and Osmanski handles that well and brings the reader along for the ride. So in terms of the unique nature of the book, the audio format enhances the reading experience, but I'm curious to see how it compares in print.
At the end of the audiobook there's a bonus interview with Suzanne Young and she discusses how she came up with the story and teases the next book. There is one more book in the series, and I think it's considered a companion book. The ending does make me excited to see what happens next, though the book works pretty well on its own too.
I think The Program will appeal to readers who like romantic dystopia like Delirium or Matched. For what it's worth, I'm more into contemporary these days and I did get more of a contemporary vibe in this one than sci-fi/dystopia, and the author considers it to be alternate reality in fact. The Program is a book I wanted to talk about immediately after I finished it, so I think it would make for a good book club discussion. The book illustrates depression quite well, while not being depressing if that makes sense. It also strikes a hopeful note and I'm interested to see where Young takes it next.
Suzanne Young talks about The Program:
Related Posts