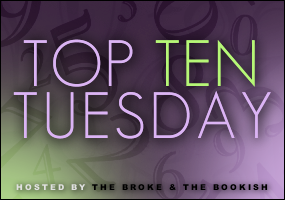 Top Ten Tuesday is an original feature from The Broke and the Bookish.
This week we are looking back at the 2014 titles we DIDN'T get to read last year. There are many 2014 releases I didn't get to read, but for this list I decided to focus on the 2014 releases I own but haven't read yet. I need to catch up on these, especially since I paid $ for them and they should be read, not just look pretty on my shelf!
1. After I Do by Taylor Jenkins Reid – This book about love after marriage had a lot of book bloggers raving!
2. Swimming to Tokyo by Brenda St. John Brown – This NA book about love, loss and Tokyo has gotten a lot of positive buzz.
3. The Strange & Beautiful Sorrows of Ava Lavender by Leslye Walton – I'm reading this Morris nominee this month finally. This magical realism book is about four generations of Lavender women.
4. When I Was The Greatest by Jason Reynolds – From everything I've read about this book I know I'm going to love it. It's about a small group of friends looking out for each other in Brooklyn.
5. On The Fence by Kasie West – I have been reading a lot of heavy books lately so maybe this one will be some escapist fun.
6. Behind the Scenes by Dahlia Adler – Book two of the Daylight Falls series comes out in June so I'll have to make time for this Hollywood-themed story before then.
7. There Will Come a Time by Carrie Arcos – A boy tries to come to terms with the death of his twin sister and attempts to complete the bucket list he found in her journal. Sounds heavy but really good.
8. Perfectly Good White Boy by Carrie Mesrobian – It's weird I haven't read this yet since I loved Mesrobian's first book Sex & Violence. PGWB is about a high school senior who decides to join the Marines.
9. The Body Electric by Beth Revis – I don't read a lot of sci-fi but since I enjoyed the Across the Universe series I knew I had to give this one a try. In this book, Ella has the ability to enter people's dreams to help them relive happy memories, but someone has compromised her gift.
10. The Sound of Letting Go by Stasia Ward Kehoe – I like verse novels, and this one about family, music and romance sounds like it's right up my alley.
Have you read any of these – which one should I read first?
Related Posts