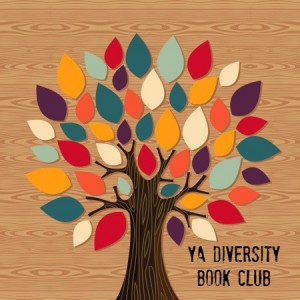 In the YA Diversity Book Club, we chat about the latest YA books that celebrate diversity. Our book club includes Sandie @ Teen Lit Rocks, Kristan @ We Heart YA and Kristina @ Gone Pecan. Each month we'll focus on one book with a book review (our discussion chat) and an author Q&A plus some fun bonus features.
Our March book club pick is BLACK DOVE, WHITE RAVEN by Elizabeth Wein. We all enjoyed reading this rich historical story and finding out more about the 1935 Italian invasion of Ethiopia. Wein writes friendships so well and her passion for aviation is infectious. She was gracious enough to answer our book club questionnaire and we really appreciate her thoughtful answers. I love what she has to say!
Thank you to Disney Hyperion for providing us with review copies of Black Dove White Raven and to Elizabeth Wein for graciously answering our questions.
About Black Dove, White Raven: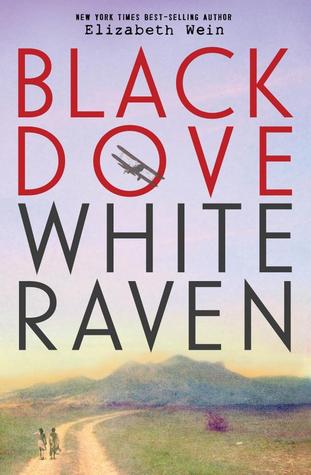 Black Dove, White Raven by Elizabeth Wein, Hardcover, 368 pages, Disney-Hyperion, March 31, 2015.
Goodreads * Amazon * Barnes & Noble * IndieBound * Audible
A new historical thriller masterpiece from New York Times bestselling and award-winning author Elizabeth Wein

Emilia and Teo's lives changed in a fiery, terrifying instant when a bird strike brought down the plane their stunt pilot mothers were flying. Teo's mother died immediately, but Em's survived, determined to raise Teo according to his late mother's wishes-in a place where he won't be discriminated against because of the color of his skin. But in 1930s America, a white woman raising a black adoptive son alongside a white daughter is too often seen as a threat.

Seeking a home where her children won't be held back by ethnicity or gender, Rhoda brings Em and Teo to Ethiopia, and all three fall in love with the beautiful, peaceful country. But that peace is shattered by the threat of war with Italy, and teenage Em and Teo are drawn into the conflict. Will their devotion to their country, its culture and people, and each other be their downfall or their salvation?

In the tradition of her award-winning and bestselling Code Name Verity, Elizabeth Wein brings us another thrilling and deeply affecting novel that explores the bonds of friendship, the resilience of young pilots, and the strength of the human spirit.
And now I'm very pleased to welcome author Elizabeth Wein:
Describe your book in a sentence or two.
Em and Teo are adoptive siblings devoted to each other, raised by their stunt pilot mother in the 1930s, who moves their mixed-race family to Ethiopia in the hope that Teo won't suffer the prejudice there that he does in the USA. When Italy brings war to Ethiopia with a fullscale invasion, Em and Teo are caught up in the conflict – and it's up to their own flying skills to survive the chaos.
What was your inspiration for writing BLACK DOVE, WHITE RAVEN?
Several of my early books, A COALITION OF LIONS and THE SUNBIRD in particular, are set in ancient Ethiopia, in the sixth century historical kingdom of Aksum. My uncle and aunt lived in Ethiopia in the 1960s, teaching English for the Peace Corps. The combination of research and personal experience made me aware that 1930s Ethiopia was a volatile and interesting place!
Also, my interest in women pilots led me inevitably to Bessie Coleman, and through her to other pilots who had to struggle against strictures of gender and race when learning to fly in the early days of aviation. Two of the most well-known early black American pilots, Hubert Julian and John Robinson, were so deeply involved in Ethiopia's fledgeling air force in the 1930s that it was inevitable I wanted to set a story there.
What kind of research did you have to do to make sure your characters were authentic?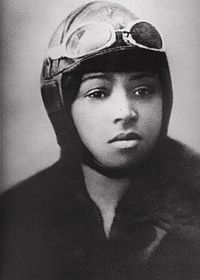 For the pilot characters, it was easy, because they're all based on real people (some more than others): Bessie Coleman, Hubert Julian, John Robinson, Beryl Markham – so I read a lot of biographies and autobiographies. For the main characters, well, I just made them up. I mean… that's kind of what I do, make up characters! I have visited Ethiopia, and drew on my experience of people I met there – hosts and strangers both – and I also asked Dr. Fikre Tolossa, an Ethiopian poet and scholar, to read over the manuscript.
This almost feels like cheating, but I checked almost EVERYTHING the characters say on Google NGrams to make sure that their speech was current for 1935.
I am sure there are some inaccuracies – a hazard of writing about a time that's not your own!
How did you come to incorporate the diverse elements in your book?
Welllllll,"the diverse elements" are people and I write about people!
The world is a diverse place. This is me growing up: I lived in East Harlem for three years, Kingston, Jamaica, for another three, and I was pretty much the only white kid in my Harrisburg City school for two years. My father was Jewish and gay. His partner was black. My brother is profoundly disabled and has been confined to a wheelchair for over 35 years. I took lessons in sign language in fifth grade because there was a deaf kid in my class. So… the diverse elements are just there because they're there.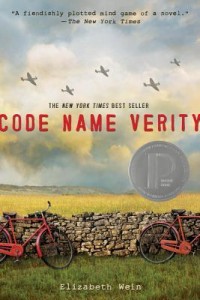 I have written five books set in ancient Ethiopia and Yemen with a mixed-race hero – his father is British and his mother is Ethiopian. When I wrote CODE NAME VERITY, which has a mid-20th century European setting that doesn't lend itself to racial diversity, I found myself trying to squeeze in a few immigrants – at the end of the book Maddie is rescued along with a Jamaican airman serving with the Royal Air Force. I'd originally wanted him to be American – and when I checked to see what squadron he might have served with, that is when I first discovered that the US Army Air Corps segregated its pilots. I mean, I should have guessed, but the RED TAILS movie had not yet come out and I'd never had a reason to think about it. It made me so mad! So I decided to make him Jamaican instead of American. Because it turns out there were about 2000 Caribbean men serving in the Royal Air Force in World War II. NOT in segregated squadrons, either. OH, AMERICA.
Anyway, for BLACK DOVE, WHITE RAVEN, the setting of the story pretty much dictated that there would be a certain amount of diversity involved. But actually, figuring out the backstory was also a lot of fun for me – how Em and Teo's mothers met and became flying partners, and what kind of prejudice they ran into subsequently, and how they dealt with it. And then, in many ways, it turns out that in trying to escape prejudice rather than fight it, they just make things worse for themselves.
How does the diversity in your book relate to your life?
The central premise of the book – that these two women, one white, one black, are raising their children side by side – was based on a big "What if?" for me. When we lived in Jamaica, my mother's best friend, who was Jamaican, lived with us. She had a baby exactly the same age as my baby sister, and my mother and her friend used to dress these babies alike and share strollers and take them everywhere together, and people would think they were sister and brother, even though one was white and one was black. But then we left Jamaica when they were two, so they didn't get to grow up together. BLACK DOVE, WHITE RAVEN was a chance for me to explore how those children might have grown up together.
And, of course, the issue of the little white girl feeling at home in a mostly black country – as Em does – is something that I experienced first hand in Jamaica. (I spoke fluent Jamaican patois as a child.)
What are some of your favorite YA books about diverse characters?
MARE'S WAR by Tanita Davis – indeed, all Tanita Davis's books are awesome. FLYGIRL by Sherri L Smith. Both these books are about black women serving in World War II. Martha Brockenbrough's recent book, THE GAME OF LOVE AND DEATH, is about a black teen girl who is both a pilot AND a jazz singer, who falls in love with a white teen boy who's a fantastic bass violin player and wants to play jazz (it's awesome.) THE CROSSOVER by Kwame Alexander, which just won the Newbery Award, is a great basketball story about twin brothers – it's written in verse. THE PORT CHICAGO 50 by Steve Sheinkin is non-fiction that deals with quiet insurrection leading to a more integrated US Navy. NONE OF THE ABOVE by I.W. Gregorio features a different kind of diversity, a young woman who discovers she's intersex. (I realize these recommendations are heavy on women's and World War II issues, 'cause that is my jam. But I tried to include some for boys as well!)
Going back in time a bit, when I was a teen I ADORED Ursula LeGuin's EARTHSEA trilogy, especially A WIZARD OF EARTHSEA.
What areas of diversity do you want to draw attention to or do you feel are underrepresented in young-adult books?
Well, I'd say the usual just showing ordinary people doing ordinary things! You know the Bechdel Test? There's a "Racial Bechdel Test" version where, in order for the book or movie to pass, you have to have two non-white characters who have a conversation about something other than race. Actually, Tanita Davis is very good at this, and I really wish more people knew her work. Her first novel, A LA CARTE, is a lovely contemporary romance which also includes yummy recipes.
I feel like I'm seeing lines being re-drawn, and I'd like to see them go away again. I'd like to see books representing a more *cooperative* society – diverse characters of all colors and genders and abilities and orientations playing bigger roles and not just being included as tokens, or friendly lunchroom buddies. And I'd like the focus of their stories not to be their "otherness," but just a cracking good story. And I'd like to see their faces on the covers.
I want to see more best friends from wildly different backgrounds! I feel like I'm doing my part to provide them in a small way. That makes me happy.
About the Author:
Elizabeth Wein was born in New York City, grew up abroad, and currently lives in Scotland with her husband and two children. She is an avid flyer of small planes. She also holds a PhD in Folklore from the University of Pennsylvania.
Follow Elizabeth Wein: Website * Twitter * Goodreads
Check out all the Book Club features:
Giveaway!
One (1) winner receives a copy of Black Dove, White Raven
Prizing courtesy of Disney-Hyperion
Open to US mailing addresses only
To enter please fill out the Rafflecopter below:
Our May book club pick is An Ember in the Ashes by Sabaa Fahir. Read along with us!
Related Posts