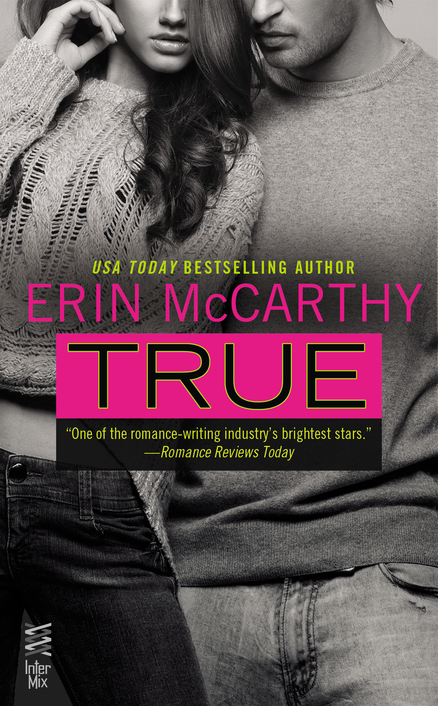 I'm excited to welcome author Erin McCarthy to the blog today. I recently read her book True, a New Adult e-book from InterMix, an imprint of Penguin.
You may be familiar with Erin's Fast Track, Vegas Vampires, or NY Girlfriends series' but now she's getting her feet wet with New Adult. I chatted with her a little about the NA genre, tattoos, and what's coming up next.
True is about Rory, a smart, sexually naive college student, whose friends hire the perfect guy to give her some experience. Tyler is the tattooed bad boy type in the EMT program. He has more than a casual interest in Rory, but he also has some serious family drama going on competing for his attention. Do they have what it takes to go the distance? If you liked the intensity of Beautiful Disaster, True may be the right book for you.
Please welcome Erin McCarthy to the blog today:
Thanks for answering a few questions about True, Erin! I really enjoyed the book and I'm looking forward to reading more about these characters.
Where did you get the idea for True?
Honestly, I have no idea.  I was just brainstorming ideas for a new adult and suddenly Rory was there in my head.
Rory is easy to relate to, and I liked seeing her character develop as she gets more immersed in Tyler's world.
This is your first New Adult novel. What drew you to that category?
I love the raw honesty of the genre.  It's so emotional at that age, and everything you do is helping you define yourself as an adult.  Mistakes, passion, highs and lows, it's a unique point in life and I was excited to try to capture that.
I think it's an exciting category too, and I'm interested to see how it evolves. Raw honesty is a good description.
Did you read any New Adult books for research? Do you have any favorite titles or authors to recommend?
I did read popular New Adult authors like Tammara Webber, Jamie McGuire, Abbi Glines, and Colleen Hoover just to see what was out there.  Lots of good titles to chose from!
Those are some of my favorites. I loved Easy especially, and everything by Colleen Hoover.

There is a meaningful tattoo featured in True. Do you have any ink? If you were to get a symbolic tattoo what would it be?
I have two tattoos.  On my forearm I have the phrase in Latin "I'll either find a way or I'll make one."  It's a tattoo for strength and determination.  On my foot and ankle I have a vine of morning glories, which was my dad's nickname for me when I was little.  In the vines, the phrase "Let it Be" is woven to remind me that I can't control the fact that he died in my twenties, but I will always have the great memories.  For me, something permanent on your body should have deep meaning, but it's not for everyone.
Thanks for sharing the meaning behind your tattoos. That's a lovely tribute to your dad and I'm touched that you shared it with us.
What were your favorite characters and/or scenes to write?
Obviously, I love Rory and Tyler, but I have to say that Jayden wormed his way into my heart.  His honesty and acceptance is awesome.  My favorite scene was probably out by the garage at Tyler's house, when it becomes obvious their relationship had changed, become something more.
Jayden is awesome, and I like all the scenes with Tyler's brothers actually.
What is your writing process like? Any quirks, favorite drinks or snacks, best time of day to write, or music you like to have on hand?
Diet Coke and coffee and water.  I drink liquids all day and you will never see me without a drink in my hand or my bag.  I write during the day, ten to 3ish Monday through Friday.  I always listen to music though it depends on what it is according to the book.  I tend to listen to what the character would listen to, so for TRUE there was a lot of metal involved.
It's interesting how some authors need complete silence to write and some feed off of that musical energy. Metal and diet coke go hand in hand 🙂

Let's play casting director.  Who would star in the movie version of True?
I am super territorial about my guys and I can never think of an actor that would be what I pictured in my head.  Girls are a little different, I'm more flexible.  I could see Emma Roberts as Rory.
I can see that. And yes, maybe an unknown actor for Tyler and his brothers.
Is it true that a sequel/companion novel is in the works about another character in True? Can you tell us a little about that? Will we see more of Rory and Tyler?
It is true! And no, that isn't a pun. 😉  The second book will feature Riley, Tyler's brother, and Jessica, Rory's roommate.  Tyler and Rory will be back, along with the younger Mann brothers.  Jessica finds herself without a place to stay after lying to her parents, and she ends up bunking with Riley… lots of sparks between those two.
Haha I didn't think about the True pun! I think we saw some of those sparks in True and I can't wait to see how it develops.
Thanks for the chat, Erin and InterMix Books!

About the Author:
Erin McCarthy is the New York Times and USA Today bestselling author of more than 40 novels and novellas in the paranormal, contemporary romance, and young adult genres.  The author is a RITA award finalist and an American Library Association winner of the Reluctant Young Reader award.  She lives with her family in Ohio.

Connect with Erin: Website * Twitter * Facebook * Goodreads

Buy True: Amazon * Barnes & Noble
About True:
When Rory Macintosh's roommates find out that their studious and shy friend has never been with a guy, they decide that, as an act of kindness they'll help her lose her virginity by hiring confident, tattooed bad boy Tyler Mann to do the job…unbeknownst to Rory.

Tyler knows he's not good enough for Rory. She's smart, doctor smart, while he's barely scraping by at his EMT program, hoping to pull his younger brothers out of the hell their druggy mother has left them in. But he can't resist taking up her roommates on an opportunity to get to know her better. There's something about her honesty that keeps him coming back when he knows he shouldn't…

Torn between common sense and desire, the two find themselves caught up in a passionate relationship. But when Tyler's broken family threatens to destroy his future, and hers, Rory will need to decide whether to cut her ties to his risky world or follow her heart, no matter what the cost…
True is available as an e-book exclusive from InterMix/Penguin for $3.99.
Congrats to Nicole who won an e-book of True!
Related Posts