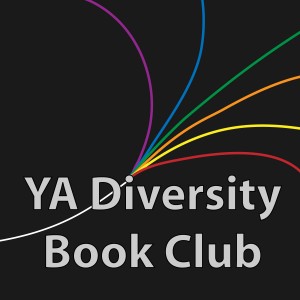 In the YA Diversity Book Club, we chat about the latest YA books that celebrate diversity. Our book club includes Sandie @ Teen Lit Rocks and Kristan @ We Heart YA. Each month we focus on one book with a book review (our discussion chat) and bonus features, and aim to bring attention to diverse books.
Our book club will be back in February to share our latest book discussion, but in the meantime we are highlighting the diverse books we are looking forward to reading this year! I posted a Top 15 most anticipated diverse titles of 2015 list last year and many of the titles ended up being year-end favorites. Let's hope for the same success this time around.
I'm focusing my list on LGBT titles this time around since I see so many promising titles coming out this year!
Top 16 Most Anticipated LGBT Titles of 2016: 
1. We Are the Ants by Shaun David Hutchinson – This light sci-fi book is about grief, love, life, and learning to save yourself. Jan 19, Simon Pulse.
2. Symptoms of Being Human by Jeff Garvin – Riley is gender-fluid and starts an anonymous blog to share their story. The blog goes viral and a commenter threatens Riley's anonymity. Feb. 2, Balzer + Bray.
3. Seven Ways We Lie by Riley Redgate – "A chance encounter tangles the lives of seven high school students, each resisting the allure of one of the seven deadly sins, and each telling their story from their seven distinct points of view." One of the characters is pansexual. March 8, Amulet Books.
4. The Great American Whatever by Tim Federle – Federle's YA debut is "a laugh-out-loud sad YA debut that's a wry and winning testament to the power of old movies and new memories—one unscripted moment at a time." March 29, Simon & Schuster.
5. South of Sunshine by Dana Elmendorf – Kaycee struggles with being honest about her sexuality in a small Southern town. A crush on a new girl in school encourages Kaycee to try to be who she really is. April 1, Albert Whitman.
6. Away We Go by Emil Ostrovski – In this near-future dystopia, teens are contracting the Peter Pan Virus in record numbers, and Noah falls for an older guy at a the Westing Academy recovery center. April 5, Greenwillow Books.
7. If I Was Your Girl by Meredith Russo – Amanda is a transgender girl and starting at a new school – she falls for a guy and worries about opening up her heart to him. May 3, Flatiron Books.
8. The Blood Between Us by Zac Brewer – This mystery is about family and secrets, but also about labels and a refusal to be defined. May 3, Harper Teen.
9. Without Annette by Jane B. Mason – Josie and her girlfriend Annette move across the country to attend a prestigious boarding school, but Josie is concerned when Annette wants to keep their relationship a secret. May 31, 2016, Scholastic.
10. Look Both Ways by Alison Cherry – Brooklyn falls for Zoe during a summer away at theater camp. June 14, Delacorte Press.
11. You Know Me Well by Nina LaCour and David Levithan – Mark and Kate are school acquaintances who run into each other one night. They bond over their shared crushes – Kate loves a girl from afar and Mark is in love with his best friend Ryan. June 7, St. Martin's Griffin.
12. The Inside of Out by Jenn Marie Thorne – This book explores privilege and how someone who wants to be an ally for a gay friend makes the story into something else.  July 12, Dial Books.
13. As I Descended by Robin Talley – "A retelling of Macbeth set at a contemporary Virginia boarding school. It centers around a lesbian couple who set out to dethrone the school's resident Mean Girl." Sept. 6, Harper Teen.
14. Of Fire and Stars by Audrey Coulthurst – "Pitched as Malinda Lo meets Game of Thrones, about a future queen who falls in love with her fiancé's sister." Nov. 22,  Balzer + Bray.
15. When the Moon was Ours by Anna-Marie McLemore – This story "follows two characters through a story that has multicultural elements and magical realism, but also has central LGBT themes—a transgender boy, the best friend he's falling in love with, and both of them deciding how they want to define themselves." October 4, Thomas Dunne Books.
16. Beast by Brie Spangler – This modern retelling of Beauty and the Beast features a transgender love story. October 11, Knoph.
Did any of these books catch your eye? Check out more YA LGBT 2016 Titles on this Goodreads list. You can also join the LGBTQIA Reading Challenge at Pretty Deadly Reviews.
Make sure to visit Teen Lit Rocks and We Heart YA to see what diverse titles they can't wait to read.
Check back in February for our book club discussion of The Girl from Everywhere by Heidi Heilig.
Related Posts