In the YA Diversity Book Club, we chat about the latest YA books that celebrate diversity. Our book club includes Sandie @ Teen Lit Rocks and Kristan @ We Heart YA. Each month we'll focus on one book with a book review (our discussion chat) and bonus features.
Our April book club pick is S.J. Laidlaw's FIFTEEN LANES. This book is about two girls living in Mumbai- Noor lives in a brothel and is trying to avoid becoming a sex worker like her mother, and Grace lives a life of privilege, though is the victim of a cyber attack. Their paths intersect – can they help each other get through their personal struggles? Read on to find out more about the book and some suggestions for further reading on the topic of sex trafficking, plus I have a giveaway for an ARC of Fifteen Lanes.
Don't miss the insightful author Q&A with author S.J. Laidlaw featured on We Heart YA and our book club discussion on Teen Lit Rocks. Thanks so much to Tundra publishing for providing our book club with copies of the book!
About the book: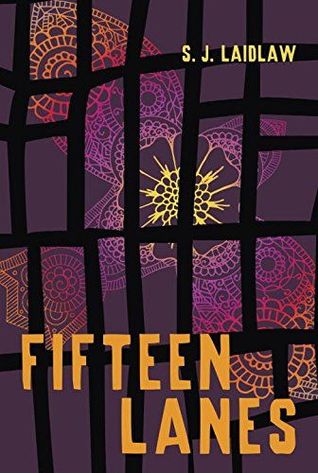 Fifteen Lanes by S.J. Laidlaw, Hardcover, 304 pages, Tundra Books, April 5
Find it: Goodreads * Amazon * Barnes & Noble * IndieBound * Read an Excerpt
Noor has lived all of her fourteen years in the fifteen lanes of Mumbai's red light district. Born into a brothel, she is destined for the same fate as her mother: a desperate life trapped in the city's sex trade. She must act soon to have any chance of escaping this grim future.

Across the sprawling city, fifteen-year-old Grace enjoys a life of privilege. Her father, the CEO of one of India's largest international banks, has brought his family to Mumbai where they live in unparalleled luxury. But Grace's seemingly perfect life is shattered when she becomes a victim of a cruel online attack.

When their paths intersect, Noor and Grace will be changed forever. Can two girls living in vastly different worlds find a common path?

Award-winning author S.J. Laidlaw masterfully weaves together their stories in a way that resonates across class and culture. Fifteen Lanes boldly explores the ties that bind us to places and people, and shows us that the strongest of bonds can be forged when hope is all but lost.
human trafficking: FURTHER READING (AND fifteen lanes book GIVEAWAY!)
There have been very few YA books on the topic of human trafficking and modern-day slavery but I'm glad to see books like Fifteen Lanes out there to help build awareness on this serious issue. From the National Human Trafficking Resource Center (NHTRC):
The International Labor Organization estimates that there are 20.9 million victims of human trafficking globally, with hundreds of thousands in the United States. The victims of this crime in the U.S. are men and women, adults and children, and foreign nationals and U.S. citizens. As defined by U.S. law, victims of human trafficking can be divided into three populations:

Children under the age of 18 induced into commercial sex
Adults (age 18 or over) induced into commercial sex through force, fraud, or coercion
Children and adults induced to perform labor or services through force, fraud, or coercion

Human trafficking victims have been identified in cities, suburbs, and rural areas in all 50 states, and in Washington, D.C. They are made to work or provide commercial sex against their will in legal and legitimate business settings as well as underground markets. Some victims are hidden behind locked doors in brothels and factories. In other cases, victims are in plain view and may interact with community members, but the widespread lack of awareness and understanding of trafficking leads to low levels of victim identification by the people who most often encounter them.
Here are some YA and Adult books to consider for further reading:
Little Peach by Peggy Kern – Michelle is a New York runaway who gets caught up in the world of child prostitution.
Trafficked by Kim Purcell – Hannah leaves Moldova to be a nanny in Los Angeles and is trapped into domestic servitude.
Sold by Patricia McCormick – At thirteen Lakshmi is sold into prostitution in India to help support her family, a debt that seems will never be repaid.
Out of the Easy by Ruta Sepetys – In 1950 New Orleans Josie is the daughter of a sex worker who is looking to escape the same fate.
My Book of Life by Angel by Martine Leavitt – Set in Vancouver, Sixteen-year-old Angel moves in with Call and he asks her to hook up with his friends as a favor- soon she's working the streets and trying not to become another statistic.
The Blue Notebook by James A. Levine – In Mumbai Batuk was sold to a sex trader by her father when she was nine. Batuk records her thoughts and feelings over the years in the blue notebook.
A Walk Across the Sun by Corban Addison – When a devastating tsunami hits, two sisters are kidnapped to work at a Mumbai brothel.
Giveaway!
One (1) winner receives:
An ARC of Fifteen Lanes
Giveaway open to US/Canada addresses only, to ages 14 and up
Prizing provided by Tundra Books and shipped by The Reading Date.
To enter, please fill out the Rafflecopter widget below. Good luck!
Next Month:
Hope you'll read-along with us in May as we discuss THE STAR-TOUCHED QUEEN by Roshani Chokshi.
Follow us on Tumblr to keep up with our book club schedule and feature posts. Have something to say about FIFTEEN LANES or our other featured books? You are welcome to submit your posts for inclusion in the roundups on Tumblr.

Related Posts