Today I'm happy to feature Megan Erickson's latest book DIRTY THOUGHTS! This romantic read features a compelling "second chance" romance.  And fans of Erickson's MAKE IT RIGHT will enjoy learning more about Max's mechanic brothers Cal and Brent. This is the first book in the Mechanics of Love series and it's a red-hot read for the upcoming holiday weekend. Find out more about Dirty Thoughts, check out an excerpt and enter to win an awesome giveaway.
About the book:
Some things are sexier the second time around

Cal Payton has gruff and grumbly down to an art…all the better for keeping people away. And it usually works. Until Jenna Macmillan—his biggest mistake—walks into Payton and Sons mechanic shop all grown up, looking like sunshine, and inspiring more than a few dirty thoughts.

Jenna was sure she was long over the boy she'd once loved with reckless abandon, but one look at the steel-eyed Cal Payton has her falling apart all over again. Ten years may have passed, but the pull is stronger than ever…and this Cal is all man.

Cal may have no intention of letting Jenna in, but she's always been his light, and it's getting harder to stay all alone in the dark. When a surprise from the past changes everything, Cal and Jenna must decide if their connection should be left alone, or if it's exactly what they need for the future of their dreams.
Dirty Thoughts is on sale now in digital format for just $1.99. Find it: Harper Collins | Amazon | B&N |iTunes | Google Play | Goodreads
Check out an excerpt:
<div id="a98857713c8bd4e6e66e22″></div><script type="text/javascript">!function(){window._hcws = window._hcws || [];window._hcws.push({isbn:9780062407733, x: 600, y: 600, s: 'ecommerce_us', b: 1, id: 'a98857713c8bd4e6e66e22' });var s = document.createElement('script'); s.type = 'text/javascript'; s.async = true; s.src = '//bi.hcpdts.com/js/reflow/reflow.php'; var n = document.getElementsByTagName('script')[0];n.parentNode.insertBefore(s, n);}();</script>
About the Author: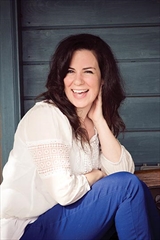 Megan Erickson grew up in a family that averages 5'5" on a good day and started writing to create characters who could reach the top kitchen shelf.

She's got a couple of tattoos, has a thing for gladiators and has been called a crazy cat lady. After working as a journalist for years, she decided she liked creating her own endings better and switched back to fiction.

She lives in Pennsylvania with her husband, two kids and two cats. And no, she still can't reach the stupid top shelf.
Last chance to enter this aweseome giveaway!
Related Posts