One thing I appreciate about some of the New Adult books I've read is that they address touchy subject matters. In Picture Perfect, Alessandra Thomas's debut, that topic is weight. The main character in Picture Perfect is a model that gains 60 pounds after an accident. Cat is now a size 12-14 instead of her former size 2. She is the size of the average American woman, but compared to her skinny friends she doesn't feel average at all. We get to see life through the eyes of a formerly thin person and how friends and acquaintances old and new treat her. Picture Perfect is a refreshing and relevant read for anyone concerned with weight, diet and exercise- namely everyone.
Cat was a runway model and is used to clothes fitting her perfectly. She's finding it hard to embrace her new curves to say the least. At a low point she seeks guidance from the school psychologist who recommends nude modeling as a way to get comfortable in her new skin and gain confidence. Intimidating, right? And, a guy in the drawing class asks her out afterwards. Seems a little creepy, but it turns out they have a history and went to summer camp as kids together. Nate is gorgeous and encouraging and seems too good to be true basically. He lifts her up and makes her feel beautiful, but is he just a Band-Aid for Cat's self-esteem issues?
Cat's body issues ring true and I'm sure will strike a chord with anyone who has ever struggled with weight. From clothes not fitting right, to feeling inadequate next to thinner friends, to wanting to hide your body- Cat's weight takes a toll on her everyday life. I like that the book busts stereotypes and addresses self-confidence issues, what's normal and healthy, and female empowerment. It's also interesting to see Cat's view of things from someone who has always been skinny.
I found Cat's personal growth and development more interesting than the romantic side of the story. Maybe I was waiting for the other shoe to drop with Nate. He just seemed hard to believe, and I can't pinpoint why. The two have some chemistry and steamy scenes though, and their relationship is an important part of Cat's journey. I did like how Nate introduced rock climbing to Cat and ways to make exercise fun and enjoyable. I wish Cat continued to model for the nude drawing class but maybe that would have been a little odd with the guy in her life in the class.
Picture Perfect has personality and a strong, authentic voice. I enjoyed reading this one and it kept my interest. The message is a good one, no matter if your insecurity is weight related or not. Looking forward to reading more from this author, and more about this subject matter.
About the Author: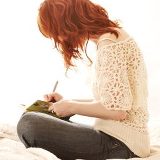 Alessandra Thomas is a New Adult writer who swears she was in her twenties yesterday. Since she's not, she spends her time looking back on her college years fondly, and writing sexy stories about guys and
girls falling in love and really living life for the first time. When she's not writing, you can find her with a spoonful of ice cream in one hand and the newest New Adult release in the other.
Visit her here: Goodreads | Twitter | Facebook
Picture Perfect is on sale now: Amazon | Barnes & Noble
Giveaway! Enter the rafflecopter giveaway for a chance to win a signed paperback or ebook of Picture Perfect!
Thanks to InkSlinger PR for hosting the blog tour and providing a review copy of Picture Perfect.
Check out more release day reviews of Picture Perfect by visiting these fab blogs:

Stuck in YA Books
Bookmarks, Spoilers, and Happily Ever Afters
The Reading Date
My Book Muse
Brittany Blabs Books
For the Love of Film and Novels
Random Girl Book Blog
BookNerds Anonymous
Book Addicted AA
Jessie Harrell
Waves of Fiction
BookNerds Across America
Snuggling on the Sofa
Becca Watson
Kate's Tales of Books and Bands
Total Bookaholic
The Book Pixie
Roxy Kade
Related Posts