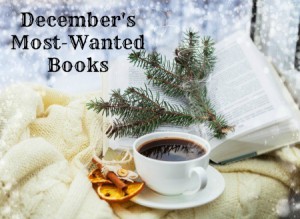 Happy almost-December! 2014 is almost a wrap, but there are still some new books to look forward to for the last few weeks of the year. For my "Dying for December" book picks I'm highlighting fourteen books that are on my radar this month:
Adult Fiction:
The Life Intended by Kristin Harmel – Dec. 30, Gallery Books. Kate is getting ready to remarry but the ghost of her first husband is haunting her dreams- is he trying to tell her something, and is she intended to do something else with her life?
Independently Wealthy by Lorraine Zago Rosenthal – Dec. 2, Thomas Dunne Books. In this standalone sequel to New Money, Savannah is a twenty-something year old living the dream in Manhattan, though haunted by the mystery of her father's death.
The Rosie Effect by Graeme Simsion – Dec. 30, Simon & Schuster. This sequel to The Rosie Project has been getting mixed reviews, though I'm still eager to check it out.
NA/Romance:
Last Will and Testament by Dahlia Adler – Dec. 9, self-pub. College student Lizzie lost her parents and now is guardian to her two younger siblings. Her teacher lends a hand, and his friendship turns into something more.
Wicked by Jennifer L. Armentrout – Dec. 8, self-pub. A new adult PNR featuring fairies!
You Were Mine by Abby Glines – Dec. 2, Atria Books. Book #9 in the Rosemary Beach series- this installment is about Tripp and Bethy.
French Kissed by Chanel Cleeton – Dec. 1, self-pub. Book #3 in the International School series, about Fleur, a breakout character from the first two books.
Inspire by Cora Carmack – Dec. 15, self-pub. This is Carmack's first paranormal book, and it's about an immortal muse whose "presence may inspire greatness. But it breeds madness, too."
Bad Romeo by Leisa Rayven – Dec. 23, St. Martin's Press. There has been some positive buzz about this book, and I can't wait to read it for myself. It's about the turbulent romance between the stars of Romeo & Juliet.
YA:
Breaking the Rules by Katie McGarry – Dec. 8, Harlequin Teen. Echo and Noah from Pushing the Limits get a follow-up story.
Now That You're Here by Amy K. Nichols – Dec. 9, Knopf Books. Book 1 in the Duplexity series. Dual POV book about nerd culture and love in a parallel universe.
No Place to Fall by Jaye Robin Brown – Dec. 9, HarperTeen. This book is about Amber's complicated path to attending a performing arts school.
For Real by Alison Cherry – Dec. 9, Delacorte Press – Sisterly bonding, reality show style!
Top Ten Clues You're Clueless by Liz Czukas – Dec. 9, HarperTeen. A group of grocery store employees get locked in the break room Breakfast Club style until it's determined who stole $10k.
What books are you excited to read this month? 
Related Posts