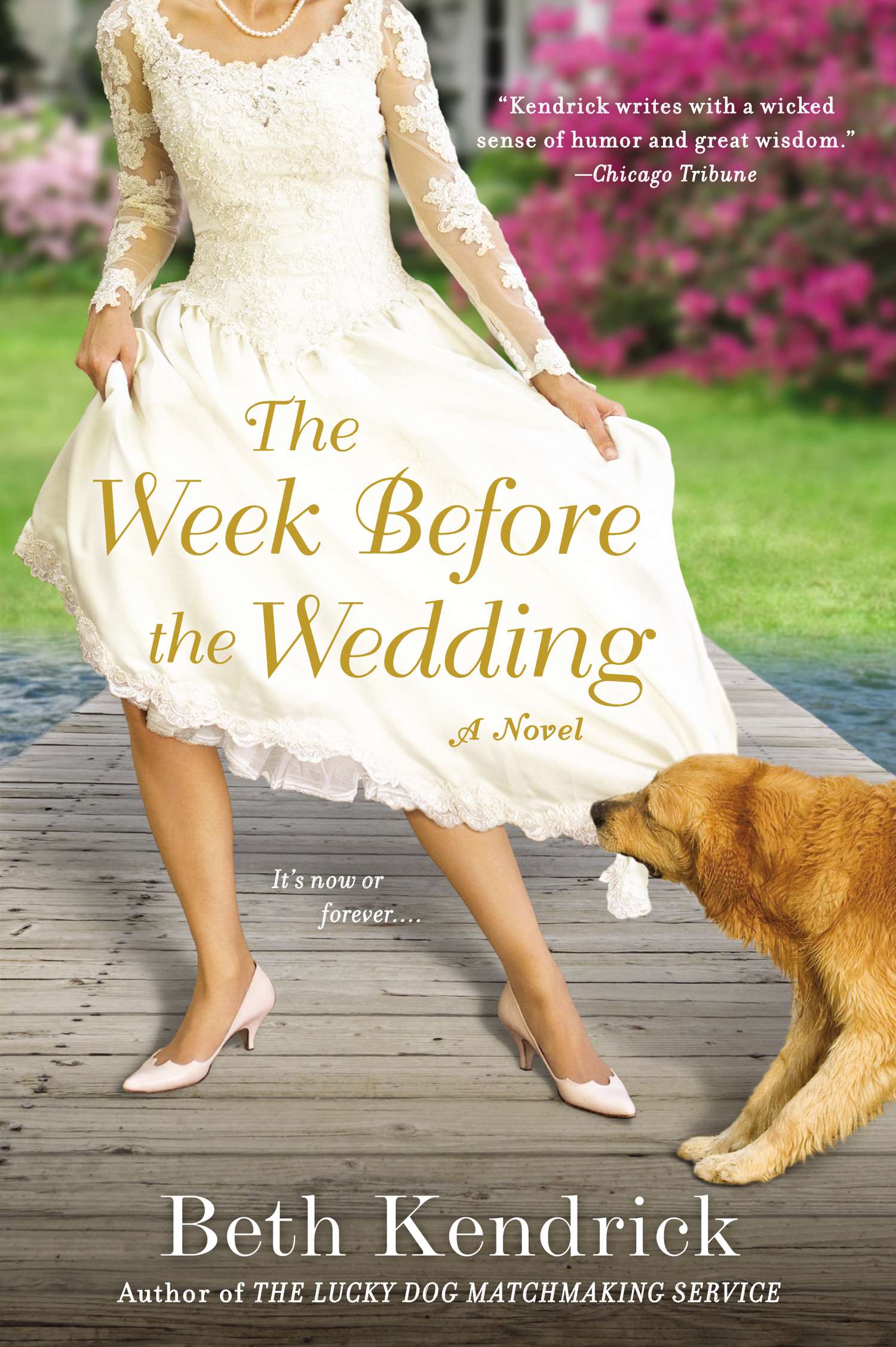 I'm excited to welcome author Beth Kendrick to the blog today. I recently read her book The Week Before the Wedding, a contemporary romance from NAL Trade that just hit stores this week. It's about what happens when a bride-to-be's world is turned upside down by the appearance of her ex-husband.
The Week Before the Wedding is so fun, like reading the book version of a rom-com – think Sweet Home Alabama or My Best Friends Wedding. Emily is caught between her old flame, bad boy turned hotshot film producer Ryan, and her fiancé and man of her dreams, surgeon Grant. I liked them both- how often does that happen in love triangles? The comedy and romance put a smile on my face all the way through.
And here's Beth Kendrick to share some behind the scenes info on the book:
Hi Beth! Thanks for answering a few questions about your latest release. I enjoyed your book and I'm thrilled to have you on the blog.
The story is so fun and romantic like a romantic comedy, and I can easily imagine it as a film. What are your
favorite rom-coms, and if The Week Before the Wedding was a movie, who would star?
My all-time favorite rom-com is "Clueless." (To this day, when I'm struggling to parallel park, I'll mutter, "You're a virgin who can't drive" to myself.) I also adore "Four Weddings and a Funeral" and "Muriel's Wedding."
I would be thrilled if "The Week Before the Wedding" were adapted for a film. I don't usually create characters with real people or celebrities in mind, so I'd leave that decision up to the casting directors!
Love those movies! Now I'm going to have to re-watch Clueless. I couldn't help but cast the film in my mind while I was reading it.

Are there any funny real-life wedding stories that inspired the book?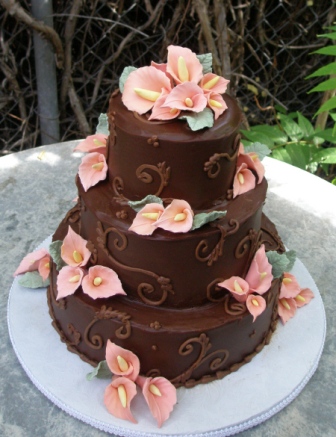 There's a scene set in a high-end male strip club that may or may not involve some autobiographical elements. But to hear that story, you'll have to corner me at a writing conference and ply me with martinis…
I see! Haha we'll have to see about that.
Keeping with the wedding theme, what is your favorite flavor of wedding cake?
Chocolate cake with chocolate filling and chocolate frosting. Plus, a little chocolate sauce on top—you know, to cut the sweetness.
If your book had a theme song, what would it be?  
This story was inspired in part by the Sugarland song "Stuck Like Glue."  It's an upbeat, funny song about the people in our lives who drive us crazy but love and understand us in a way no one else does. Sometimes great chemistry overrides conventional wisdom…and that's not always a bad thing!
Fun fact: If you watch the video on YouTube (below), you will notice a tarnished silver skull ring in the opening shot. That skull ring makes a cameo in the book!
Very cool! I believe the skull ring is mistaken for a wedding ring in the book – that would be an unconventional choice.
Favorite/worst songs played at wedding receptions?
I'm a sucker for the classics: "Moonlight Serenade" by the Glen Miller Orchestra and the Etta James version of "At Last."
And I'm in no position to criticize anyone else's song choices, because my mother's side of the family has this tradition where we always play Guns N' Roses' "Welcome to the Jungle" at some point during every reception. (Like most writers, I come from a weird family!)
That's an awesome tradition!
What was your favorite scene to write?
The scene where bride-to-be Emily is trying on her dainty heirloom wedding dress while simultaneously trying to referee a flower girl fight, stop her mother from stabbing the groom's mother with a bejeweled stiletto, and stay out of sight of her fiancé…and in doing so, runs right into the ex-husband she's been trying to purge from her heart for the last ten years.
Ryan, the ex, hasn't seen Emily since she was fresh out of college and favored a wardrobe of faux leopard print and leather hot pants. And now she's in pearls and kitten heels. So he gives her a slow, smoldering once-over and then he says…well, I won't ruin it for you, but it's one of my favorite lines in the book!
Me too- I love that scene. I fell for Ryan right away. Their chemistry is off the charts.

Have you ever wanted to write a sequel to any of your books or do you prefer writing standalone novels?
My next novel is called The Cure for the Common Break Up, and it's actually a spin-off of The Week Before the Wedding. The heroine, Summer, was Emily's maid of honor. Summer is one of those characters who just burst onto the scene and stole the spotlight. My editor and I both adored her, so we decided she deserved her own story.
Glad to hear there's a companion book in the works!
How have your own rescue dogs inspired your writing?
Oh, yes.  Their behavior may be bad, but I console myself that I'll get good material out of it. Those shredded rolls of paper towels did not die in vain!
What have you been reading lately?
I'm in the middle of Data: A Love Story by Amy Webb. It's the funny, fascinating memoir of a tech-savvy journalist who was fed up with the horrors of online dating and figured out strategies to "game" the system so she could search out—and attract—the most compatible prospects. So interesting from a cultural, psychological, and mathematical perspective.
I haven't heard of that one. Data does sound fascinating.

Thank you for taking the time to answer these questions, Beth!
About the Author:
Beth Kendrick's writing career began at a wedding. She was invited as a plus-one to a wedding, and when she heard that the bride was a successful romance novelist, well, how could she say no? Being a writer had always been herdream job, and here was the chance to run elbows with one! She waited until the bride and all her author friends uncorked the good champagne, and then sidled up to them at the bar and peppered them with endless questions about writing, editing, and landing an agent. Before long, she was knee-deep in the manuscript that eventually became MyFavorite Mistake.
Since then, Kendrick has written eight more novels, including Nearlyweds, which was made into a movie by Hallmark starring Naomi Judd (released in January 2013), and the popular title The Lucky Dog Matchmaking Service, which was recently included in a "Top 10 Women's Fiction" list from Booklist.
About The Week Before the Wedding: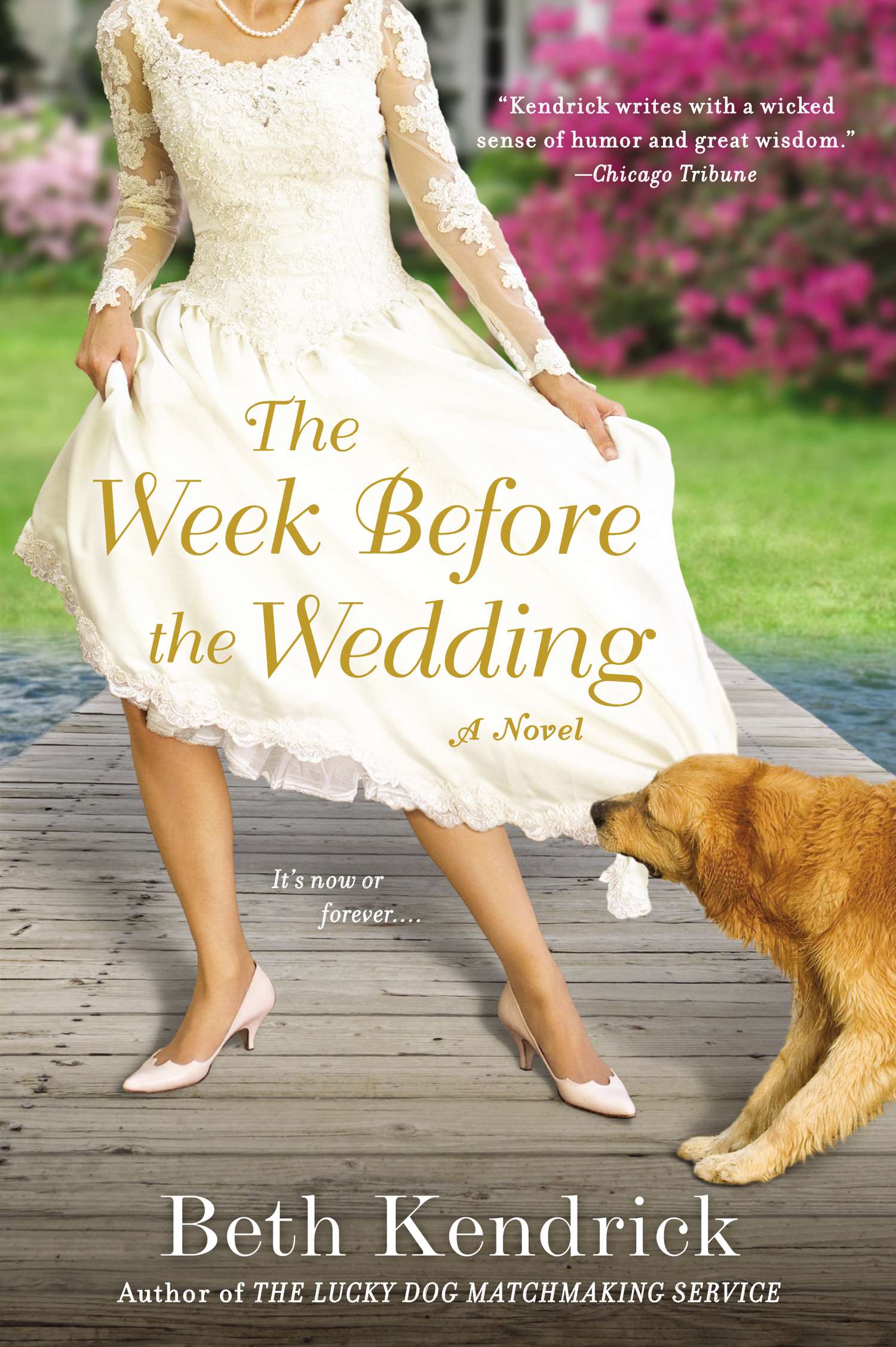 Former wild-child Emily McKellips yearns for a drama-free life, complete with a white picket fence. Her dreams are about to come true: she has a stellar career, a gorgeous house, and the perfect fiancé. Now she just has to survive the week before her wedding at a rustic lakeside resort in Vermont with her extravagant mother, her impossibly well-adjusted future in-laws, and a pack of restless bridesmaids. Then it's happily ever after.
But when Ryan Lassiter, her ex-husband from a starter marriage, shows up unexpectedly, Emily can't help but remember the kind of girl she used to be—and the kind of girl she might still be. As the bridesmaids revolt and the mothers of the bride and groom do battle, Emily is surprised to discover new sides of both her ex and her fiancé. She thought she had life and love all figured out, but the next seven days might change her mind—and her heart.
Celebrate Wedding Week with Beth Kendrick by entering her #weddingweek twitter sweepstakes!
Every day of Wedding Week (May 13-17) one entrant (US only) will be chosen at random to win a copy of The Week Before the Wedding.
How to enter #weddingweek sweepstakes:
1)    Follow the author on twitter at @BKendrickBooks
2)    Tweet a picture of your wedding dress or dream wedding dress to the above twitter handle
3)    Use the hashtag #weddingweek in your tweet
What a fun contest! Find out all the contest rules and information at Beth Kendrick's website.
Related Posts