The Movie Date is a weekly feature where we discuss movies that may appeal to YA readers. Andrew is The Reading Date's resident movie critic and this week he discusses The East, directed by Zal Batmanglij.

A female agent is hired by a security firm to infiltrate a collective that commits terrorist acts against corporations, but she finds herself becoming sympathetic to its cause.
Brit Marling is the latest in a promising series of actresses in their 30s with unconventional beauty and intelligent gazes; she joins the ranks of Jessica Chastain (Zero Dark Thirty, Take Shelter) and Mireille Enos (The Killing, World War Z). All three play characters that know more than they say and speak as much with their pauses as with their dialogue.
The ability serves Marling well as she plays Sarah, a smart and motivated agent at a covert security firm that protects its corporate clients from terrorist acts. She's sent to sniff out and join The East, a gang of college-educated rebels living off the grid and eating discarded produce. After sleeping on the beach and hopping trains, she meets members of the group and fakes an injury to enter their compound. Naturally, the renegades regard her with suspicion. With each question and challenge they pose, we see the wheels spinning in Sarah's head: how do I respond? How do I keep from blowing my cover?
Over time, of course, she's accepted, and gets to know the players, including the quiet non-leader Benji (True Blood's Alexander Skarsgård) and sulky, untrusting Izzy (Ellen Page, Inception and Juno). The East's plan, advertised through YouTube videos, is to commit three anti-corporate "jams" in which CEOs are exposed to the deadly dangers they impose upon the world. Sarah's not always on board with The East's tactics but she begins to appreciate their concerns. And it begins to dawn on her, the security company she works for is a corporation, too…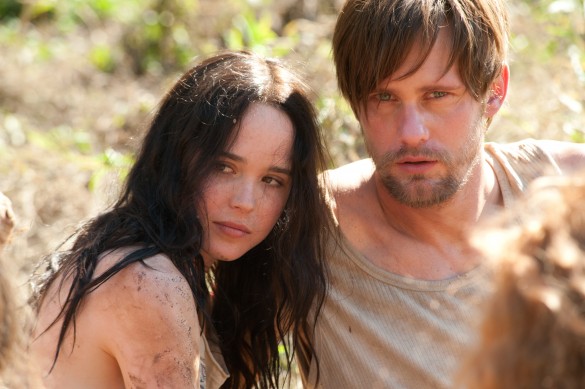 This is Brit Marling's third collaboration with up-and-coming director Zal Batmanglij. She and Zal co-wrote this screenplay as they did for their previous "jam," Sound of My Voice, in which she played a soft-spoken cult leader who may or may not be a transplant from Earth's future. But The East has no mystical trappings; it's a straight-ahead thriller with strong indie sensibilities. There are no car chases, shootouts, or explosions, just intrigue, suspense, and a little romance. With the story's simple, three-"jam" structure and topical content (given WikiLeaks, Occupy Wall Street, Anonymous, et al.), Brit and Zal could have shopped their script to Hollywood. Given the delicate, smart, and perfect result here, I'm glad they didn't. The story's unexpected resolution is appropriate and satisfying; the film may end too abruptly for some, but scenes over the end credit fill in the "what happened next" (and left me hankering for a sequel).
When asked why she's returned to The East's shabby commune after a break, Sarah responds, "The fact is, I missed being uncomfortable." Similarly, Marling says she chose acting "because it's the hardest thing in the world for me to do." But she makes it look easy, and I'm eager to see what Brit Marling does next, however uncomfortably.
If you missed The East in theaters, add it to your Netflix queue now. The East hits DVD September 17, is rated PG-13 and runs 116 min.
Related articles
Related Posts