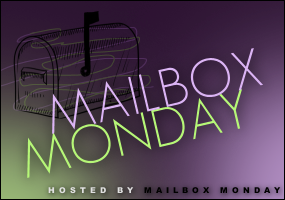 Mailbox Monday is a weekly event where we share our latest book arrivals. Link up and find new mailboxes to stalk at the Mailbox Monday blog!
Today's the last day to enter to win a copy of Madame Picasso and a trio of great movies. Enter here!
Here's what's new in my mailbox this week:
Books:
Books 1-4 in The Heir Chronicles by Cinda Williams Chima – This YA fantasy series is coming to a close with next month's The Sorcerer Heir.  Looking forward to diving into these!
e-ARC's:
After the Rain by Renee Carlino – Personal tragedy bonds Nate and Avelina, who meet at a Montana cattle ranch.
Bombay Blues by Tanuja Desai Hidier – The sequel to Born Confused (2002), Bombay Blues is set two years later when Dimple Lala goes to Bombay for a family wedding.
Who R U Really? by Margo Kelly – Internet safety is the theme here- when a girl falls under the spell of an online stranger.
Lies I Told by Michelle Zink – This is a book about a family of thieves, and Grace breaks character when she falls for her mark.
Love & Other Theories by Alexis Bass – A group of girls have a plan to prevent heartbreak by not letting their feelings get in the way, but a new guy makes the rules go out the window.
Audiobooks:
Heir of Fire by Sarah J. Maas, performed by Elizabeth Evans – I preordered the third book in the Throne of Glass series of course! This series is really good in audio format- it's spoiled me for the print version.
Trial by Fire by Josephine Angelini, performed by Emma Galvin – I got lucky and grabbed this one from the Overdrive library on the release day. This series is about a re-imagined Salem, where a girl who is weak and sickly at home is powerful in New Salem. The early buzz makes this sound pretty good.
Prisoner of Night and Fog by Anne Blankman, performed by Heather Wilds – This historical fiction is centered around Hitler's niece Gretchen, and she falls for a young Jewish reporter. I like listening to historical fiction so I was glad to see this one on Overdrive.
Thank you to: Big Honcho Media, Atria Books, Scholastic Push, Merit Press, and Harper Teen!
What's new in your mailbox?
Related Posts