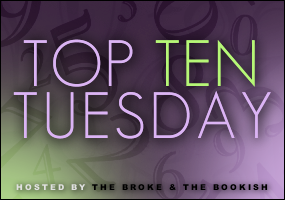 Top Ten Tuesday is an original feature from The Broke and the Bookish. This week's topic is the Top Authors I've Only Read One Book From But NEED to Read More. I looked over my Goodreads shelves to see which authors I've only sampled once to find the authors I need to read more from.
Why haven't I read more of your books, authors? In alphabetical order: 
1. Jennifer Brown – I liked Torn Away when I read it earlier this year, and think Hate List or Thousand Words look like my cup of tea.
2. Gillian Flynn – Of course I've read Gone Girl, but I want to catch up on Dark Places before the movie comes out.
3. Una LaMarche – Like No Other is such a fab book and I'm interested in catching up with Five Summers, and next year's memoir Unabrow.
4. E. Lockhart – We Were Liars was my first introduction to Lockhart and I want to read more to see what she's all about. Maybe I'll try The Disreputable History of Frankie Landau-Banks.
5. Patrick Ness – I've only read A Monster Calls from Ness, but have a feeling I'd like his Chaos Walking trilogy and More Than This.
6. Benjamin Alire Sáenz – Aristotle & Dante Discover the Secrets of the Universe was my first introduction to this author. But he's written a ton of other books too! I'm eyeing Last Night I Sang to the Monster.
7. Leila Sales – I've only read This Song Will Save Your Life (check out the new paperback cover!) I have a copy of Past Perfect to read next.
8. John Corey Whaley – Noggin is so great, and I need to read Whaley's big award winner Where Things Come Back.
9. Wendy Wunder – I liked The Probability of Miracles, but still haven't read The Museum of Intangible Things. It sounds so different from Miracles and I guess I just haven't been in the right mood to try it yet.
10. Gabrielle Zevin – I loved The Storied Life of A.J. Fikry and need to catch up on Zevin's other books. I do have a copy of Elsewhere, so perhaps that will be next!
Do you recommend I prioritize any of these authors/books? What authors do you want to read more from?
Related Posts