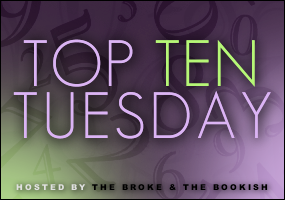 Top Ten Tuesday is an original feature from The Broke and the Bookish.
This week we are looking forward to next year and listing the books we are most looking forward to reading. No small task! Since we've already listed the books on our Winter TBR and most anticipated sequels, and soon we'll list debuts, this list doesn't include any of those titles. Looking at last year's list I read 7/10- it's fun to look back and see what I was excited for last year.
I'm going to focus on Contemporary YA this time around. These are the top ten books I'm looking forward to in 2015:
1. All the Rage by Courtney Summers – A girl was assaulted but no one believes her because the attacker is the sheriff's son. Now another girl is missing. April 14, St. Martin's Griffin.
2. The Devil You Know by Trish Doller– A Florida girl craves adventure and gets more than she bargained for when she embarks on a road trip with a pair of cousins. June 2, Bloomsbury.
3. Things We Know By Heart by Jessi Kirby – Quinn tracks down the guy who received her boyfriend's donated heart and they form a connection. April 21, HarperTeen.
4.Tonight the Streets are Ours by Leila Sales – A girl sets out on a road trip to track down the blogger she admires and learns more about herself and the blogger in the process. Sept. 15, Farrar, Straus and Giroux.
5. Emmy & Oliver by Robin Benway – Emmy and Oliver were childhood best friends until Oliver's father abducted him during a custody dispute. He returns ten years later and the two friends try to pick up the pieces. June 23, HarperTeen.
6. Kissing Ted Callahan (And Other Guys) by Amy Spalding – Music, kissing, Friendship, a Pact, Dogs, laughter and Los Angeles. April 14, Poppy.
7.The Fill-In Boyfriend by Kasie West –Gia gets dumped by Bradley (who none of her friends have met) right before the prom, and she enlists another guy to play the part and escort her. Things get sticky when both "Bradley's" pursue her and the lie gets exposed. May 5, HarperTeen.
8. The Summer of Chasing Mermaids by Sarah Ockler – A girl loses her voice in a boating accident, and now she can't sing or even speak. A boy helps her get back in the water and find her voice again.  June 2, Simon Pulse.
9. The Start of Me and You by Emery Lord – A year after Paige's boyfriend dies in an accident, she has a plan to start over. March 31, Bloomsbury.
10. I'll Meet You There by Heather Demetrios – Skylar's dreams of attending art school are seemingly unattainable when her mother loses her job. Mitchell is back home from the Marines minus one leg. The two meet and connect while working at a California motel. Feb. 3, Henry Holt & Co.
What's on your 2015 most-wanted list?
Related Posts