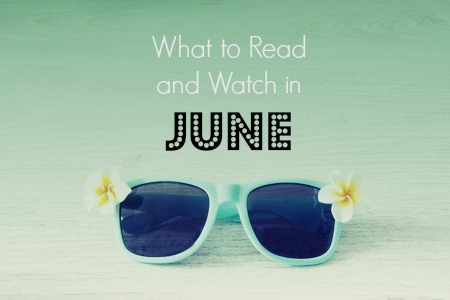 I know it's not quite June yet, but Memorial Day is a sure sign that summer is almost here. This month I'm highlighting the many books I have my eye on as well as some TV shows and movies I'm interested in.
YA:
June 2:
Skyscraping by Cordelia Jensen – Philomel. A 90s era verse novel about family and the AIDS epidemic.
More Happy Than Not by Adam Silvera – Soho Teen. A twisty, emotional read set in the Bronx about a boy who wants to erase his memories to forget some painful events.
Devoted by Jennifer Mathieu – Roaring Brook Press. A girl from a deeply religious family begins to question her faith.
The Devil You Know by Trish Doller – Bloomsbury. A thriller about a girl who goes on a dangerous road trip with two near-strangers.
June 9:
The Sacred Lies of Minnow Bly by Stephanie Oakes – Dial. A girl escapes a cult minus her family and both hands, and now she's in a juvenile detention center trying to decide whether to exchange secrets for freedom.
June 16:
Every Last Word by Tamara Ireland Stone – Disney Hyperion. A popular girl hides her OCD from her clique, and drifts to the misfits in Poet's Corner.
The Night We Said Yes by Lauren Gibaldi – Harper Teen. Ella and Matt try to relive one memorable night when he returns from a long absence.
June 23:
Emmy & Oliver by Robin Benway – Harper Teen. Emmy & Oliver reunite after he returns from a kidnapping ten years earlier.
The Summer of Chasing Mermaids by Sarah Ockler – Simon Pulse. An accident leaves a gifted singer without a voice.
June 30:
Between Us & the Moon by Rebecca Maizel – Harper Teen. A girl who is overshadowed by her sister tries on an older persona and falls for an older guy.
Adult:
June 2: 
In the Unlikely Event by Judy Blume – Knoph. A series of plane crashes in the 1950s touch the lives of three generations of friends and families.
The Lake Season by Hannah Roberts McKinnon – Atria Books. A woman's marriage falls apart and she retreats to her childhood lake house to help with her sisters's wedding preparations.
The Status of All Things by Liz Fenton & Lisa Steinke – Washington Square Press. Max breaks things off with Kate the night before the wedding, and she wishes she could rewrite history. She finds out she can when everything she writes in facebook begins to come true.
Eight Hundred Grapes by Laura Dave – Simon & Schuster. Georgia finds out a secret about her husband a week before the wedding. She flees to her family's vineyard only to discover another big secret back home.
June 16: 
Modern Romance by Aziz Ansari – Penguin Press. Ansari collaborates with a sociologist to examine modern dating habits.
Love May Fail by Matthew Quick – Harper. Portia leaves her cheating husband and returns home to South Jersey to help her high school English teacher.
June 23: 
The Idea of Love by Patti Callahan Henry – St. Martin's Press. Ella and Hunter are two strangers who fall for each other even though they are brought together by a little white lie.
Movies:
When Marnie Was There – May 22, Limited. This Studio Ghibli film is about a shy girl named Anna who befriends the mysterious Marnie.
Love & Mercy – June 5, Limited. This Brian Wilson biopic stars Paul Dano and John Cusack as Wilson.
Me and Earl and the Dying Girl – June 12, Wide. Greg is forced to spend time with Rachel, a girl just diagnosed with cancer.
Inside Out – June 19, Wide. Riley's unhappy when her family relocates to San Francisco and her emotions battle it out inside her head.
The Overnight – June 19, Limited. This comedy stars Taylor Schilling and Adam Scott as a couple new to Los Angeles that have a bizarre evening with another couple they meet through their kids.
Dope – June 19, Limited. This coming-of-age is about Malcolm, an Inglewood, CA geeky teen who dreams of attending Harvard. He attends an underground party that leads him on a big life-changing adventure.
TV:
The Whispers – ABC, June 1. Starring American Horror Story's Lily Rabe, The Whispers is about kids committing evil deeds at the instruction of their "imaginary friend."
Sense8 – Netflix, June 5 – Eight people in eight cities share one mind in this sci-fi series.
Orange is the New Black – Netflix, June 12 – About all we know about season 3 is that creator Jenji Kohan says the theme is "faith and motherhood."
True Detective – HBO, June 21 – Season 2 has a new cast and mystery so you can watch it as a standalone.
What are you looking forward to reading and watching in June? 
Related Posts