Happy March! February really got away from me blogging-wise but I still want to give a shout-out to some of the books that made the month bearable.
First up, here are some of the books that have made their way to me in the last month or so: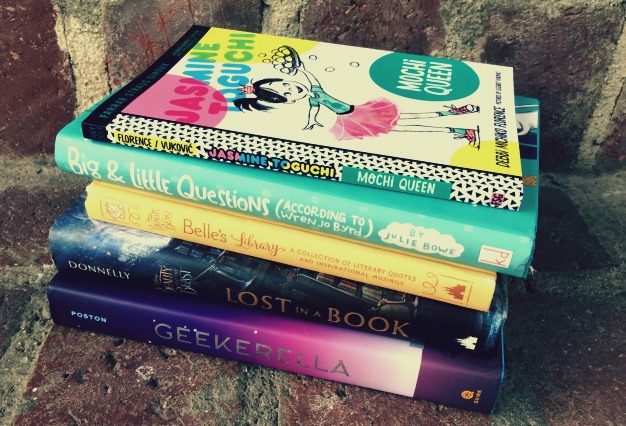 Jasmine Toguchi, Mochi Queen by Debbi Michiko Florence from Macmillan –  Jasmine is a young go-getter who wants to help the family roll mochi balls per family tradition but she gets shut out of the process. She is determined to make her mark somehow though! The book covers for this fun series are so adorbs!
Big & Little Questions (According to Wren Jo Byrd) by Julie Bowe from Penguin Random House – Wren is a nine-year-old introvert who is troubled over her parents' divorce and dealing with friendship drama at school.
Beauty & The Beast: Belle's Library by Walt Disney Company from Big Honcho Media & Disney Press – This cute literary journal includes inspiring quotes from Belle's favorite books.
Beauty & The Beast: Lost in a Book by Jennifer Donnelly from Big Honcho Media & Disney Press – Belle finds an enchanted book in the Beasts's library that opens up a whole new world.
Geekerella by Ashley Poston from Quirk Books – Geekerella is a nerd retelling of Cinderella complete with a Cinderella who works at the Magic Pumpkin food truck and meets her Prince Charming at the Cosplay Ball. Sounds super cute!
February Audiobooks for Review: Thanks, Simon & Schuster Audio!
Royally Matched by Emma Chase, read by Shane East, Andi Arndt – Book two in the Royally trilogy. The setup for this one is a royal version of The Bachelor, with a librarian non-contestant catching his eye. I just finished listening to this one and it is a fun follow-up.
The Burning World by Isaac Marion, read by Jacques Roy – The long-awaited sequel to Warm Bodies features R coming to terms with his new humanity.
The Young Wives Club by Julie Pennell, read by Rebekkah Ross – Four young wives come together to support each other through their relationship troubles.
February digital review copies:
Ramona Blue by Julie Murphy * What to Say Next by Julie Buxbaum *  The Inexplicable Logic of My Life by Benjamin Alire Sáenz * The Names They Gave Us by Emery Lord * The Seven Husbands of Evelyn Hugo by Taylor Jenkins Reid * Fitness Junkie by Lucy Sykes & Jo Piazza * In This Moment by Karma Brown * All the Best People by Sonja Yoerg
Favorite reads of February
The Handmaid's Tale by Margaret Atwood (great narration from Claire Danes- wanted to check this out before watching the Hulu series. Also. this book is scary relevant right now too)
You Can't Touch My Hair: And Other Things I Still Have to Explain by Phoebe Robinson (entertaining audiobook from a comedian/writer who discusses issues of race, feminism, pop culture and life in general. I'm a new fan and eager to check out her 2 Dope Queens podcast)
Big Little Lies by Liane Moriarty (Re-read in preparation for the HBO series- still good!)
Allegedly by Tiffany D. Jackson (Really powerful YA about a teenager in a group home for "allegedly" killing an infant. A chilling audiobook expertly narrated by Bahni Turpin)
Difficult Women by Roxane Gay (My only non-audiobook this month. This collection of short stories is about women in difficult situations in a lot of ways. An unflinching read that challenged me, as Gay's work tends to do)
The Most Dangerous Place on Earth by Lindsey Lee Johnson (Shout out to my sis for rec-ing this one. An unputdownable fiction read featuring intertwining stories of teenagers at a Northern California high school.
February at the Movies:
Last weekend I caught up on some Oscar nominees in theaters/digital rental:
Hidden Figures
Moonlight
Moana
(All three are fabulous and I was so happy that Moonlight won for Best Picture!)
And, I saw this in March but I have to give an early recommendation to go see Get Out in theaters. So good! Don't watch a trailer or anything – just go see it.
February on TV:
The Good Fight (I wanted to hate this because it's on yet another pay tv service, but it's good like The Good Wife used to be)
Big Little Lies (Superb casting for this adaptation. Madeline is the role of a lifetime for Reese Witherspoon!)
What's Next – March TBR:
Already read and loved The Hate U Give by Angie Thomas
Currently enjoying Some Kind of Magic by Mary Ann Marlow
March releases I have my eye on:
Exit West by Mohsin Hamid
All Grown Up by Jami Attenberg
Close Enough to Touch by Colleen Oakley
Honestly Ben by Bill Konigsberg
Plus my library holds and February arrivals. Wish me luck- ha!
What are you reading and watching this month?
Related Posts