I received this book for free from Publisher in exchange for an honest review. This does not affect my opinion of the book or the content of my review.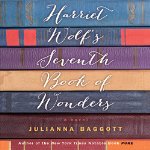 Harriet Wolf's Seventh Book of Wonders: A Novel
by
Julianna Baggott
Narrator:
Jodi Carlisle
,
Christine Lakin
,
Katie Koster
,
Susan Silo
Published by
Hachette Audio
on August 18th 2015
Genres:
Fiction
,
Contemporary Women
,
Family Life
Format:
Audiobook
Length:
10 hrs. 42 mins.
Source:
Publisher
Goodreads
The reclusive Harriet Wolf, revered author and family matriarch, has a final confession - a love story. Years after her death, as her family comes together one last time, the mystery of Harriet's life hangs in the balance. Does the truth lie in the rumored final book of the series that made Harriet a world-famous writer, or will her final confession be lost forever?

Harriet Wolf's Seventh Book of Wonders tells the moving story of the unforgettable Wolf women in four distinct voices: the mysterious Harriet, who, until now, has never revealed the secrets of her past; her fiery, overprotective daughter, Eleanor; and her two grown granddaughters - Tilton, the fragile yet exuberant younger sister who's become a housebound hermit, and Ruth, the older sister who ran away at 16 and never looked back. When Eleanor is hospitalized, Ruth decides it's time to do right by a pact she made with Tilton long ago: to return home and save her sister. Meanwhile Harriet whispers her true-life story to the listener. It's a story that spans the entire 20th century and is filled with mobsters, outcasts, a lonesome lion, and a home for wayward women. It's also a tribute to her lifelong love of the boy she met at the Maryland School for Feeble-Minded Children.

Harriet Wolf's Seventh Book of Wonders, Julianna Baggott's most sweeping and mesmerizing novel yet, offers a profound meditation on motherhood and sisterhood as well as on the central importance of stories. It is a novel that affords its characters that rare chance we all long for - the chance to reimagine the stories of our lives while there's still time.
In Harriet Wolf's Seventh Book of Wonders, beloved author Harriet Wolf has passed away, though readers still hold out hope that the rumored seventh book in her best-selling series will someday see the light of day. In this story, Harriet shares her never-told story, and her daughter and granddaughters deal with Harriet's legacy and try to learn from the past. Harriet's backstory is a love story with many twists and turns, and the mother-daughter angle pulls on your heartstrings.
It took me some time to get into the groove of this story (it almost starts off like a fairytale) but once I did, I couldn't put it down. This book is told in four alternating pov's: from the author Harriet, her daughter Eleanor, and her granddaughters Ruth and Tilton. Harriet's rich history is what kept me glued to my earbuds- her story is quite amazing. It was interesting to read and see how her colorful past shaped the lives of her daughter and grandchildren.
All of the four characters are interesting in their own right though Eleanor is a little harder to warm up to. Since Ruth left home at a young age, Eleanor is extremely protective of her youngest daughter Tilton, not even allowing her to leave the house. Tilton is a quirky character with a head full of secrets that really charmed me.
This family saga is an enthralling read filled with mystery, romance, and drama and characters that have lingered with me. I'd love to read more about these characters, but I'm not picky- I'd be happy reading Harriet Wolf's other 6 books. This is the first book I've read by Julianna Baggott but I'm sure to read more.
I listened to the full-cast audiobook, read by Jodi Carlisle, Christine Lakin, Katie Kosler, and Susan Silo. Everyone did a great job bringing Harriet's story to life. I believe Susan Silo is the voice of Harriet and she makes Harriet's story sound epic and magical and brings all of Harriet's joys and heartbreak to the surface. The narrators got to the heart of their characters and it was easy to get lost in the story. This audiobook ended all too quickly.
I think this book has crossover to appeal and I'd recommend it to book clubs, mothers and daughters, and to anyone that loves books about books.
Related Posts