Comic-Con is such a blast and I look forward to it every year, but boy is it exhausting! I planned to blog every day from San Diego, but after 16-hour days I just didn't have it in me. So, I have a few wrap-up posts planned, kicking off with today's look at the book panels and signings I attended at Comic-Con. This year there was more of an author presence than ever before – I wish I could have gone to all of the events. Unfortunately I had to make some tough choices this year. These are the bookish events I was able to attend, in chronological order.
1. Hungry for Dystopia author panel – The dystopian trend isn't showing any sign of slowing down judging by the books featured at Comic-Con. And at this panel authors explained why they are drawn to the genre, and talked about the marketing of their books and what makes the subject matter relevant to today's readers. Anna North (America Pacifica) moderated with panelists Neal Shusterman (Unwind trilogy), Lissa Price (Starters), Paolo Bacigalupi (The Drowned Cities), Michael Grant (Gone series, BZRK), Daniel H. Wilson (Robopocalypse series), Gennifer Albin (Crewel), and Marie Lu (Legend trilogy) in attendance.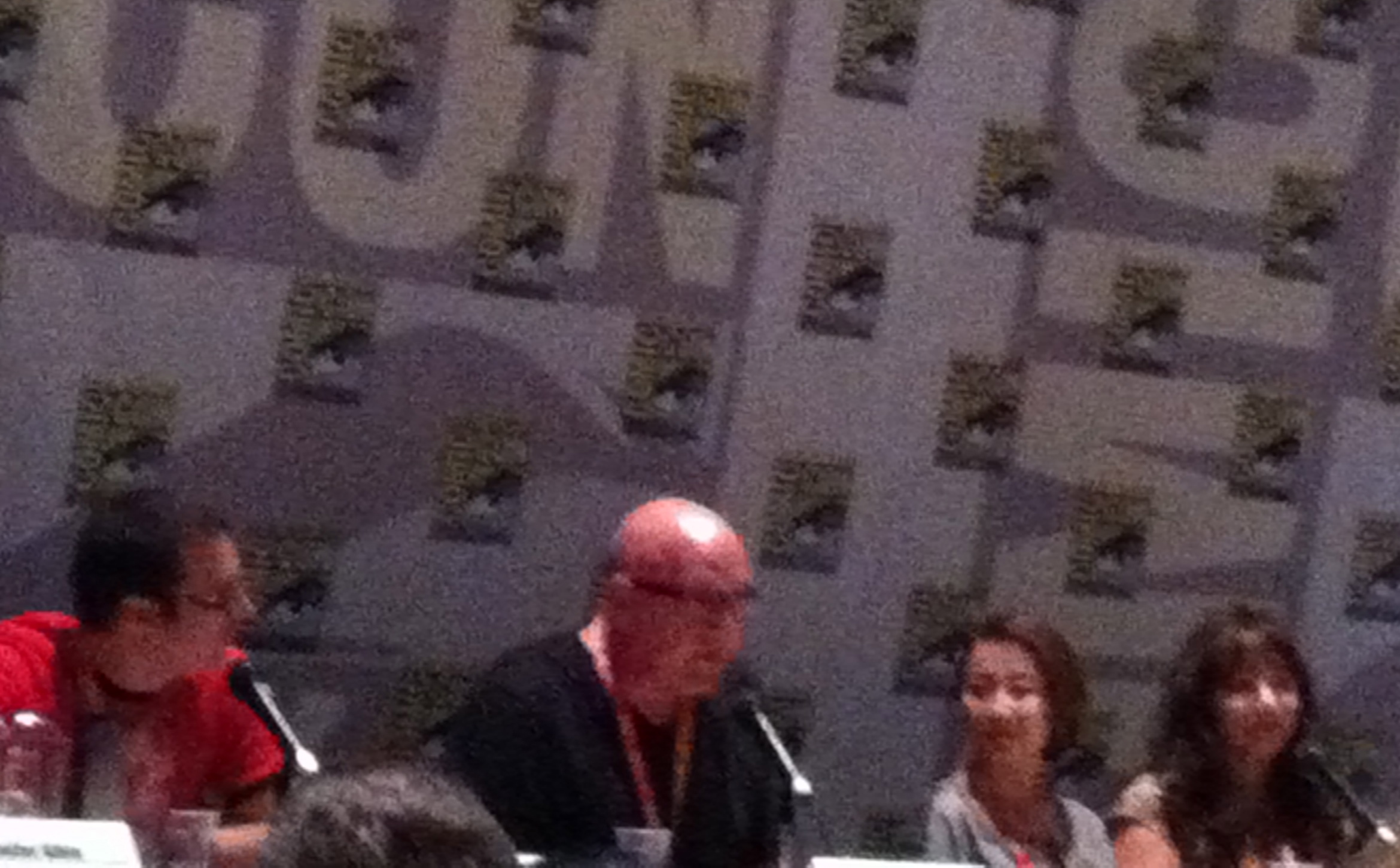 I've been a little burned out on the dystopia genre but this panel re-energized my interest. I could probably write up a whole post about this panel, it was really fascinating. The panel was asked about their inspiration for writing about a dark future, and the consensus is that they draw from today's issues such as the environment, reproductive rights, and the economy. Being that the books are targeted to YA, they also consider hopeful solutions when writing their books. Price and Lu both live in Los Angeles where their books are set and they say that LA is already kind of dystopian and a good source of inspiration. Lu visits famous LA landmarks to decide which ones to destroy in the Legend series. Neal Shusterman was also inspired by news stories about abortion, and an extreme reaction to the safe haven law, where frustrated parents were dropping off their teens at hospitals in Nebraska where there was no age limit to do so. Paolo Bacigalupi made a funny comment about parents wanting to drop-off their teens nowadays that made me laugh. There was great discussion at this panel from all the authors.
2. Hungry for Dystopia group author signing – I bought books to be signed from Mysterious Galaxy ahead of time: Unwind, The Wind-Up Girl, and Robopocalypse. And they were giving away ARC's of Unwholly and Crewel.
3. The Scoop at Simon & Schuster! publisher panel – I really enjoyed last year's S&S panel so made sure to attend again this year. And this panel was quite popular – it was standing room only by the time I made it in the room. I accepted the raffle ticket and Hush, Hush tee and watched the presentation. The team from S&S showed slides of the latest books and what to look forward to later in the year. The S&S team was really enthusiastic and knowledgeable about the books, and with each presentation came a raffle giveaway. The prizes were awesome, but I didn't win anything. It was fun to hear about all the new books though and to see everyone's reactions to the new releases.
4. Art of the Thrill Kill group author panel – While I was at this horror panel, my daughter was next door at the My Little Pony panel- the audience looked quite different as you may expect! These authors write the psychological thrillers that keep you up at night. Moderated by Lauren Beukes (Zoo City) with participants Barry Lyga (I Hunt Killers), Michelle Gagnon (Don't Turn Around), Johan Harstad (172 Hours on the Moon), Dan Wells (I Am Not a Serial Killer, Partials), James Rollins (SIGMA Force novels), Mark Z. Danielewski (The Fifty Year Sword, House of Leaves), Jeffrey J. Mariotte (The Devil's Bait), and Chase Novak (Breed). 
Horror is not my usual genre, but I've been wanting to read Barry Lyga's and Dan Wells' books and this was the perfect opportunity to hear more about them and other new releases. Since both Wells and Lyga wrote books about serial killers, something that has been done before- Lyga worried that his book would be seen as a copycat of Wells' book, and Wells worried that his book would be seen as a Dexter copy. Johan Harstad talked about writing what he thought was a book for the middle grade audience, only to be told that it was to adult and more suited for YA. Michelle Gagnon described her book as Girl with a Dragon Tattoo for teens. The moderator got me very intrigued with the book House of Leaves– she kept talking about it during the panel and what a weird/disturbing/creative book it is. At the signing that was probably one of the most popular books people brought.
5. Art of the Thrill Kill group author signing – I bought books to be signed from Mysterious Galaxy ahead of time: I am Not a Serial Killer, I Hunt Killers, and 172 Hours on the Moon. And they were giving away ARC's of Don't Turn Around.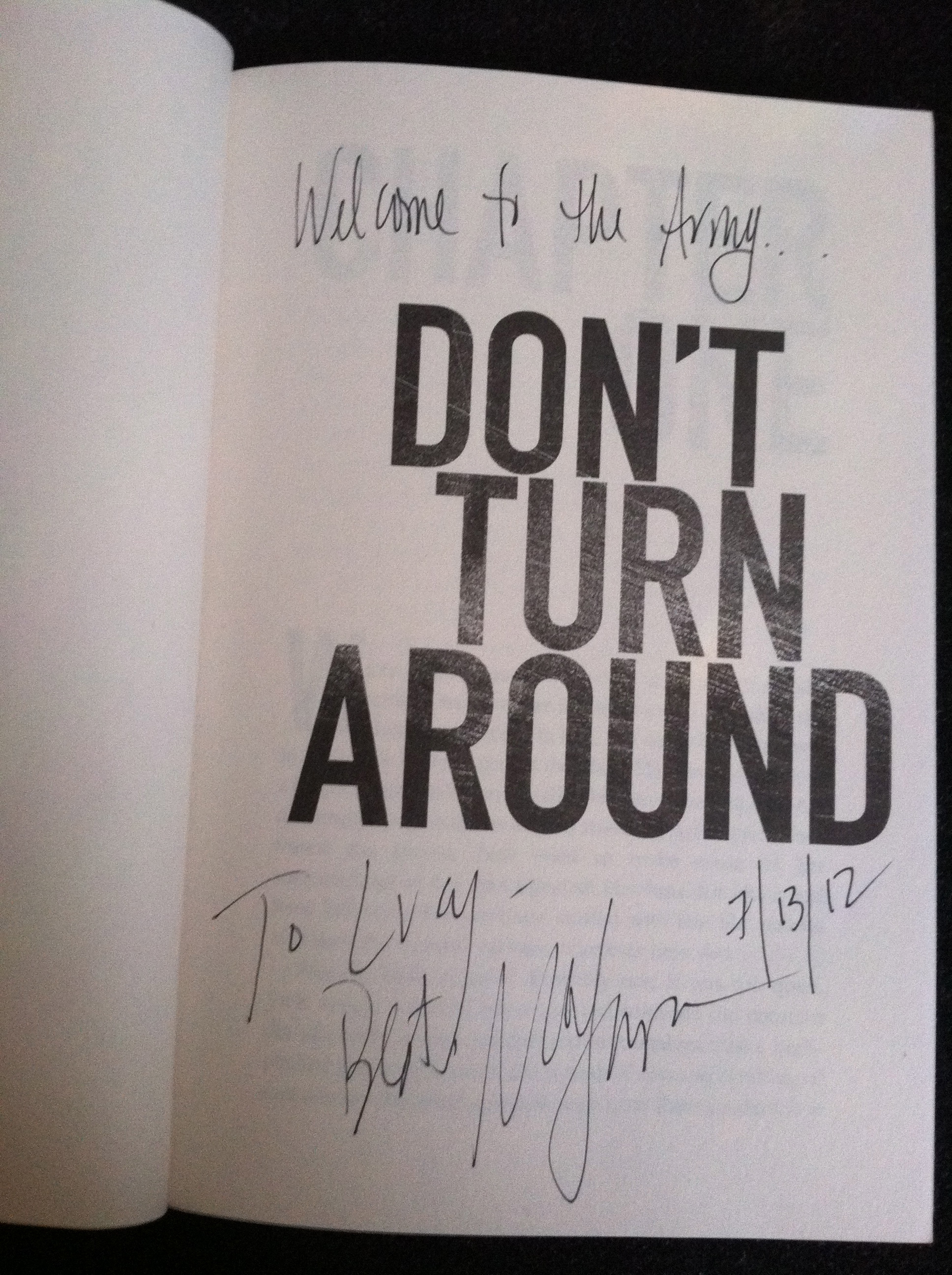 6. Remixed Fairytales and Superhero Lore group author signing – Sarah Maas, Marissa Meyer, Rae Carson, Paul Tobin, Tom King, Michael Scott, Tracy Hickman, Cecil Castelluci. I missed this panel because of a scheduling conflict but went to the signing afterwards and bought Cinder for my daughter, and they were also giving away Throne of Glass ARC's.

7. Paranormal Love Potion group author panel – Romance of the paranormal kind was the topic at this Stephanie Perkins moderated panel. This awesome panel included such high caliber authors as:  Tessa Gratton (The Blood Journals), Andrea Cremer (The Nightshade series, Rift), Marjorie Liu (The Mortal Bones), Sylvia Day (The Renegade Angels series), Shawntelle Madison (Coveted), Aprilynne Pike (Wings series), and Kelley Armstrong (Thirteen).
Kelley Armstrong was asked whether she'd consider any crossover opportunities between the Darkest Powers YA series and the Women of the Otherworld adult series. She said that the adult characters would just send the kids away and take over so she didn't think it would quite work. She also said that though Thirteen is the last book in the series, perhaps the twins would take over the series in a few years or so. Stephanie Perkins did a great job with the moderation and keeping the focus on paranormal and kissing.

8. Locked and Loaded author panel – This is the military and combat writing panel. Another genre that's outside my comfort zone, but since I'm currently reading Insignia I wanted to hear more about it.  This panel featured:  Myke Cole (Control Point), Taylor Anderson (Destroyermen Series), Jack Campbell (Lost Fleet Series), Harry Turtledove (The War That Came Early), and S. J. Kincaid (Insignia), and was moderated by Stephen W. Saffel of Titan Books.
It was interesting to hear about all of the research that goes into writing military thrillers, getting all the historical and technical details right. S.J. Kincaid said she drew inspiration from the fact that in the future there will be fewer people on the battlefield, and remote technology will cause more of the combat to be automated. I happened to meet author Taylor Anderson earlier that day at his publisher's booth where they were giving away his book Into the Storm, and was able to get it signed.

9. Spotlight on Gail Carriger author panel – Comic-Con special guest-Gail Carriger (The Parasol Protectorate Series) and her literary agent Kristin Nelson discuss all things steampunk, tea, fashion and writing at Gail's spotlight panel. I'm a big fan of the Parasol Protectorate series so I was thrilled to see this panel, and it was a full house too! It was quite a well-dressed audience, with many attendees decked out in steampunk attire. (Really great costumes, but sometimes hard to see over the big hats!) Gail talked about her love for YA and that she's excited for her new YA book Etiquette and Espionage (Feb. 2013.) She also talked about the exciting news that the Parasol books were optioned for a TV series! Here's hoping it happens. I was sitting in the last rows so I didn't get a good picture but Gail looked fabulous.

10. Author Signings at the Penguin Teen and MacKids booths: Marie Lu and Marissa Meyer. I met Marie Lu at the Penguin Booth where she was signing a Comic-Con edition of Legend, and limited quantities of Prodigy, and I was thrilled to pick up both. Lu had a big presence at Comic-Con, with frequent book signings as well as panel appearances. I also met Marissa Meyer again at the MacKids booth to pick up an ARC of Scarlet, a book I'm dying to read. Meyer looked fabulous in a little red riding hood cloak that had a wolf pin closure.

I didn't get to do everything on my Comic-Con wish list, but since Comic-Con is insane I'm pleased with what I was able to do. Stay tuned soon for a recap of the books I picked up at Comic-Con and a giveaway!
Bonus: One of the most popular signings was the E.L. James ticketed signing event. I was walking past and snapped a couple pics of her and the mob at her signing area: