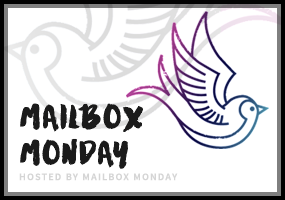 Mailbox Monday is a weekly event where we share our latest book arrivals. Link up and find new mailboxes to stalk at the Mailbox Monday blog.
Here are the some of the digital review books that made their way to me this week:
Audiobooks:
Two Across by Jeffrey Bartsch, read by Andrew Eiden – Stanley and Vera meet at the National Spelling Bee, where they tie for first place. They marry to please their moms and Stanley wants to use the wedding gift money to fund his passion for crossword puzzle construction. But Vera is really in love with Stanley – can a series of puzzle clues lead them back together?
The Book of Lost and Found by Lucy Foley, read by Fiona Hardingham – Kate's mother has passed away and Kate embarks on a journey to find out more about her life.
Harriet Wolf's Seventh Book of Wonders by Julianna Baggott, read by Jodi Carlisle, Christine Lakin, Katie Koster, Susan Silo – This is the story of the four Wolf women that gather after the family matriarch's death to unravel the secrets of the past.
A Darker Shade of Magic by V.E. Schwab, read by Steven Crossley – This was a free surprise gift from Goodread's Ford Audiobook Club. This fantasy book is about a magician who can travel between parallel universes.
Review and Library eBooks:
Arrows by Melissa Gorzelanczyk – Greek mythology meets Teen Mom in this new debut.
Not That Easy by Radhika Sanghani – In this sequel to Virgin, Ellie is back with more sexual misadventures.
Ten Thousand Skies Above You by Claudia Gray – Book two in the Firebird trilogy.
Exit Stage Left by Gail Nall – A high school actress tries to reinvent herself when she doesn't get the lead in the school play.
What You Left Behind by Jessica Verdi – Lots of good reviews for this one- it's about a teenage father grieving for the mother of his child and trying to cope with the changes in his life. Finding Meg's journals might help him make sense of it all.
The Last Leaves Falling by Sarah Benwell – A Japanese teen with ALS finds strength through his online friends – people who don't see him as his illness.
Thanks so much to: Hachette Audio, Ford Audiobook Club, Delacorte Press, HarperTeen, and Berkley Trade.
What's new in your mailbox?
Related Posts