Mailbox Monday is a weekly event where we share our latest book arrivals. Link up and find new mailboxes to stalk at the Mailbox Monday blog!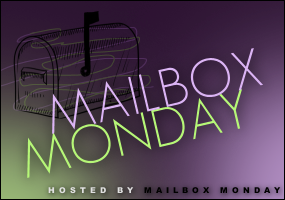 Here's my week in books:
In the Mail:
My True Love Gave to Me edited by Stephanie Perkins – I just had to purchase the UK edition of this holiday collection. Pretty pretty!
The Way We Bared Our Souls by Willa Strayhorn – For YA Diversity Book Club. This book is about a group of five teens that trade totems to adopt each other's burdens.
Review eBooks:
Shadow Study by Maria V. Snyder – Receiving this made my day! Shadow Study is a continuation/reboot of the Study series.
Make it Last by Megan Erickson – The third book in the Bowler University series, featuring Cam and Tate. Looks good!
Library Audiobooks:
Ugly Girls by Lindsay Hunter – This book is about the friendship and power struggle between two girls, and what happens when they confront a stalker.
Not My Father's Son by Alan Cumming – I love this actor and look forward to hearing his story.
Thank you so much to: Penguin Razorbill, Harlequin Mira, and William Morrow Impulse.
What's new in your mailbox?
Related Posts