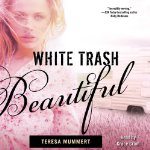 Book: White Trash Beautiful by Teresa Mummert, Simon & Schuster Audio, July 16, 2013
Book Info: Romance, Audiobook received for review from Simon & Schuster Audio. Running time: 7 hrs, 39 mins. Read by: Grace Grant. Also available in PB, 240 pages from Gallery Books.

Rating: 2.5 / 5 Stars
More Info: Goodreads | Audible
Publisher's Description:
Cass Daniels isn't waiting for her knight in shining armor. She knows that girls like her don't get a happily ever after. Not if you live in a trailer with your mom, work at a greasy spoon diner, and get leered at by old men. Maybe that's why she puts up with Jackson—her poor excuse for a boyfriend, who treats her like dirt. Cass has learned to accept her lot in life. That is, until he walks into her diner. . . .

His name is Tucker White, and he's different from any man Cass has ever known. Tall, tattooed, and bad-ass gorgeous, he's the lead singer of the rock band Damaged. From the moment they meet, Tucker sees something in Cass he just can't shake. Something beautiful. Something haunted. Something special. And he's determined to find out what it is—if only he can get her to open up and let him in. . . .
I can't resist trying these New Adult romances- they are just so addictive. White Trash Beautiful is not my favorite type of NA read though. It's too over-the-top dramarama for my taste. But. I stuck with it to the end to see how far the madness would go. White Trash Beautiful is about a trailer park Cinderella whose prince arrives in the form of a motorcycle riding rock star. The story is kind of a hot mess but I couldn't look away.
White Trash Beautiful is the first book in the Beautiful trilogy, a book that started out as a self-publishing success before landing its new home at Simon & Schuster. The book is about Cass, a girl who works at a Georgia diner and lives with her abusive drug-addict boyfriend and her also drug-addicted mother. Cass is the only responsible member of the household and works tirelessly at her job while trying to keep the peace at home. When Tucker saunters into the diner, sparks fly. He wants to sweep Cass away with him but she's reluctant to leave her dead-end life.
This book is like a soap opera- there is so much drama. Just when you think- No, she wouldn't go there- it happens. Cass's life is terrible with a capital T. Her loser boyfriend Jax is the worst but she feels some sense of loyalty to him anyway and continues to bail him out of trouble. Cass works hard to save a little money for herself as an escape plan, but she is just in a no-win situation. For some reason Tucker falls in insta-love with Cass and that could be her ticket out of town if she lets it happen.
The relationship between Cass and Tucker was hard to buy into. Tucker is on the cusp of being a huge rockstar. Cass sings his songs on the radio, in front of Tucker, but still doesn't get that they are the same person. Maybe he likes that anonymity with her, I don't know. We don't learn enough about Tucker really over the course of the book. I can see readers swooning for his rock star charisma and sweetness, but I didn't get why he set his sights on Cass. Cass is such a glutton for punishment and kept going back home and that didn't make sense to me.
I listened to the audiobook of White Trash Beautiful, read by Grace Grant, a narrator of many New Adult books. Grant gets to use a Southern accent for Cass and does quite well with it. As always, she puts her all into the different voices, from the abusive Jax to the smooth Tucker. The audiobook is the reason I stuck with the book, and Grant did all she could to make the most of the story.
If you like rockstar romances and angsty New Adult books you may enjoy White Trash Beautiful, though I'd recommend S.C. Stephens' Thoughtless series over this one.
Check out an audio excerpt:
Related Posts