Mailbox Monday is a weekly event where we share our latest book arrivals. Link up and find new mailboxes to stalk at the Mailbox Monday blog.
Happy spring, everyone! Here are the books that have made their way to me over the last three weeks:
The Star-Touched Queen by Roshani Chokshi -This fantasy debut is inspired by Indian folklore mythology and it's about a young, cursed queen who finds her voice and power. The early reviews make it sound fantastic!
Fifteen Lanes by S.J. Laidlaw – Set in Mumbia, this is the story of two girls- Nora is a sex worker's daughter who is trying to avoid the same fate, and Grace is a privileged Western girl who is struggling when she's a victim of an online attack. This is our April book club pick and I'm excited to read it.
The Decent Proposal: A Novel by Kemper Donovan – This LA-set romantic comedy is about two strangers whose lives intersect when they receive an unusual proposition. An anonymous benefactor offers them a million dollars to split if they agree to spend two hours a week together for a year.
Start Where You Are: A Journal for Self-Exploration by Meera Lee Patel – This journal is absolutely gorgeous! It has inspirational quotes and beautiful illustrations, plus there are some handy exercises to help get you on the right path. I'd hate to write in this pretty journal though.
Yellow Brick War and The Wicked Will Rise by Danielle Paige– The last two books in the Dorothy Must Die series! Enter to win them here – there's just a couple days left to enter..
And, here are some new YA arrivals to my digital mailbox:
South of Sunshine by Dana Emendorf – This coming-of-age is a female coming out story set in Sunshine, Tennessee that also deals with race and religion.
Burn Baby Burn by Meg Medina – …Disco Inferno! In Medina's latest, it's the summer of 1977 in New York- a time of blackouts, arson and the Son of Sam. Nora's struggling with the dangers found outside and inside her home and can't wait until she's 18 to live on her own.
A Song to Take the World Apart by Zan Romanoff – A girl who was always forbidden to sing finds her voice and discovers she can influence everyone around her with it.
Goldfish by Nat Luurtsema – Lou dreams of being an Olympic swimmer but bombed her time-qualifying test. Where will she go from here? She tries to find a "new thing" and hilarity ensues.
The Loose Ends List by Carrie Firestone – Maddie and her family are invited to her beloved Gram's "death with dignity cruise." They travel the globe in style and make new friends though saying goodbye is difficult.
Thanks so much to these awesome publishers: St. Martin's Griffin, Tundra Books, Harper, Penguin Perigee, Albert Whitman, Candlewick Press, Knoph, Little, Brown, and Feiwel & Friends!
What's new in your mailbox?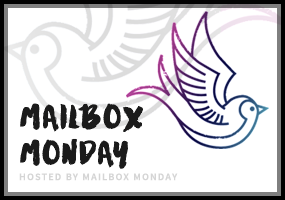 Related Posts