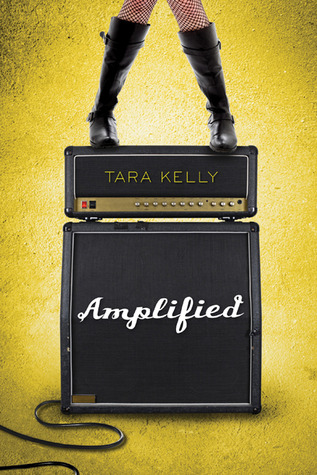 Book: Amplified by Tara Kelly, Henry Holt and Company, October 25 2011
Genre: Young Adult Contemporary
Format/pages:  Library book, Hardcover 293 pages
Rating: 4.5 / 5 Stars
More Info: Goodreads | Amazon | Amplified official book website
Jasmine gets kicked to the curb when she tells her dad she won't be attending Stanford in the fall. She wants to give it a shot as a musician before getting tied down with school. With limited funds, she sets out to Santa Cruz and scores an audition with C-Side, a band looking for a male live-in roommate/lead guitarist.  But she has big shoes to fill to replace their charismatic, seasoned former guitarist, and the band has their doubts about Jasmine, and worry about the problems of having a female roommate. Plus the cute bass player has already made up his mind that Jasmine is a pampered princess, and not a rock goddess.  Jasmine has a lot to prove, to the band and to herself.
Music and Contemporary YA are a perfect combination, and Amplified is a great example of how to do it right.  This coming of age story, with romance, quirky characters, and an inside look at the life of a musician is very readable and entertaining. I enjoyed getting lost in this book and following Jasmine on her musical journey. I basically read it in a day because I was so invested in the story and had to know how it ends.
Jasmine is an intriguing main character that is easy to root for. She's a private person and afraid to let anyone in. She is focused and determined to reach her goals, even when detractors and other setbacks get in the way.  She has baggage with her controlling father to deal with, and the complex situation makes it so that you sympathize with both characters, though I can't imagine letting my own daughter fend for herself at that age like Jasmine.
The other members of C-Side were realistic and added authenticity to this musical tale. Bass player Sean comes off strong and sarcastic, but has his reasons for being difficult. His sister Veta is the bold lead singer and amateur psychic who takes Jasmine under her wing. Bryn is the drummer and self-appointed leader of C-Side who is a hard-ass and a ladies man. And Felix the keyboard player is sweet and goes with the flow. Their music sessions gave a behind the scenes look at the dedication and hard work required to make it as a band.
Amplified is a fast paced and absorbing read that got my attention when I was in a reading rut.  It's smartly written, with witty dialogue and a relatable story sure to appeal to fans of music centered YA.  I'm eager to seek out the author's other music themed book Harmonic Feedback.
Other Reviews of Amplified:
Related Posts