I'm excited to spread the news about the 12 Days of Morganville Madness blog tour! For the next 12 days leading up to the release of the 12th Morganville vampire series book BLACK DAWN, 12 blogs will be counting down with reviews of, you guessed it – all 12 books. Follow along and brush up on the series before BLACK DAWN's release on May 1.  There will also be interviews with author Rachel Caine, and a corresponding signed book giveaway & BLACK DAWN bookmark giveaway at every stop.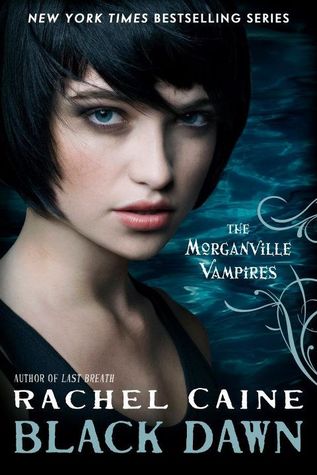 The 12 Days of Morganville Madness tour kicks off today and here is the schedule:
April 20 – GLASS HOUSES (Book 1)  PageTurnersBlog
April 21 – THE DEAD GIRLS DANCE (Book 2)  A New Kind of Ordinary
April 22 – MIDNIGHT ALLEY (Book 3)  Book Splot Reviews
April 23 – FEAST OF FOOLS (Book 4) Hobbitsies
April 24 – LORD OF MISRULE (Book 5)  Book Monster Reviews
April 25 – CARPE CORPUS (Book 6)  My Overstuffed Bookshelf
April 26 – FADE OUT (Book 7)  Miss Vain's Paranormal Fantasy
April 27 – KISS OF DEATH (Book 8)  The Story Siren
April 28 – GHOST TOWN (Book 9)  AwesomeSauce Book Club
April 29 – BITE CLUB (Book 10)  Confessions of a Bookaholic
April 30 – LAST BREATH (Book 11)  Literal Addiction
May 1 – BLACK DAWN (Book 12) Release day!  Mundie Moms
__________________________________________________________________________________________________
GIVEAWAY! GIVEAWAY! GIVEAWAY! has ended.
Congrats to Mercedes who won a copy of GLASS HOUSES & a bookmark of BLACK DAWN

About GLASS HOUSES:
From the author of the popular Weather Warden series comes the debut of an exciting new series set in Morganville, Texas, where you would be well advised to avoid being out after dark.
College freshman Claire Danvers has had enough of her nightmarish dorm situation. When Claire heads off-campus, the imposing old house where she finds a room may not be much better. Her new roommates don't show many signs of life, but they'll have Claire's back when the town's deepest secrets come crawling out, hungry for fresh blood.
Check back for my review of BLACK DAWN on May 2!
Related Posts