Last weekend on a gorgeous spring day I had the pleasure of attending an awesome author signing in Los Angeles. Several New Adult authors have been touring together across the country and I was pleasantly surprised to see that LA made the cut.  This event took place at the Universal Sheraton, which is located on the Universal Studios back lot.  It was such an LA event- the signing line wrapped around a swimming pool even.
It was cool meeting so many authors at one time and as a bonus meeting other readers and bloggers that share my passion for books. It was great to see that hundreds of readers showed up on a Saturday afternoon to meet their favorite authors, books in hand.
This is actually the first author event I've been to that was not a panel discussion, only a book signing. The signing event was free, and no purchases were required. However, Mysterious Galaxy was on site selling books, and some of the individual authors had their books for sale at their tables.
I'd heard that a recent author event in Boston was so crowded that some readers were shut out of the event. So, I wasn't sure exactly what the turnout would be in LA. I showed up at the suggested line up time but already there were about 200 people in line. It took just over two hours to get to the front of the line at that point.  Since all of us in line read the same books we had lots to talk about and the wait time flew by. Then we signed the guest book and were free to line-up to meet any or all of the authors in attendance.
The event organizers handled the crowds very well. The line outside moved slowly but it was kind of nice that that it never felt too crowded inside the event. The attendees were not rushed to get their books signed and get out. It was a comfortable and friendly atmosphere overall.
I ordered books online specifically for the signing (yay for birthday gift cards) and  with so many authors it got a little heavy to lug those books around! I do always feel shy and awkward at these types of events. It's hard making small talk and meeting authors, but everyone was very nice. I was a little intimidated meeting Colleen Hoover and SC Stephens, but really everyone was so nice. I think I just said things like I love how the series ended, or I can't wait to read your next book. Does anyone else feel awkward at these things or is it just me?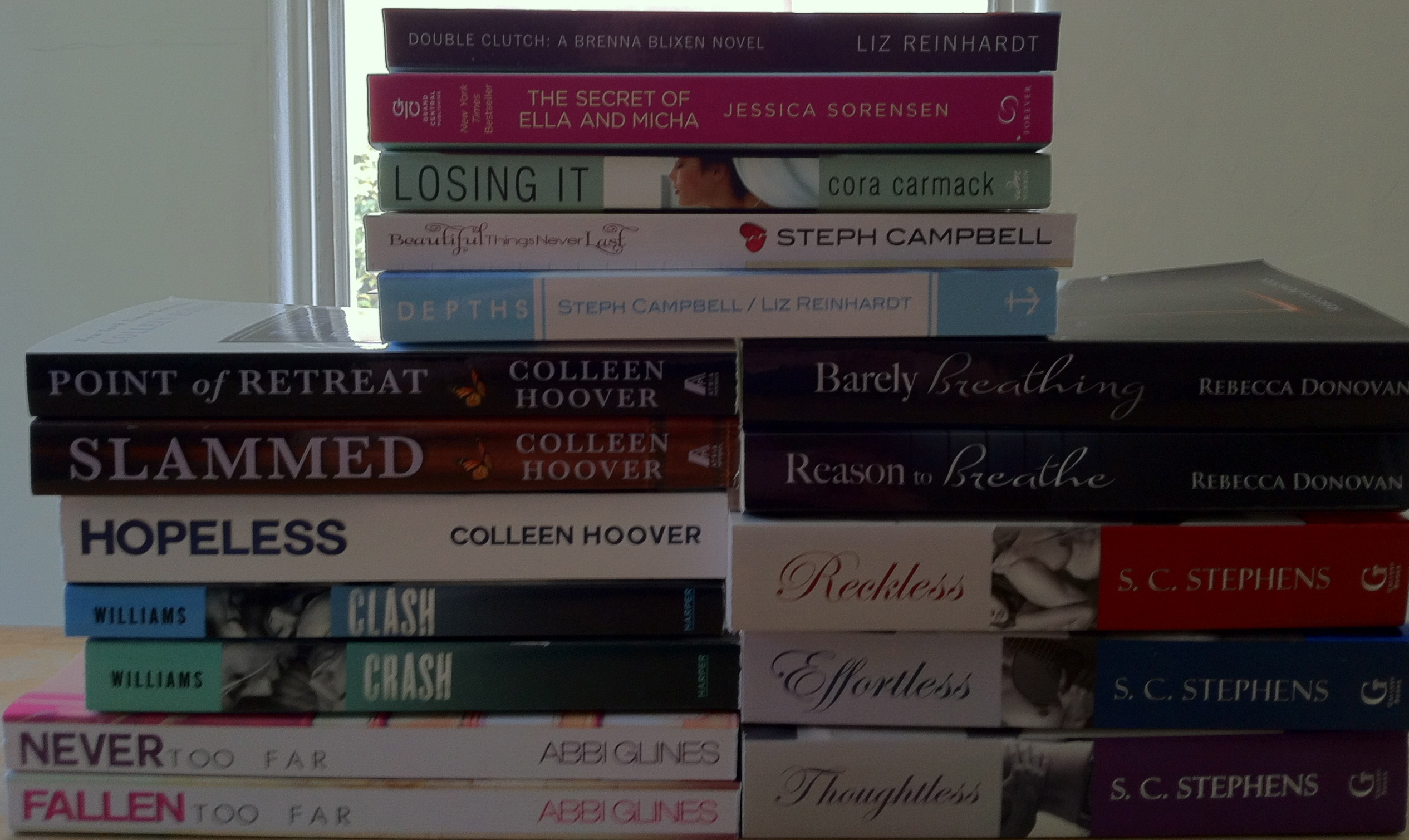 The authors had book swag at their tables and signed anything you wanted, and posed for photos. They were very kind and approachable. I think they were pleased with the turnout and had a blast hanging out with other authors. There wasn't a lot of time to get any inside scoop on what's coming up next – I didn't want to take up too much time with any one author since I knew there was a big line outside.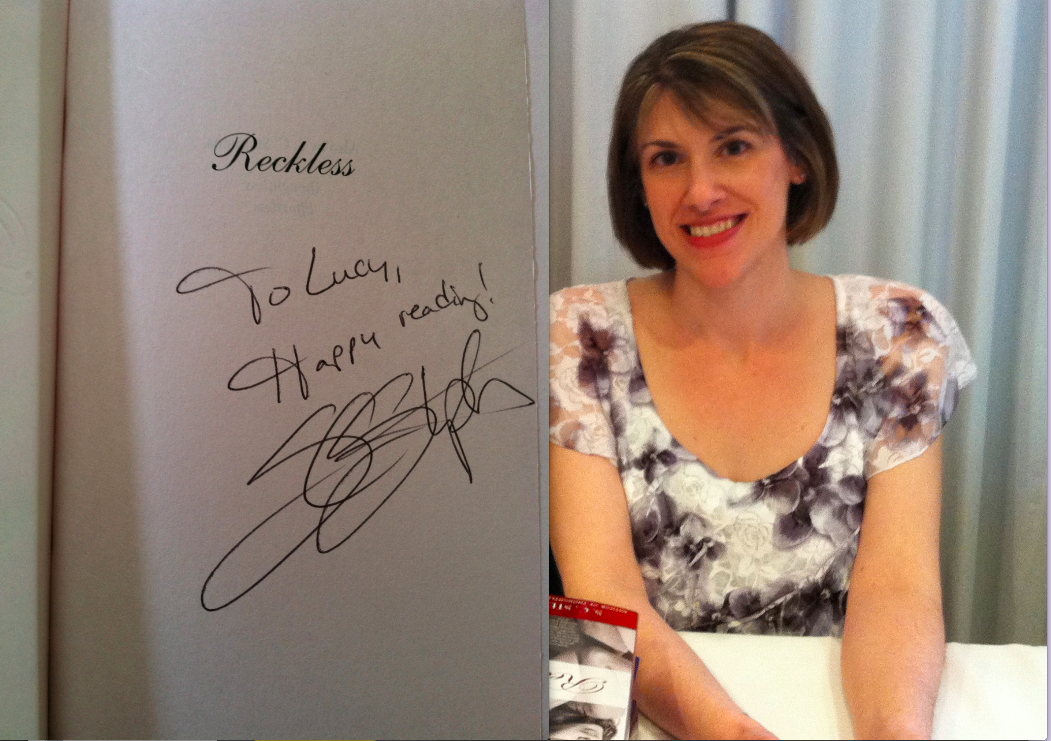 If there is a group-signing event coming to your neck of the woods I encourage you to go! It is so fun chatting about books with other readers. And it's really efficient meeting so many authors at once for a signing. I would suggest arriving early to these events. Luckily, everyone in line for the LA event was able to get in, but sometimes it doesn't work out that way. Also, some of the authors ran out of books for sale, so if that's important to you, bring books to the event or plan to arrive early.
Thanks to all 13 authors for making the trip to LA:
Steph Campbell – Author of the Grounding Quinn series, co-author of the Lengths series
Cora Carmack – Author of the Losing It series. (So friendly! I told her I first heard of Losing It from Amy @ Bookgoonie and she remembered her from the blog tour)
Jillian Dodd – Author of the Keatyn Chronicles and That Boy series. (Very nice, she gave me lots of swag to share with you when I send out giveaways)
Rebecca Donovan – Author of the Breathing series. (She laughed when I told her "See? We do read in LA!" Rebecca is super nice and I hope to work with her on an interview or giveaway sometime soon)
Abbi Glines – Author of the Too Far, Sea Breeze, Vincent Boys and Existence series. (She remembered me from the Vincent Boys blog tour- so cool!)
Colleen Hoover – Author of the Slammed series and Hopeless. (I was so intimidated to meet Colleen and I think I was a babbling idiot. She did like my nails though and asked for my blog bookmark!)
Molly McAdams – Author of Taking Chances and From Ashes. (So friendly!)
Liz Reinhardt – Author of the Brenna Blixen and Youngblood series, co-author of the Lengths series. (Probably the easiest author to talk to, very sweet and genuine)
Michele Scott – Author of The Grey Tier, Daddy's Home, Mommy May I? (I was not familiar with this author before the event, but I'm curious to check out her books!)
Jessica Sorensen – Author of The Secret of Ella and Micha and the Coincidence series (She has written so many books – there are about 22 books listed on Goodreads! She has great style)
S.C. Stephens – Author of the Thoughtless trilogy. (I started babbling to her too about listening to her audiobooks, and she asked me how they were. She made me nervous but she was very sweet and had the best swag)
Jenn Sterling – Author of The Perfect Game and Chance Encounters. (Very nice and outgoing!)
Nicole Williams – Author of Crash, Clash, and the upcoming Crush. (Friendly and easy to talk to. She liked my name since it's similar to her character's Luce. Hope to work with her on an interview sometime)
I'm so glad I went and got to meet so many awesome authors and readers. Thanks to the organizers for putting on such a fun event. I was proud of my city that so many readers turned up!
Related Posts