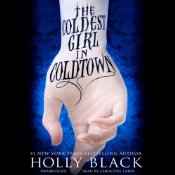 Book: The Coldest Girl in Coldtown by Holly Black, Hachette Audio, September 3, 2013
Book Info: YA Paranormal, Audiobook received for review from Hachette Audio. Running time: 12 hrs, 6 mins. Read by: Christine Lakin. Also available in hardcover, 432 pages from Little, Brown.

Rating: 3.5 / 5 Stars
More Info: Goodreads | Audible | Amazon
Publisher's Summary:
Tana lives in a world where walled cities called Coldtowns exist. In them, quarantined monsters and humans mingle in a decadently bloody mix of predator and prey. The only problem is, once you pass through Coldtown's gates, you can never leave.

One morning, after a perfectly ordinary party, Tana wakes up surrounded by corpses. The only other survivors of this massacre are her exasperatingly endearing ex-boyfriend, infected and on the edge, and a mysterious boy burdened with a terrible secret. Shaken and determined, Tana enters a race against the clock to save the three of them the only way she knows how: by going straight to the wicked, opulent heart of Coldtown itself.

The Coldest Girl in Coldtown is a wholly original story of rage and revenge, of guilt and horror, and of love and loathing from best-selling and acclaimed author Holly Black.
The Coldest Girl in Coldtown is my first Holly Black book, and even though I don't read a lot of vampire books anymore, I always hope to find one that makes me fall in love with them again. I liked Anne Rice books back in the day, and I read Holly Black is a fan of the Vampire Chronicles too. Black has written a rich vampire story you can sink your teeth into, so to speak. It's dark and scary and puts you on edge; set in a world that fears yet glamorizes the Cold Ones.
The book starts off with a bang as the main character Tana wakes up after a party and finds almost all the partygoers dead.  The two survivors are her ex-boyfriend Aiden, now infected by the vampire virus, and the chained, mysterious vampire Gavriel. The trio sets off to Coldtown, the safe place to go when you're infected, even though you might not ever get out. Once you're bitten, you can halt the virus if you don't bite another human for 80 days, a challenge for these bloodthirsty "newborns"!
Tana has a personal family history with vampires, and teaming up with Gavriel and Aiden is a huge risk. I connected with Tana and found her to be an awesome heroine. She fights her own battles, taking on a vampire or two, and is a devoted friend. And I did ship her with Gavriel- loved their chemistry.
Gavriel is a live wire, and reminded me a little of The Morganville Vampires Myrnin. He's of course beautiful and sexy, though a dangerous and vicious creature. We get to know his back-story through flashbacks, and why he is the way he is. There are some romantic moments in their way, but this isn't that sort of vampire book.
I liked the colorful characters in this book, the humans and the vampires, though Tana and Gavriel were by far my favorites. Sometimes I got a little lost in the details of the story- there's a lot going on to keep track of. I did like the language Black uses and though I listened to the audiobook, I wouldn't have minded reading her words in print as well. I appreciate that she sets out to tell a darker vampire story with more gore and less romance. Some of my favorite details were the beginning of chapter quotes about death.
I listened to the audiobook, read by Christine Lakin. I had heard a sample of her narration before the book came out and knew I wanted to experience the audiobook. I believe this is Lakin's first audiobook, and she really sells the story and takes you to Coldtown. I liked the tone of her voice for the book, and she sounds age and character appropriate. Pacing, voices, emotion all come together perfectly for Lakin as though she was an audiobook veteran. Another thing that's cool about this audiobook is the use of scary music to set the mood- it made me jump at times! I highly recommend the audiobook for an even more chilling book experience.
The Coldest Girl in Coldtown is good and scary to kick off fall reading. Though I prefer realistic fiction to paranormal, this was a nice change of pace. I'm even more interested in diving into Black's back catalog with the Curse Workers series.
Related Posts