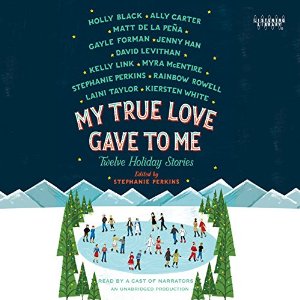 My True Love Gave To Me
by
Stephanie Perkins
Narrator:
Various
Published by
Listening Library
on 2014-10-14
Genres:
General
,
Holidays & Celebrations
,
Love & Romance
,
Young Adult
Format:
Audiobook
Length:
12 hrs. 55 mins.
Source:
Library
Buy on Amazon
Goodreads
Also by this author:
Isla and the Happily Ever After
,
Summer Days & Summer Nights: Twelve Love Stories
If you love holiday stories, holiday movies, made-for-TV-holiday specials, holiday episodes of your favorite sitcoms and, especially, if you love holiday anthologies, you're going to fall in love with My True Love Gave to Me: Twelve Holiday Stories by 12 best-selling young adult writers (Holly Black, Ally Carter, Matt de La Peña, Gayle Forman, Jenny Han, David Levithan, Kelly Link, Myra McEntire, Rainbow Rowell, Stephanie Perkins, Laini Tayler and Kiersten White), edited by the international bestselling Stephanie Perkins. Whether you celebrate Christmas or Hanukkah, Winter Solstice or Kwanzaa, there's something here for everyone. So curl up by the fireplace and get cozy. You have 12 reasons this season to stay indoors and fall in love.
I do enjoy a good holiday story to get me in a festive mood. And what could be better than a holiday anthology from a celebrity lineup of YA authors. My True Love Gave to Me brought a little (early) holiday joy and I'm already planning a repeat listen. The audiobook pairs some well-known narrators with the seasonal offerings, making it a great choice to take on your holiday travels.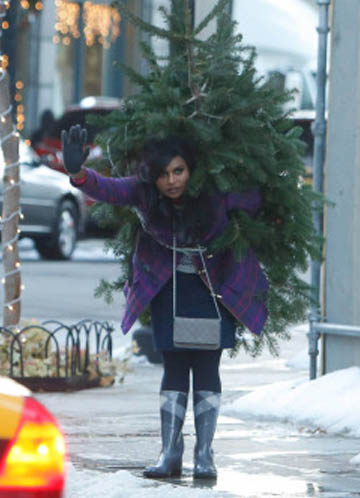 There are twelve stories in all in this merry and bright collection, one for each day of Christmas if you like. Here's the lineup- my favorites are marked with a candy cane.
Midnights by Rainbow Rowell, read by Rebecca Lowman. A very rom-com like friends-to-lovers story set over multiple New Year's Eve's. Lowman is Rowell's go-to girl and suits the story just fine.
The Lady and the Fox by Kelly Link, read by Fiona Hardingham. A dreamy kind of ghost story. I really liked Hardingham's narration and that kept me entranced even if I fully didn't understand what was going on.
Angels in the Snow by Matt de la Peña, read by Henry Leyva. Where have you been all my life, Matt de la Peña? I liked this story about two college students who meet in an otherwise empty apartment building in New York during a snowstorm. It's a little melancholy but sweet and made my grinch heart grow three sizes. Leyva gives an emotional performance that suits the story.
Polaris Is Where You'll Find Me by Jenny Han, read by Kim Mai Guest. Cute story about a Korean girl who gets adopted by Santa Claus (à la Elf!) Natty grows up in the North Pole and falls for a hot elf. Guest (Anna and the French Kiss) is a wonderful narrator and makes this story extra fun.
It's a Yuletide Miracle, Charlie Brown by Stephanie Perkins, read by Samantha Quan. Cute cute! Set in Asheville, NC, a girl falls for a guy who works at the Christmas tree lot next door. Classic Perkins, with all the swoons. I want to know what happens next! Samantha Quan (Unearthly series) is a perfect fit for this story.
Your Temporary Santa by David Levithan, read by Dustin Rubin. Humorous story about a Jewish guy who gets recruited by his boyfriend to play Santa for his little sis. Not as romantic as the other stories, but puts you in the holiday mood. Rubin is a good fit for the story.
Krampuslauf by Holly Black, read by Julia Whelan. This one is creative and original, but didn't grab me as much as the other stories. Have you heard of Krampuslauf before? I hadn't- Krampus is like the anti-Santa- the evil demon of Christmas. OK, now I want to read this one again.
What the Hell Have You Done, Sophie Roth? by Gayle Foreman, read by Abby Craden. Loved this story about a Jewish girl at college during Hanukkah. A romantic story with a Simpsons style meet cute, set mostly in a diner. Craden is a great choice to read this one.
Beer Buckets and Baby Jesus by Myra McEntire, read by Lincoln Hoppe. This story is set during the annual Christmas pageant. Cute, not as funny as the title would suggest. The narration wasn't my favorite, so I'm going to reread this one in print.
Welcome to Christmas, CA by Kiersten White, read by Michelle Jubilee Gonzalez. This is probably my favorite Kiersten White story. Write more contemporary, Kiersten! This story is set in a Christmas-themed diner. A new cook has the magical special ability to make exactly the right food for each customer. I need a Ben in my household! Maria the waitress longs for something more and to escape Christmas for college.
Star of Bethlehem by Ally Carter, read by Shannon McManus. A girl swaps her New York plane ticket with a girl destined for Bethlehem. Who knew such a detour would make her feel like home? McManus' narration really elevates this story.
The Girl Who Woke the Dreamer by Laini Taylor, read by Ann Marie Lee. Leave it to Laini Taylor to close out the collection in such a beautifully and darkly magical way. Perfection!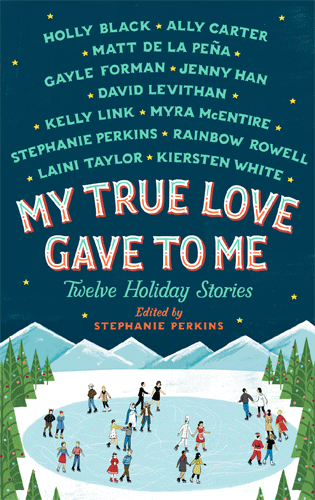 Reading this collection together puts you in a holiday mood, but I think it would be even more festive to savor the stories by listening or reading to one a day. And if you find yourself taking a road trip this winter definitely consider bringing this audiobook along for an extra shot of holiday cheer!
Here's a sample of Rebecca Lowman reading Rainbow Rowell's Midnights:
Related Posts