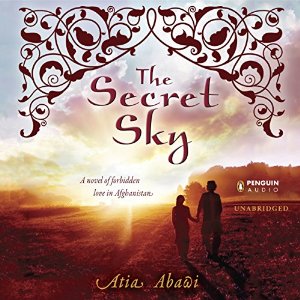 The Secret Sky: A Novel of Forbidden Love in Afghanistan
by
Atia Abawi
Narrator:
Ariana Delawari
,
Assaf Cohen
Published by
Recorded Books
on September 2nd 2014
Genres:
Asia
,
Fiction
,
Love & Romance
,
People & Places
,
Social Issues
,
Young Adult
Format:
Audiobook
Length:
7 hrs. 39 mins.
Source:
Publisher
Buy on Amazon
Goodreads
An eye-opening, heart-rending tale of love, honor and betrayal from NBC foreign news correspondent Atia Abawi Fatima is a Hazara girl, raised to be obedient and dutiful. Samiullah is a Pashtun boy raised to defend the traditions of his tribe. They were not meant to fall in love. But they do. And the story that follows shows both the beauty and the violence in current-day Afghanistan as Fatima and Samiullah fight their families, their cultures and the Taliban to stay together. Based on the people Atia Abawi met and the events she covered during her nearly five years in Afghanistan, this stunning novel is a must-read for anyone who has lived during America's War in Afghanistan. Perfect for fans of Patricia McCormick, Linda Sue Park, and Khaled Hosseini, this story will stay with readers for a long time to come.
In The Secret Sky, a forbidden love affair tears one Afghan community apart. This book is Romeo & Juliet-esque and as suspenseful as an episode of Homeland. Debut author Atia Abawi doesn't pull any punches in this riveting story of family, friendship, faith, love and war.
Samiullah and Fatima are in different ethnic groups – Fatima is part of the Hazara farming community, and Samiullah's family is Pashtun landowners. They were friends as kids and that didn't raise an eyebrow, but now Samiullah is back from the madrassa and resembles more a man than a boy. Their roles are too different and this match could never be approved. Fatima hears her mother wants to set up an arranged marriage with another man, but she longs for a better life in Kabul where she could be something other than a wife.
When Samiullah (Sami) and Fatima rekindle their friendship it soon turns into something more, though it's still all very innocent. The pair steals off to talk and is spied by Sami's cousin Rashid. Rashid feels it's his duty to inform the Taliban about his suspicions about the pair and any semblance of normal is gone.
The Secret Sky includes the perspectives of Fatima, Sami and Rashid so we see the events unfold from all sides. Rashid is the outsider and whistleblower with something to prove. His rage leads him down a dark path, and each wrong turn makes things worse. It was interesting to get his point of view, and his scenes are the most riveting, though also the most brutal.
This book is powerful and intense, with vivid descriptions of horrific situations. Some of the scenes are very difficult to read, but some rays of hope cut through. I felt sympathy for these characters in this challenging situation and found the cultural insights very enlightening. I think this is a good crossover book for anyone that likes rich, diverse stories.
I listened to the audiobook of The Secret Sky, read by Ariana Delawari and Assaf Cohen. Cohen gets the meaty dual role of Sami and Rashid, and pulls that off very well. He reads with intensity and anger for Rashid, and is more sweet and soft-spoken as Sami. I thought he did a fantastic job with the pacing and emotion. Delawari has a pleasant voice and reads with an innocent, breathy tone. Maybe I was impatient to see how the story would play out but I ended up speeding up the narration while I was listening. The audiobook ramps up the tension in this emotional story.
Author Atia Abawi is a foreign news correspondent who was based in Kabul, Afghanistan for several years. The Secret Sky was inspired in part by her experiences there. Listen to the author talk about her personal connection to the story:
Related Posts