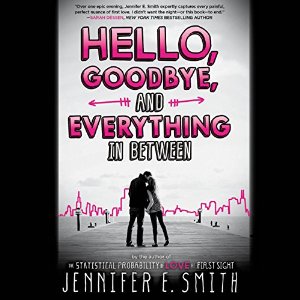 Hello, Goodbye, And Everything In Between
by
Jennifer E. Smith
Narrator:
Amy Tallmadge
Published by
Hachette Audio
on September 1st 2015
Genres:
Fiction
,
Coming of Age
,
Young Adult
,
General
Format:
Audiobook
Length:
6 hrs. 44 mins.
Source:
Publisher
Buy on Amazon
Goodreads
Also by this author:
Summer Days & Summer Nights: Twelve Love Stories
On the night before they leave for college, Clare and Aidan only have one thing left to do: figure out whether they should stay together or break up. Over the course of 12 hours, they'll retrace the steps of their relationship, trying to find something in their past that might help them decide what their future should be. The night will lead them to friends and family, familiar landmarks and unexpected places, hard truths and surprising revelations. But as the clock winds down and morning approaches, so does their inevitable good-bye. The question is, will it be good-bye for now or good-bye forever?
Charming, bittersweet, and full of wisdom and heart, this new irresistible novel from Jennifer E. Smith, author of The Statistical Probability of Love at First Sight, explores the difficult choices that arise when life and love lead in different directions.
It's the eve before two high school sweethearts go their separate ways to college. They want to make their last night together one to remember and plan to visit all their favorite haunts. And at the end they will decide whether to break up or try to keep their relationship going long-distance, so it's a bittersweet trip down memory lane.
This book has a nostalgic feel to it – saying goodbye to high school friends and moving away from home. There are not too many YA books about this important time (Roomies comes to mind) in life so that was a bonus here. I'm at the point where I'll soon have a college age teen myself so I read this book with a different lens.
Clare and Aidan are following their individual college plans and going to college on opposite coasts. They flirted with the idea of going to nearby colleges but in the end wanted each to go to the college of their dreams.
During the eventful twelve hours, Clare and Aidan go through many different emotions. Each stop on their greatest hits tour brings a new reveal or wrinkle to the story. They were both realistic about the future; though it was obvious the pair loved each other a lot so I couldn't help but root for them.
I listened to the audiobook, read by Amy Tallmadge. Tallmadge does a fine job with the narration and reads with a clear, pleasant manner. Her tone matches the nostalgic feel of the story, and her character voices are distinct yet not overdone. Because I am an impatient listener I did speed up the narration to 1.5x and that worked for me better. Take a listen:
Hello, Goodbye, and Everything in Between follows the familiar winning Jennifer E. Smith formula and fans of this author should enjoy this one. Though the characters are out of high school this one is still appropriate for younger YA's too. And YA's at heart will enjoy the nostalgia as well.
Related Posts