The Movie Date is a weekly feature where we discuss movies that may appeal to YA readers. Andrew is The Reading Date's resident movie critic and this week he discusses Gravity directed by Alfonso Cuarón from Warner Bros. While Andrew was seeing Gravity, our daughter and I went to see Carrie instead for some Halloween fun (my review below). Carrie is directed by Kimberly Peirce from Sony's Screen Gems/ MGM.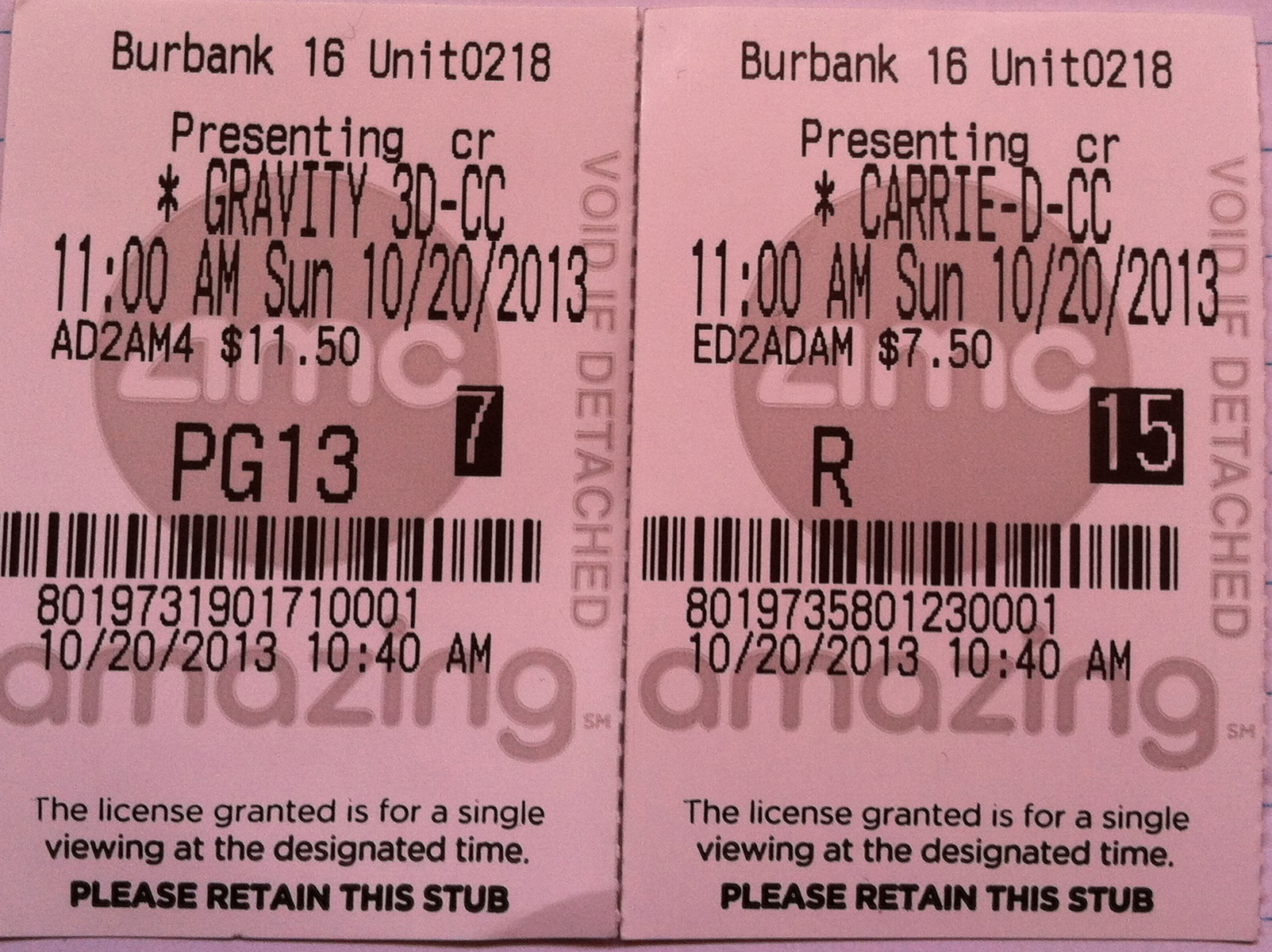 First up is Andrew with his thoughts on Gravity:
"I hate space," says Mission Specialist Dr. Ryan Stone (Sandra Bullock) after one of several minor catastrophes that make her safe return to Earth unlikely.
Unlike most astronauts, she's in it for the science, not the adventure, and she'd rather be home in Lake Zurich, Illinois. Even if you "hate space" too, this film is so fact-based it's hardly sci-fi. More importantly, it's easy to identify with this woman's brave struggle to survive against the odds.
Stone, together with chatty and professional Kowalski (George Clooney) and a crew, have taken a shuttle up to repair the Hubble Telescope. But their mission is cut short by a sudden storm of space junk that damages the shuttle and cuts both Stone and Kowalski adrift. Stone's suit has no jets so she can't control her movements at all, and she spins head over heels for minutes on end. Finally Kowalski snags her and her outlook stabilizes a bit. With the shuttle inoperable, they plan on traversing to the abandoned International Space Station with only their suits between them and the vacuum of space. Will their oxygen hold out? Will they get there before the junk storm's next devastating orbit?
The film's visuals are certainly stunning, especially in 3D. Director Alfonso Cuaron shoots everything in very long takes that saturate you in both the weightlessness of space and its serene beauty. (Earth is constantly visible, so close you can make out familiar continents.) But Cuaron never loses focus on Stone's personal quest, which is what drives the movie. Stone is both physically and spiritually adrift; the loss of a child has left her detached from the human world. She must tap inner reserves of strength to maintain her will to live and to overcome the technical challenges needed to survive, especially as she and Kowalski become separated.
Typically Sandra Bullock plays a dauntless everywoman haplessly looking for a decent guy or serving justice, and it's great to see her considerable talents used in a tough drama like this. Bullock and Clooney play astronauts who must keep their emotions—their fears—in check, and it's moving to see Stone so terrified yet struggling to keep it together. When she finally does break down, her zero-gravity tears float into space, as adrift as her own life—but not for long.

Gravity opened October 4 in wide release. It's rated PG-13 and runs 91 minutes.
And now, back to me (Lucy) with some thoughts on Carrie:
My daughter and I were eager to see an update on Carrie. As she describes the plot (this is before we saw the update, and spoiler alert from the 1976 film) – "Carrie gets her period, they throw tampons at her, Sue feels bad and makes Tommy take Carrie to prom, pigs blood is dumped on Carrie when she wins prom queen, and everybody dies." The original is pretty great, but what a cool opportunity to remake it with special effects and social media. Despite a lukewarm critic reaction, the audience in our screening was enthralled. Even though you know the plot from the Stephen King book or the original film, the story holds up as a horror film and as a social commentary on bullying.
It's hard to beat the acting in the original film with Sissy Spacek's iconic performance and Piper Laurie as her deranged mother. Julianne Moore is amazing in the unglamorous mother role and gives it all she's got. She's a cutter in the update and her portrayal is totally creepy. Chloë Grace Moretz's Carrie is innocent and sweet, though weary of her mother's ways, and is a pretty badass telekinetic in the third act. Moretz is lovely, and I was waiting for the makeover scene that would make her the new queen bee at Ewen high school. Ansel Elgort (The Fault in Our Stars, Divergent) is charismatic as Tommy and Portia Doubleday is the perfect villain as Chris.
The social media aspect in Carrie takes the bullying theme to a whole new level of horror. Not only do the girls in the locker room assault Carrie with feminine hygiene products, they capture Carrie's breakdown on film and post it online. You will be cheering for Carrie's revenge!
With the updated special effects, Carrie gets to show off all kinds of cool tricks with her telekinesis. The film itself looks kind of retro, though the current technology makes it clear the film is set in present day. Director Kimberly Peirce (Boys Don't Cry) is respectful of the Brian De Palma film, and capitalizes on the great acting talent in the update, and the opportunity to make the film relevant to today's teens.
Carrie is a good remake that doesn't mess too much with the proven formula. The movie relies first and foremost on the acting, and Moore and Moretz are up to the task. Viewers new to the book/film should enjoy the chilling story, and the bullying theme that's even more relevant now than it was back in the day.
Carrie opened October 18 in wide release. It's rated R and runs 92 minutes.
Related Posts