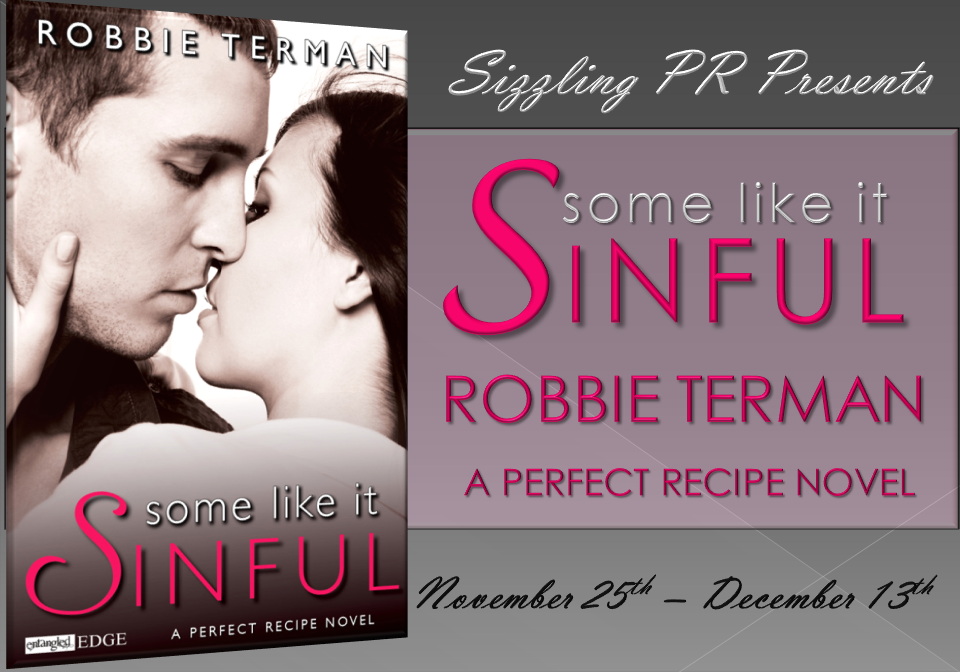 I'm so pleased to welcome author Robbie Terman to The Reading Date today with a fun top ten list. Robbie's latest book is Some like it Sinful, a foodie/sports romance, and the second book in the Perfect Recipe series.
About the Book:
Their attraction is sinfully delicious…

A struggling business and one act of vandalism may have brought them together, but bakery owner Chloe Nelson and professional hockey player Griffin Lange get along like chocolate and pickles. Chloe needs the famous (and famously unattached) Griffin to attract people to her pastries, and Griffin needs the curvaceous and fiery Chloe to keep him out of trouble. A fake relationship to keep the media interested seems like the perfect plan.

But when temptation throws them into bed together, a new plan arises. Why not make the fake real? Griffin's winning every home game, and Chloe's business has never been better. Both know it's only physical—and only temporary. But can they drop their defenses for love, even if it means getting a little bit sinful?
Some Like it Sinful is on sale now:
Goodreads  Amazon  Barnes & Noble
In honor of Thanksgiving week and the foodie subject of the book, I asked the author to share her top ten sinful food faves. This post is guaranteed to make you hungry, want to watch Top Chef, and whet your appetite for the book.

Robbie Terman's Top Ten Sinful Faves of the Food World

I'm a sucker for anything foodie, whether it's eating at the restaurant of a celebrity chef, indulging in a sumptuous dessert, or binging on cooking shows.  Research for Some Like It Sinful (and the whole Perfect Recipe series) gave me the perfect excuse to treat myself to all three vices.  Here are some of my sinful favorites.
Sea-Salt topped anything – Chocolate, butterscotch, toffee, brownies, cookies…you name it and it's better with sea-salt.
Chef Tom Colicchio – The Top Chef head judge makes bald sexy. I liken Ty in Some Like It Spicy (Book #1 of the Perfect Recipe series) to Bobby Flay and Rocco Dispirito, but in my mind, he's all Tom.

Fried Capers – They are seriously good. When I first wrote them into a scene, I wasn't even quite sure it was possible. A chef friend was kind enough to experiment and the result was a tangy, delicious treat.

Sanders Hot Fudge Cream Puff – If you don't know what I'm talking about, take a trip to Michigan. Sanders hot fudge is hands down the best hot fudge in the world (yeah, Ghiradelli, I'm calling you out). Throw in a cream puff and ice cream and you just hit the dream trifecta.
Petit Fours – These miniature cakes may be Griffin's nemesis in Some Like It Sinful, but who doesn't like something so cute and tiny that you can pretend they're calorie free?
Chef Hugh Acheson's Eyebrows – I should probably be drawn to his acerbic wit (check out his Top Chef blogs and Twitter feed), but the thing that fascinates me the most about Hugh Acheson is his eyebrows.  Okay, it is more like one eyebrow and it seems to have a mind of its own. I often wonder what it's thinking.

Cupcake Bakeries – A lot of bakeries dedicated to the cupcake have popped up over the last few years. I feel a moral obligation to eat at every one I come across so I can give an educated opinion on which are the best.  Before I can state that definitively, though, I'm going to need to do a lot more research.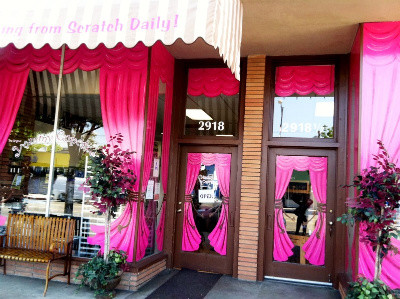 Hockey Players trading in their jerseys for aprons – In Some Like It Sinful, Griffin wasn't too happy about showing up on a billboard wearing an apron and not much else. Personally, I think it's a marketing campaign every NHL team should utilize.

Steak. Medium-Rare, please. – So, maybe I was projecting when Ashton got into a knife fight with a customer at the beginning of Some Like It Spicy over the temperature of a piece of meat. But a perfectly cooked steak is one of life's greatest pleasures. Believe me, I've dedicated my life to the study.

Plain Cheesecake – Okay, I can practically hear your gasps of dismay. How, when there is every flavor under the sun of cheesecake, can I prefer plain? Because I am a cheesecake purist and the flavor is so phenomenal, why would I ruin it by mixing in an opposing flavor? Yes, I get weird looks every time I go to the Cheesecake Factory.  No, I don't care.
What are some of your sinful favorites?
About the author:

Robbie Terman began her journey as a writer in third grade, when she completed her first (24-page) "novel."  Many years later, she is published in contemporary romance.  Her heroines are feisty, her heroes Hot (yup, that's with a capital H!).  And, when you read her books, if you cry a little and laugh a lot, that's just the reaction she was hoping for.

When she's not writing, Robbie can usually be found doing one of three things: shopping for shoes and handbags at Nordstrom; trying a new restaurant (or attempting a new recipe); or relaxing on the couch and catching up on her favorite television programs (if you're wondering which ones, open up a TV Guide and take your pick.  You've probably guessed right!).

Visit Robbie on her: Website Twitter  Facebook  Goodreads
Giveaway!
Enter to win a Sinfully Sweet Gift Basket by filling out the Rafflecopter form. Some Like it Sinful is on sale now!
Related Posts