Recently I looked at holiday romance books to cuddle up with this winter, and now I'm checking out the YA offerings. It is much easier to find holiday romance, let me tell you! I looked through my shelves for some wintery reads, and maybe one of these will catch your eye.
Wintery:
Shiver by Maggie Stiefvater – Such a snowy, romantic book. I should re-read this one now that I have the audiobook.
Bittersweet by Sarah Ockler  – Romantic and wintery and filled with yummy cupcakes.
And We Stay by Jenny Hubbard – Brrr the cover is so cold and snowy! Not like in my town where it's going to be 80 degrees on Christmas. This prose/verse book is about love and loss and the ghost of Emily Dickinson. It's out Jan. 28.
The Boy on the Bridge by Natalie Standiford – The cover is romantic and wintery but this is a coming of age book set in 1980s Cold War Leningrad.
A Christmas explosion of comedy/ romance:
Secret Santa by Sabrina James – Secret Santa's are so fun! In this book there's a school-wide Secret Santa with a reveal at the Winter Dance.
Mistletoe: Four Holiday Stories by Hailey Abbott, Melissa de la Cruz, Aimee Friedman, and Nina Malkin – Four festive short stories from some popular YA authors.
Ex-Mas by Kate Brian – This is a cute road trip read with Lila and Beau tracking down their brothers who are set on saving the North Pole from global warming.
Decked with Holly by Marni Bates – This book is a companion book to the Awkward series and can be read any time of year, but is especially fun now.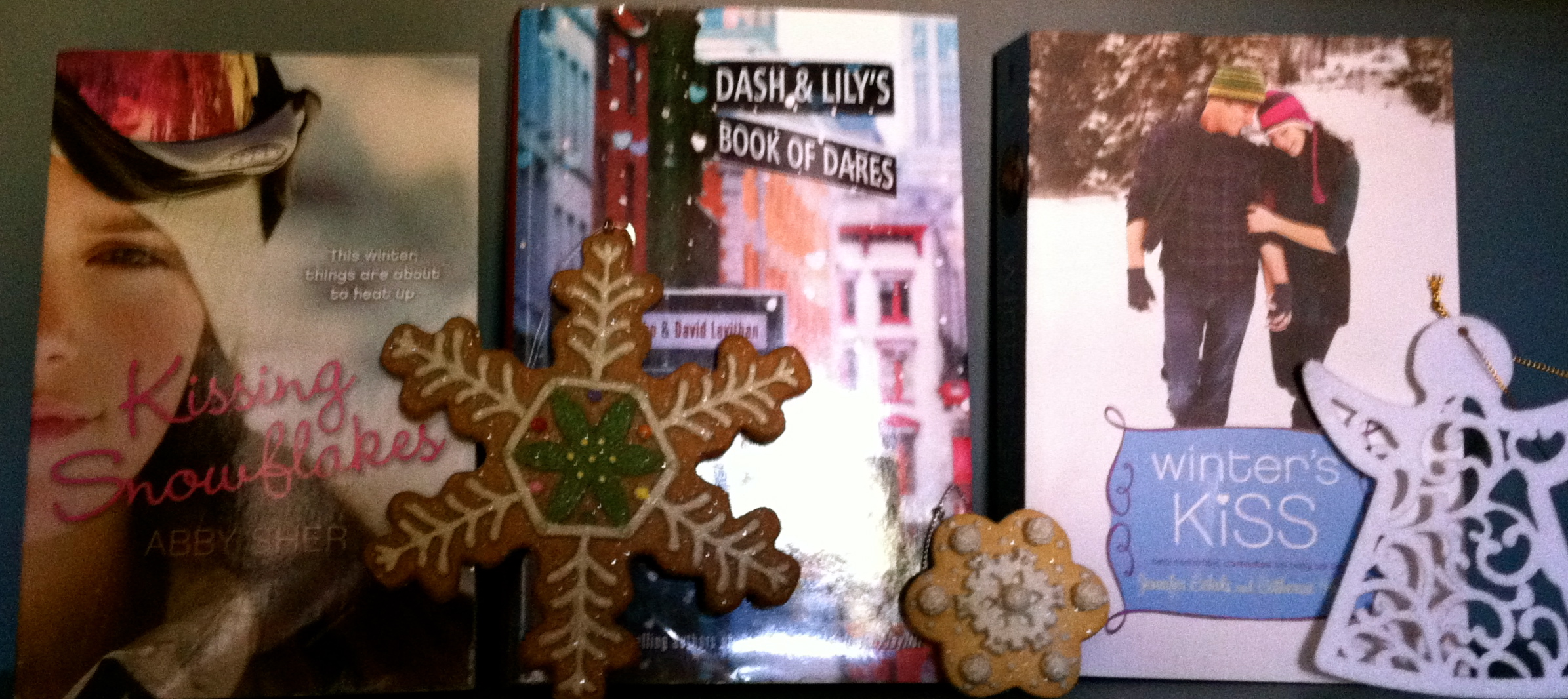 More holiday humor and romance:
Kissing Snowflakes by Abby Sher – Winter break on a mountain ski lodge!
Dash & Lily's Book of Dares by Rachel Cohn & David Levithan – I wish I had a chance to re-read this one over the holidays- it's one of my favorites.
Winter's Kiss: The Ex Games; The Twelve Dates of Christmas by Jennifer Echols and Catherine Hapka – Two romantic comedies in one book!
Yuletide YA:
Let it Snow by John Green, Maureen Johnson, and Lauren Myracle – Love this one, especially Maureen Johnson's story The Jubilee Express.
Snowed In by Rachel Hawthorne – A girl moves from Texas to a cold winter island in Michigan in this romantic wintery book.
Love on the Lifts by Rachel Hawthorne – Another romantic book set at a ski lodge!
Snow in Love by Claire Ray – Winter break in Alaska!
Mistletoe & Middle Grade:
The Best Christmas Pageant Ever by Barbara Robinson – I just got the audiobook and it sounds so cute and funny!
Breadcrumbs by Anne Ursu – A wintery fairytale based on The Snow Queen.
Winterling by Sarah Prineas – Kristin Cashore gave this book her stamp of approval and it sounds like a magical, charming read.
What are your favorite YA or MG holiday reads?
Related Posts